Driving your car is one of the most enjoyable experiences you can have. I love getting in my car, popping on some music and taking the open road. However, with some of the dangerous driving that happens to have a Dash Cam has become a real security blanket if you got into an accident and need to prove what happened.
Nextbase is a brand I have reviewed before when I had a chance to review the Nextbase 322GW last year when I was with What Mobile. Fast forward 12 months and am now writing for What Gadget. In that time Nextbase has continued to be one of the leading brands for making dash cams. In this review, we got sent the 622GW by the lovely people at Nextbase.
On first Impressions, this dash cam comes with the latest video and recording technology but was it easy to use?
Inside the 622GW  runs using an Ambarella H22 quad-core chipset which allows 4k footage at 30 frames per second (fps). I also noticed the clear improvement from the 322GW as you can now rotate a bezel in the front to amend the footage and remove any glare you may have got.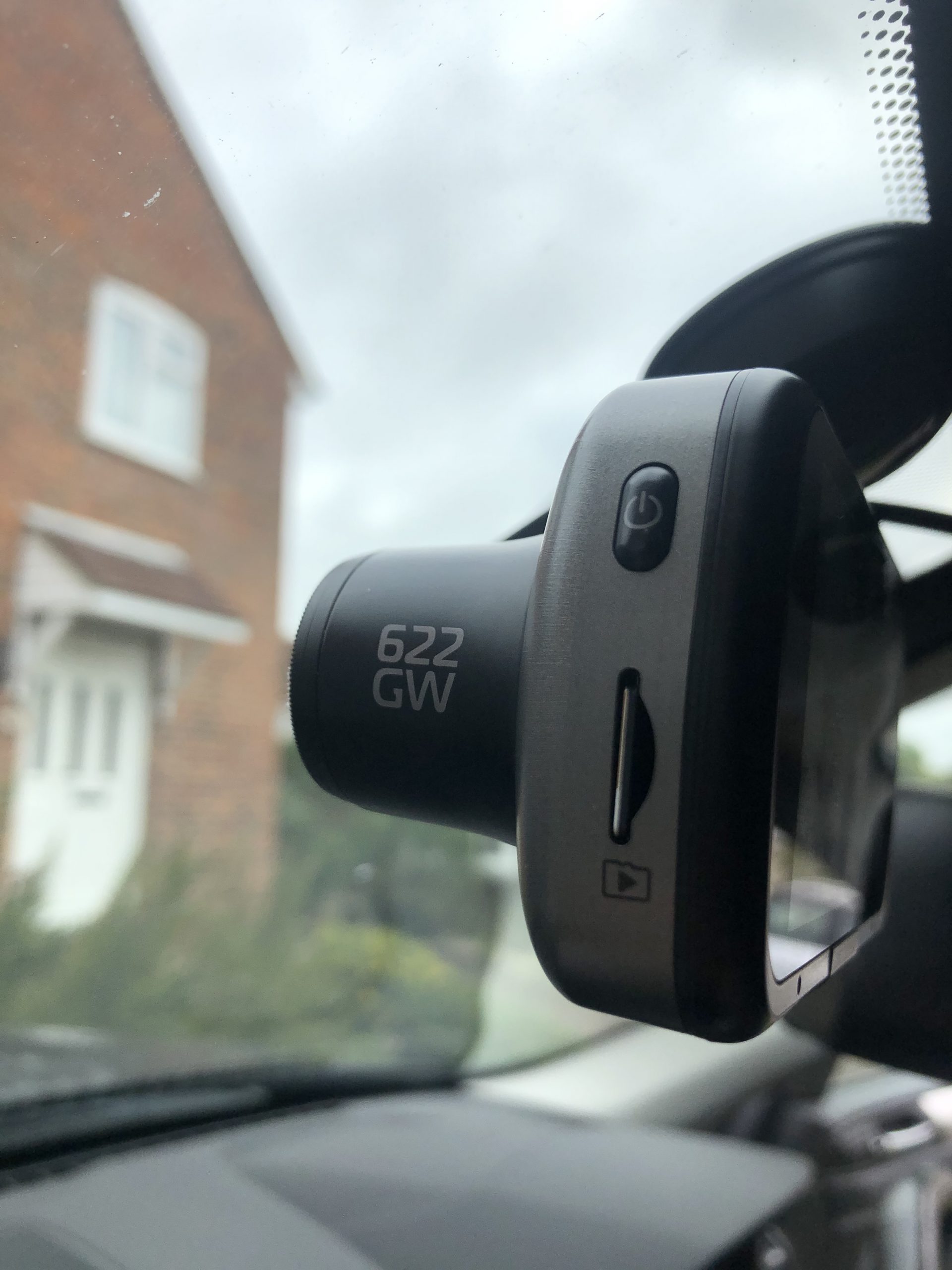 I had this fitted in my future father in law BMW X7 as he mentioned he was getting concerned about other drivers and his feedback was that when your driving during the day when well lit the footage was perfect very clear which is down the 4K display and you could even slow playback down the 120fps using the super slow motion feature. I think this would be very useful in the case of an accident and you need to capture all the footage when you may be in a panic as it's so important to capture things like number plates when you have a situation.
Performance of the NextBase 
The Nextbase 622GW offers a 3-inch display on the rear of the camera that is touchscreen just like 322GW before it. The Display features icons on the screen for navigation through the menu. However, this can be a little tricky as I did find a little life hack. Got a stylus pen from your iPad? Use that to tap on the icons and it works a treat. However, some users will have to tap your finger before the commands are picked up but as mentioned I found using a stylus is really helpful.
However, you can always use voice control via Alexa as long as you're using the MyNextbase Connect app which can be downloaded on most smartphones that you have. In my future father in laws case, it was on his Samsung S9. Once you have connected Alexa via the app you can simply use a command and it will work. However, I found when the radio was on this proved a little troublesome so try and reduce the noise where possible.
A feature I really like from the Nextbase 622GW is the EmergencySOS and this is due to the added what3words geocoding. This works by picking up your GPRS and precisely locating yourself to give the details to the emergency services.  With more people going on UK staycations due to 2020 happening this is a great feature that will work even with very low connection.
Setup with the 322GW was very annoying but with the 622GW it has improved slightly it's still annoying and can take you some time but once you have got Wi-FI you will manage to get footage but it's hard work. (Nextbase please fix this issue in your next offering). A simple way is just to use the SD Card. In this review, I was lucky to get a 64GB SD card so that helped with getting images or footage. Don't have an SD card you could just plug the camera into a laptop and get the footage you require.
Once you have set up the dashcam and got over some of the issues you will find the 140-degree viewing angle will capture most of what you see out of the windscreen. However, where this dashcam shines when you're in low light or the weather is bad.  The 622GW comes with both low light and extreme weather modes. These really improve the image quality offering great footage where other dash cams might have failed.
We all know some roads are not the smooth as we would like so Nextbase has you covered with the introduction of image stabilization technology that does its job well and absorbs poor road conditions.
The 622GW also comes with the G-Sensor that comes with most dash cams but is handy to have as it automatically saves footage to the device if you have an accident. It also has a parking mode that will trigger the camera into life if the G-Sensor detects your car has been hit and yes this happens even when you're parked up and not even in the car.
Would I buy it? 
The Nextbase 622GW is an improvement on the 322GW we have reviewed before. Set up is not too bad but you still have that Wi-Fi issue which Nextbase has not sorted out yet (PLEASE FIX IT!).
This really affects the overall use of this dashcam. However, if you use an SD card or plug into a PC you can download the footage or images.
Another negative is the touchscreen it's still a bit fiddly to use but if you take my life hack onboard and simply use a stylus pen it will work just fine. I also found finding the app was also problematic as the QR code just sends to the Nextbase website. However, after a quick search in the app store, it was found.
Now let's move onto the positives: the 622GW is packed with features that can be found using the MyNextBase Connect App. It's got Alexa for the voice commands, It has the low light and extreme weather features that improve the footage. The crown jewel is the emergency SOS feature that provides you with your location to provide to the emergency services if required.
The 4K display adds to the benefits of this dashcam and with all the features I really wanted to give it a 5-star review but the fact the Wi-Fi issues have not been fixed its a solid 4-star review from me.
Where can I buy it? 
The Nextbase 622GW costs £249 and can be purchased from the Nextbase website but also available from Halfords, Very.co.uk & Amazon (Prices do vary so shop around)
Review Scores: 
Design: 4.0 out of 5.0 stars4.0
Features: 5.0 out of 5.0 stars5.0
Performance: 4.0 out of 5.0 stars4.0
User Friendly: 3.0 out of 5.0 stars3.0
Value For Money: 4.0 out of 5.0 stars4.0
Overall Rating: 4.0 out of 5.0 stars4.0
Thanks for reading this review please continue to support us and follow us on Social media: Facebook, Twitter,  Instagram & Linkedin