CLCKR, the mobile phone accessory company launches a mobile phone stand and grip case for the new Samsung S21 alongside two new mobile phone car mounts – the Prong and the 3M mount. Both car mounts make it safe and easy for drivers to take hands-free calls or easily view GPS directions while on the road.
Samsung S21 and S21+ Case
Make the most of your Samsung S21 or S21+ device with a CLCKR stand and grip case. Priced at £29.99. Perfect for hands-free viewing, video calling, a workout grip, a second screen in the home office or to help take the perfect selfie, CLCKR – 'Stands by You'.
Protect your device with 2metre/6.6ft drop protection and stay safe with antimicrobial protection, killing up to 99.99% of germs. The antimicrobial technology has been embedded into the products to durably keep the Case or Universal surface clean by controlling the growth of microorganisms on the surface. 
Phil Mulholland, CLCKR Brand Director, comments: "The CLCKR stand and grip case for the brand new Samsung devices are a welcome addition to our lineup of products. Our case helps you get the most of the S21 features such as 2 meter drop protection for the OLED screen and making the most of 5G by enjoying content handsfree." Available from: https://www.clckr.com/uk/clear-stand-case-clear-black-samsung-s21
The Prong & The 3M Car Mounts
CLCKR's Prong Car Mount securely attaches to most standard air vents on a vehicle's dashboard — allowing drivers to quickly view their device for GPS directions. The mount uses a simple yet effective magnetic design featuring an innovative money-style silver clip which slides onto the user's existing CLCKR case or Universal grip and stays securely in place until removed.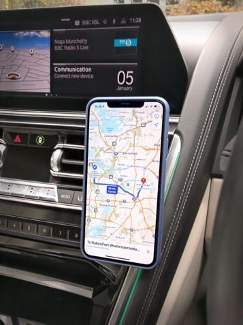 The CLCKR clip then magnetically attaches to the mount clipped onto the vehicle's air vent. This new, slim design eliminates the need for sticky or bulky magnets and offers the user a removable solution. The Prong Mount will retail for £14.99.
For vehicles without traditional air vents, the CLCKR 3M Car Mount features a heavy-duty sticky side that allows the mount to be securely attached to the dashboard, without leaving behind any sticky residue.
The Car Mounts will be available in February 2021.
Thanks for reading this article, please continue to support us and check out our other reviews and follow us on Social media: Facebook, Twitter,  Instagram & Linkedin