Featuring IP68 & IP69K protection, a Samsung 48MP AI Quad camera and Sony 20MP night vision camera, it is the perfect phone for adventures at any time of day or night
Rugged Phone manufacture DOOGEE announce the launch of its flagship S96 Pro. With a Helio G90 Octa-Core processor, a large battery and the world's first-night vision camera packed into a rugged and durable casing, it is one of the toughest and most feature-packed adventure phones currently available on the market.  The S96 Pro is available in Fire Orange, Army Green and Mineral Black from £237 with Amazon stocking from December.
Camera
The S96 Pro features an impressive Samsung® 48MP Quad camera, Samsung® 16MP Front camera as well as a SONY® 20M Night vision camera and SONY® IMX350 Sensor chip. The new Sony® 20MP Night vision camera, maintains the clarity and beauty in pictures even at night. The external camera is equipped with a Sony® IMX350 ultra-light sensitive sensor with four infrared lights and four LED lights ensuring images remain clear even in total darkness at night. It also balances high-contrast scenes to present incredible images in every setting.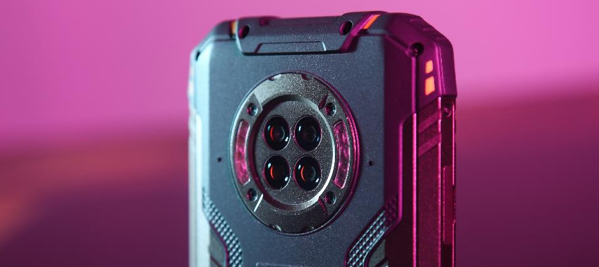 Working as a unified system, the Samsung® AI Quad Camera can be used for taking images and videos any time of day or night, whether the subject is close or far away. The S96 Pro effortlessly captures images in great detail with its 48MP AI main lens, supported by the 2MP Macro camera. Close objects are no problem from just 4cm as the 8MP Wide Camera Sensor and Ultra-Wide-Angle Lens (130° FOV) ensures that landscape photos are just as inspiring. The Samsung® S5KGM1SP03-FGX9 sensor and integrated 3D HDR technology can take ultra-high resolution clear and detailed photos in any environment. For impressive selfies, the Samsung® 16MP AI selfie camera features a more accurate and natural bokeh effect, simply pressing the selfie button ensures that the person will be the main focus of the image even in a crowded street or busy party.
Rugged capabilities
A truly rugged phone with tough credentials, the S96 Pro provides effective insulation from water and dust as well as being drop proof and scratch-resistant. Using advanced sealing technology and a solid structure, including high-density macro-molecule coating, ensures that it is waterproof and dustproof with IP ratings of IP68 and IP69K. Also having waterproof stoppers for Type-C, earphone jack and SIM card slot, users can rest assured that every part of the phone is protected. These features and the easy to use camera mode for underwater scenes mean that the S96 Pro can be used in water up to 5m deep for capturing aquatic images. It can be submerged for up to 30 minutes at 1.5m underwater.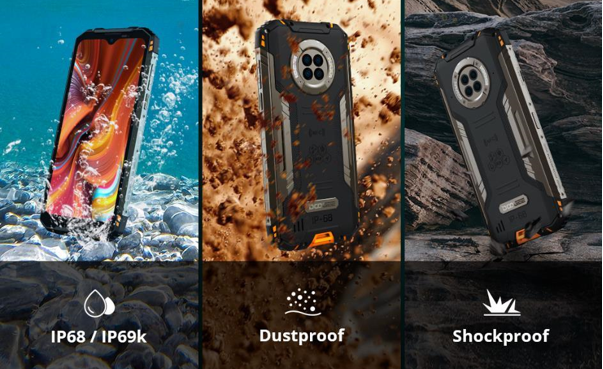 Also offering 360º shockproof protection (MIL-STD-810G) and a scratch-resistant screen with Corning® Gorilla® Glass, the S96 Pro is safe even when dropped onto concrete from up to 1.8m. Built with soft TPU and aluminum alloy reinforced polycarbonate materials, the rugged smartphone is fully protected from drops and the four reinforced corners and heightened frames keep it safe even in extreme outdoor environments such as construction sites. In addition, the extremely durable phone is able to withstand extreme temperatures due to the metal frame and components and can work normally between -55°C and -70°C. The proportion of the metal body on the back of the device is more than 50% meaning the position of the camera is also completely protected by metal materials.
Processor and performance
The DOOGEE S96 Pro not only has a great camera and durable qualities, it has impressive specifications with the cutting-edge MediaTek Helio G90 Octa-Core processor chipset (2x Cortex A76 2.0GHz + 6x Cortex A55 2.0GHz) giving an improved user experience for both speed and power. With an 8% upgrade on gaming performance and 16% upgrade on CPU performance compared with the previous Helio G85, it is a smooth and enjoyable phone for various uses and a 60% shorter GPU rendering-to-display latency pipeline ensures a lag-free display if being used for gaming.
The sharp and vivid 6.22″ Waterdrop screen along with high resolution of 720*1520, 270 PPI and wide colour gamut, offer an outstanding optical performance. Featuring 8GB RAM and 128GB of Samsung® UFS storage, the S96 Pro can keep running smoothly and fast for multitasking and heavy gaming with  plenty of storage with approximately 27000+ photos, 21000+ music, 200+ movies and 320+ games so users will never run out of space but, if needed,  the phone also supports a 256GB expandable storage.
Battery
With a 6350mAh large battery and a smarter AI power management system, the S96 Pro has enduring power for non-stop entertainment and use. The battery can last up to two days so no need to carry around heavy power banks to keep connected. When low on battery, the phone uses 24W fast charging and 10W wireless charging with a 12V/2A charger system which can refuel the battery up to 50%.
Software
A versatile companion for adventures, there is an app toolbox on the S96 Pro which highlights a vast array of apps that are useful for construction, hiking and other outdoor activities. The precise navigation system (GPS, Galileo, Glonass, Beidou) allows users to find their destination with great accuracy, even in city centres surrounded by skyscrapers, by leveraging the four systems simultaneously. The custom key on the left side of the phone can also be optionally set up as a quick access to recording, flashlight, screenshot, SOS or regularly used apps to make access quick with a simple press.
Supporting global frequency bands, the DOOGEE S96 Pro is a perfect global travel companion. It also has NFC and Google Pay to simplify shopping and mean that users no longer have to remember their cards or money. NFC also allows the phone to directly exchange data between different devices without a computer for efficiency. Running on the latest Android 10.0 out of the box, this provides some of the newest ways to control privacy and customise a phone and the new dark themes helps to ease eyes and keep the battery lasting longer.
Security
Additionally, the S96 Pro has side fingerprint recognition as well as Face Unlock. With an ergonomic design and dynamic pressure sensing technology, a simple face glimpse or slight fingertip press can unlock the phone immediately with a 0.19s response speed. The scanning resolution of 508 DPI, 360° identification angle and a capacitance touch sensor to ensure the phone remains secure but with a simple and sleek user experience for unlocking. The recognition sensor supports omni-directional recognition of 10 fingers, providing a true multi-point touch controller for an accurate experience whether during games or browsing files.
The DOOGEE S96 Pro is available in Fire Orange, Army Green and Mineral Black from £237 with Amazon stocking from December.
On the 11th November, DOOGEE will also be giving away six S96 Pro smartphones and five of the latest smartphones released including the S88 Pro and N20 Pro as well as offering great discounts on the range. More information can be found here.