The Swann Enforcer 2 cameras & 4 channel DVR security system – £279.99   
Home security is now more popular than ever and with many of us stuck in our homes we are looking to add improvements why not improve your security options. Leading home security brand Swann sent us the Enforcer wired security system. 
The Swann Enforcer comes with the option to have up to 6 cameras and the DVR security system has 8 channels now that costs £449.99 now you can also get variants of 4 camera and 2 camera. In this review, we were sent the 2 camera option with a 4 channel DVR security system and this costs £279.99 via Swann.com or Amazon. 
You may know you can get hold of Wi-Fi cameras and there are many on the market but the key benefit of a wired security option is you are able to maintain the connection over the Wi-Fi option. 
The key features of this security camera are: 
Police Style Flashing Lights

Full Colour at Night

1080p HD video quality

4 channel video recorder with 1TB Hard Drive

Works with Google Assistant/Alexa

True Detect – Motion & Heat trigger recording & Alerts

IP66 rated

No Subscription required

Connects to the Swann Security App so you can watch the footage and get alerts anywhere.
So first impressions I was a little concerned with the setup as you do get quite a few parts in the box but once you had a read of the instructions and the odd google video but once set up you have the peace of mind that they are always connected and if you invest in additional cameras you can cover all parts of the house. 
What's in the box 
4 Channel DVR-4680 with 1TB Hard Drive
PRO-1080SL Enforcer Cameras x 2
BNC Cables 60ft / 18m x 2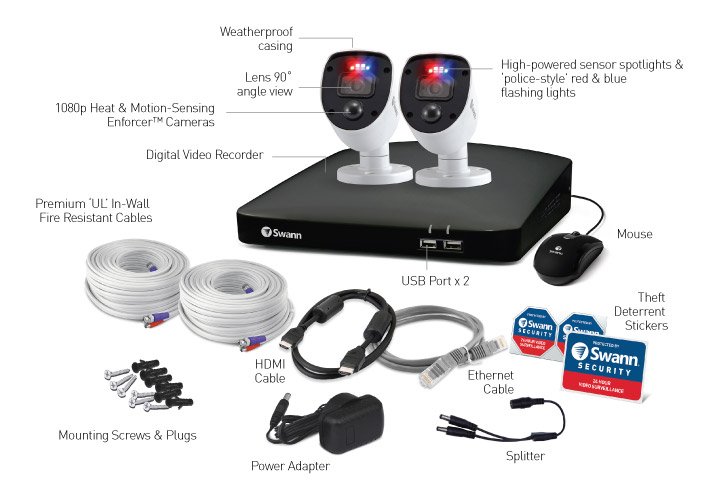 The wired system includes all cables, connectors, and mouse you'll need to set up your cameras and view your footage.
Design
I was sent the Swann Enforcer wired 4-channel DVR system that comes with 2 bullet-style security cameras that offer 4K ultra HD video with a resolution of 1920 x 1080 pixels and offers a 90-degree field of view from each camera. Once you unpack everything that is when you get a real understanding of how to set up the system. 
The camera is a bullet-shaped camera that is made of plastic but is well designed and has a weatherproof casing that adds to the IP66 rating it has. The camera can be used both inside and outside and comes with a durable easy mount.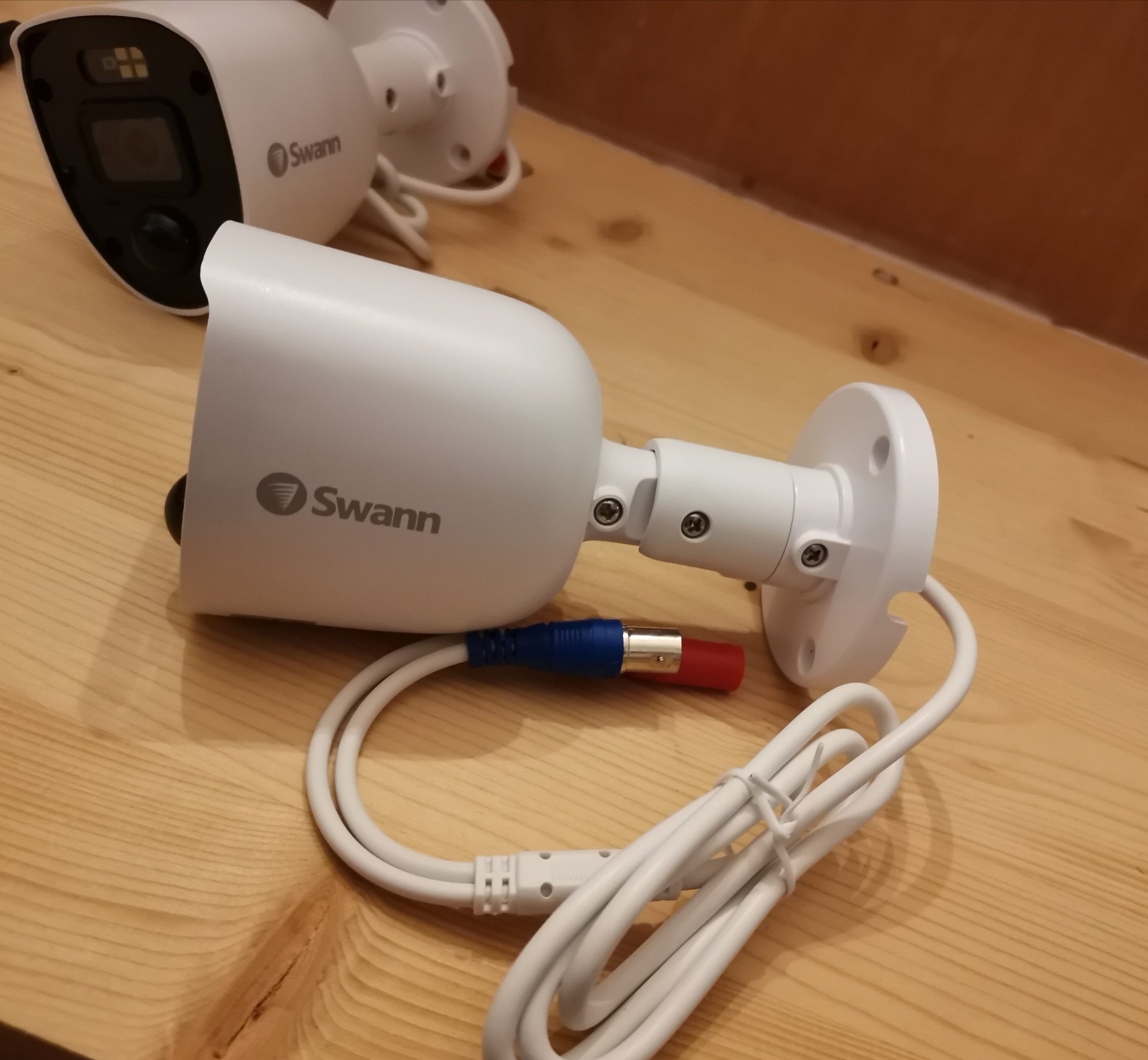 The Camera itself offers a 90-degree view and colour video image sensor above that police-style flashing lights. The camera finishes off with a ball-shaped object under the main lens which is the true detect PIR heat and motion sensor which I will discuss later in this review.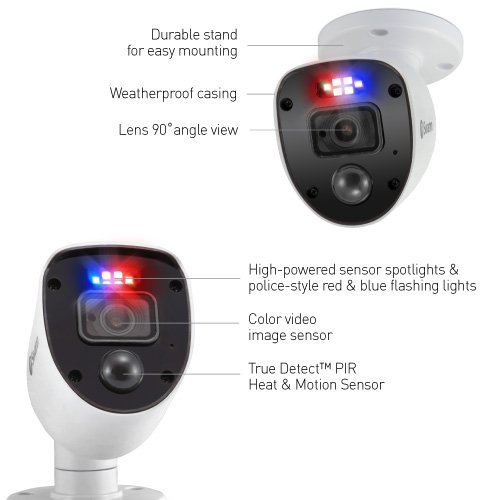 Set-Up
The Swann Pro-1080SL Day/Night Enforcer cameras need to be connected to the DVR and this is done with the 2x 60ft cables that allow you to run these cameras around the house and in this review I have one of the front of the house and one connected to the back of the house and both outside. 
To view the footage the camera needs to be connected to your TV via the DVR and to do this you need to use the HDMI cable that is included. You also need to run power to the DVR. I placed this near my sky TV box as that is the perfect place to hide all the cables as with the cables from the camera, power, HDMI and ethernet cable plus it's handy to have somewhere you can use the mouse to switch between screens once set up and having it near my Skybox is the fact my internet server is in the same area allowing me to connect it via the ethernet cable without too many cables around the house.
When connecting the cameras they connect to the DVR  you need to use the splitter for power and the extension cable and the splitter connects up to 4 cameras. Make sure you connect the camera to the DVR before just to check they work before you install them outside. 
When installing outside you are given an 18m cable which should be more than enough length to install outside the house but you need a longer cable you can purchase one. When installing this camera set up we have just moved in so I was able to hide the cables out of view.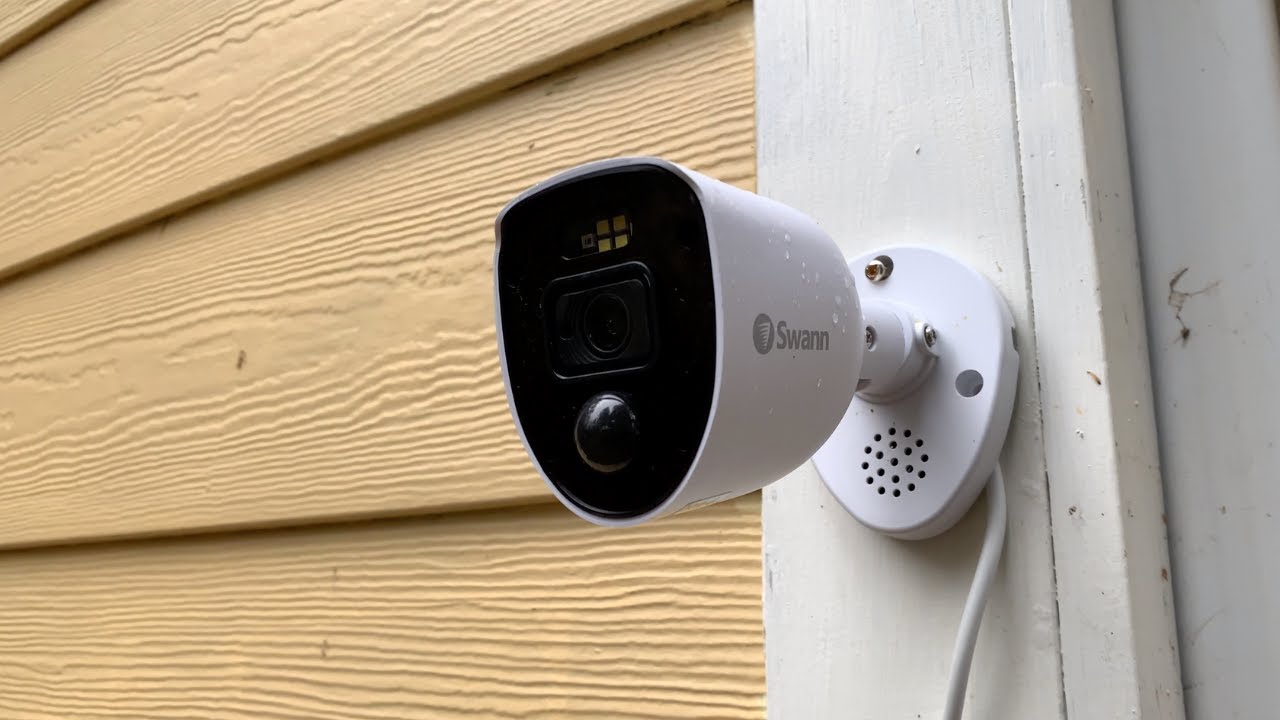 I found when installing the cameras it was essential to place them in positions that would generate footage that would follow an intruder all around the house, especially in the high-risk areas. Now you do have to consider where best to place these the cameras will be fixed and yes you can zoom via the app or TV but you won't be able to tilt the view.   
Performance 
Once set up to view the footage in the best quality you need to have this on a 4K TV or you can buy a 4K monitor. We installed it via my TV, and the image quality was excellent with the image details very clear and the fact it's a wired connection the stream quality is on point. 
I especially enjoyed once everything is set up I then customized the setup so you don't have to micro-manage the whole system. Once set up it will record motion, save clips to storage and use night vision all by itself.  
Features
The Swann Enforcer includes features such as: 
Colour night vision

TrueDetect -Heat and Motion

Police Style flashing lights

The Swann App

 
Let's take a closer look at the above features and how there improved our experience.
Colour Night Vision
One of the key features of the Swann enforcer is the colour night vision otherwise known as Night2Day you will need to make a few small adjustments in the settings to use this option. It is also important that the cameras are placed where you have some external light as this will help you get the best detail in your recordings. The colour night vision offers up to 32ft of vision and makes night look like day and the footage is very clear that is because of the use of 1080P HD that provides a detailed image.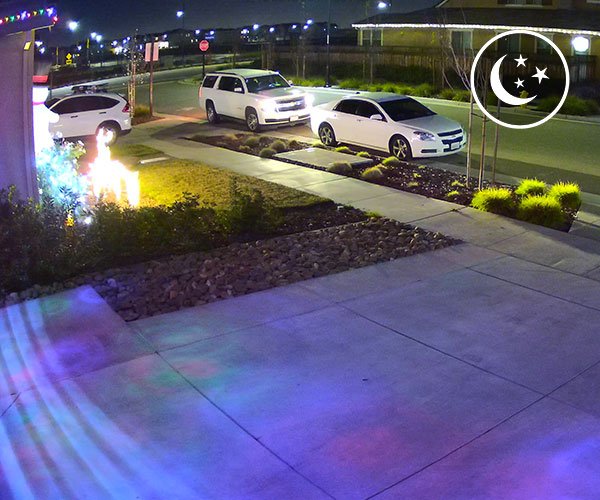 TrueDetect heat and motion
Swann TrueDetect picks up warm objects like a person or animal and this works day or night. When watching the footage you will see a little red icon and that is the notification indicating that the camera has picked up a heat-generating object. 
I was very impressed with the notifications but it did sometimes even pick up the odd fox but on the whole, it was helpful when we had a delivery driver arrive it would provide an alert on my phone that I can check why it triggered an alert.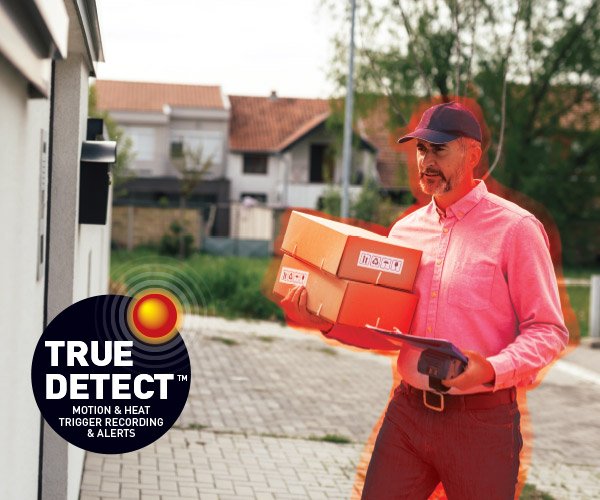 Police style flashing lights
Now if you were to get a notification due to the TrueDetect picking up the heat signal of an intruder you have the chance to switch on bright flashing police lights and also an extremely loud siren which is built into each camera and it is very loud. If this does not deter an intruder nothing will.  You also get a sensor spotlight which picks up when an intruder is on your property.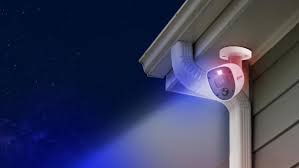 The Swann App 
Like with most security cameras, the use of an app is very important and with the Swann enforcer its no different.  The Swann app allows you to view all the camera you have set up as well as other Swann cameras you might have in the house. You have the app to tap to see notifications and also scroll through playback videos. You can also download the clips and view the footage in high quality.
If you're working away or when we can go on holiday in the future and wanted to check in to serif your house is safe you can with the app. You can also set it to alert you for motion and that means you will not miss anything.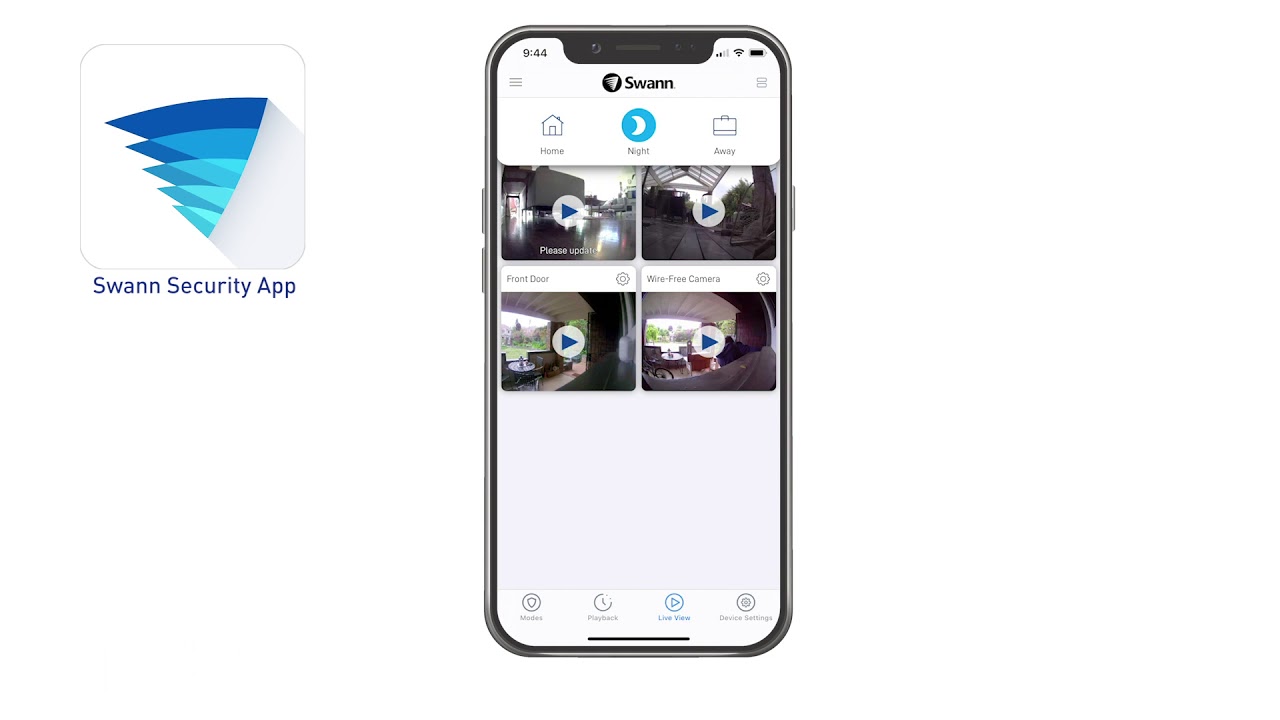 Verdict
The Swann Enforcer is a very good option for home security and if you wanted a connection that does not drop then having a wired connection is the best way to go for that continuous recording. 
The 4k 1080P HD video provides for quality footage that is very clear and the fact you can buy two additional cameras on this system to give you that full house protection.  
Benefits of the Swann enforcer are there are no subscription fees. I found the night2day vision allows you to see what is happens in very clear footage. I found the most important feature of this camera set up is the TrueDetect heat and motion feature. This allows you to pick up when either human or animals on your land and provides notifications to your phone. If you did spot an intruder the police-style flashing lights and a very loud siren will scare most intruders or at least notify a neighbour the what is happening.    
I found this camera perfect for indoor or outdoor use especially with the IP66 rating means it will be fine in rain, snow of heat. If your looking for peace of mind 24/7 this is the security system you should consider. Cost-wise at £279.99, it's well worth investing in as you get the 2 camera and DVR that is full of features it provides a great security system for any home looking for additional cameras a pair of additional cameras cost £89.99 as the DVR can house 4 camera. 
Product Rating: 
Design: 5.0 out of 5.0 stars 5.0     
Features: 5.0 out of 5.0 stars 5.0  
Performance: 5.0 out of 5.0 stars 5.0
Value for Money: 5.0 out of 5.0 stars 5.0   
Overall Rating: 5.0 out of 5.0 stars 5.0 – Special Price from Amazon below currently £199
Thanks for reading this review, please continue to support us and check out our other reviews and follow us on Social media: Facebook, Twitter,  Instagram, Linkedin and don't forget to sign up to our newsletter below.