"The Smart Clamshell – combines the best of two worlds". 
There's nothing more frustrating than a senior member of your family or a friend that just refuses to enter the world of Smartphones right? They don't like change, they're afraid of challenging the status quo and let's face it…they're probably quite stubborn! 
Actually, when you take a step back and understand those barriers, it's not hard to realise why. The world of smartphones today is and has been very intimidating for many years, it is hard for many people to keep up and take the leap as it can make you feel fairly overwhelmed. 
There's nothing worse than my dad asking those questions that you take for granted, what seems to be such a simple thing but to them, they just need a little more support, understanding and guidance. 
This is where Emporia comes in. Who are they? 
Emporia, founded in 1991 specialising in mobile communications for a niche market where demand is high, simply providing solutions for our senior citizens. Quite simply, they provide devices that do literally what it says on the tin, make phone calls, send messages and takes a picture (and other functions too).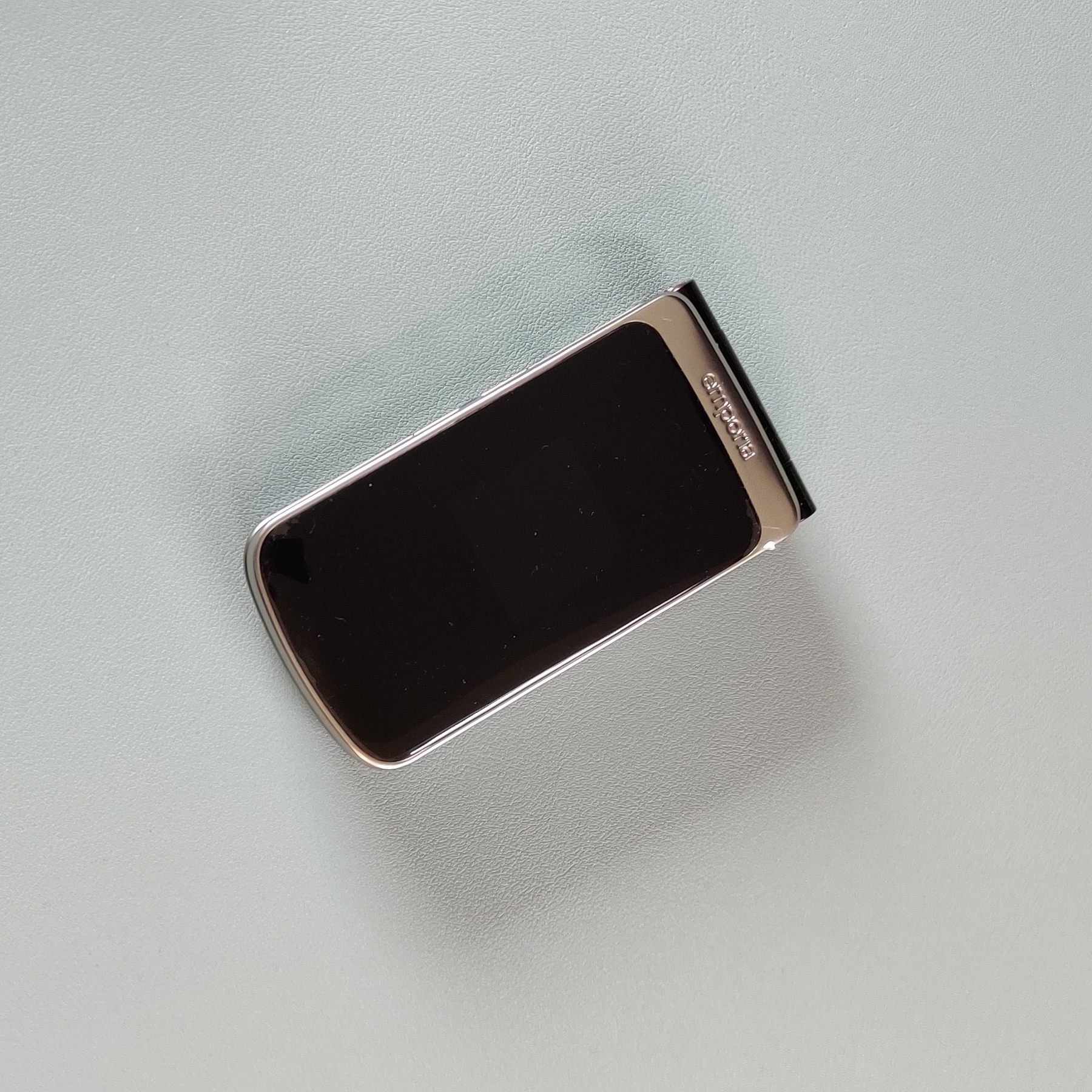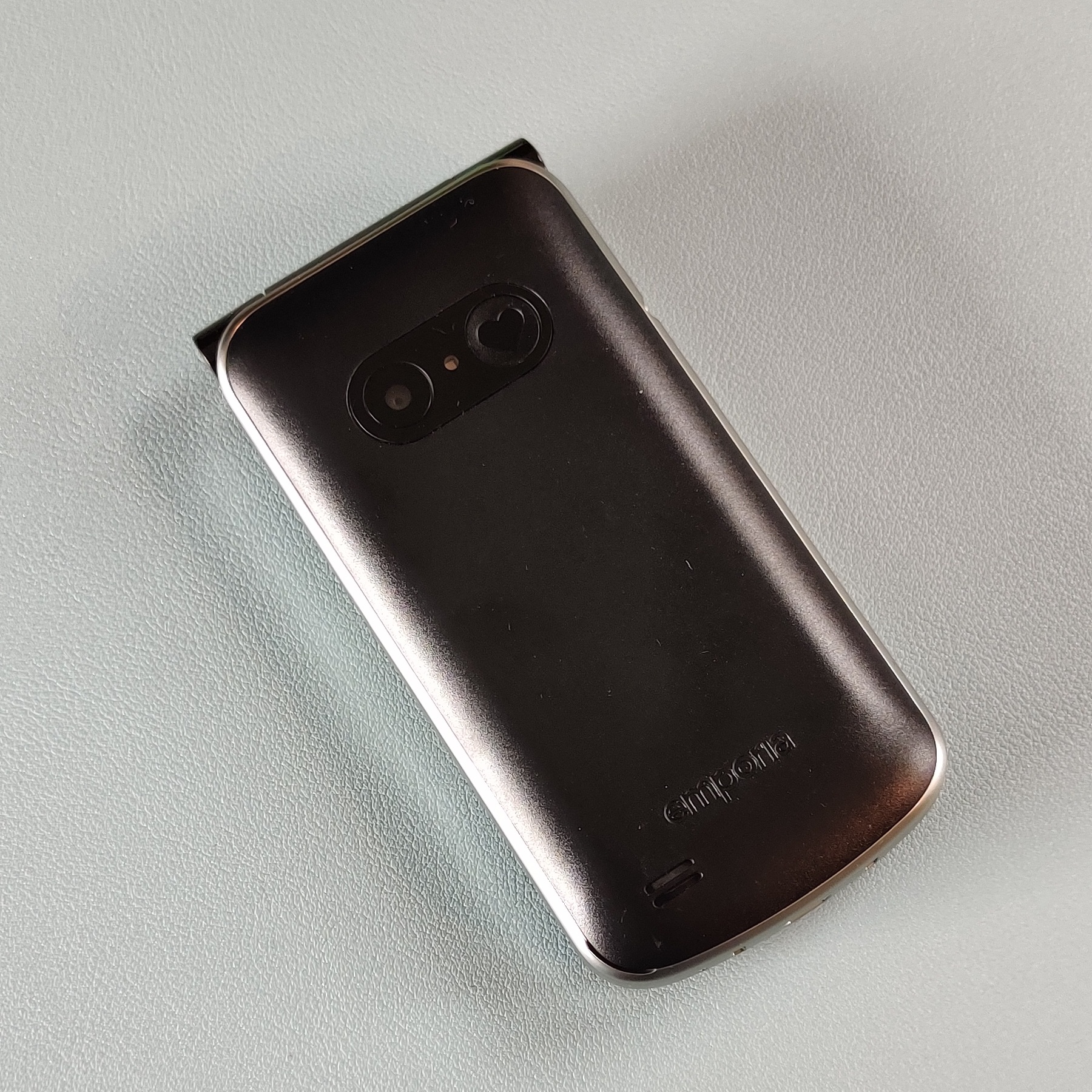 Links to Emporia Website and TOUCHsmart Page: 
Here, we are taking a look at a Classic design with the TOUCHsmart from Emporia. 
Unboxing
Not going to lie, unboxing the TOUCHsmart was fairly refreshing and nostalgic. It took me back to the early days of just having a phone that was just simple to set up and get up and running in no time at all.  
Out of the box comes everything you need and expect, aside from the usual charger and headphones you also get a nice desktop charger and a spare rear cover which mitigates the emergency button (if not essential) which is a nice touch.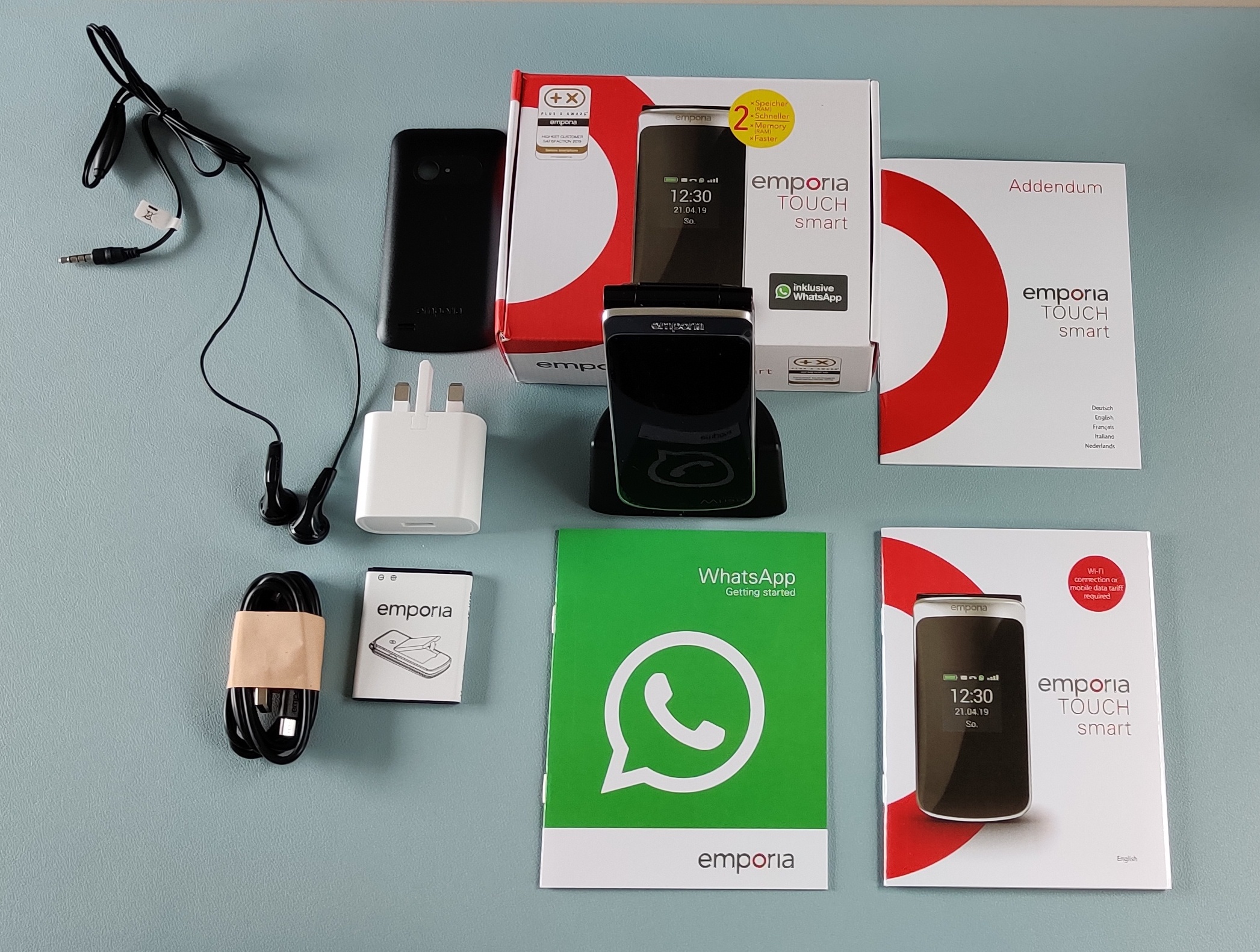 You also get a battery…huh? Yes, that's right, it has a removable battery, remember those days? 
Also, to compliment all of this, you get the key ingredients which are MANUALS, this is where Emporia starts to connect with their target audience. Simply providing clear, and thoughtful instructions on how to set up and operate your new device, which many manufacturers just do not think of these days, as they expect people just to know what they're doing. Nice one, Emporia…this is refreshing to see. 
Design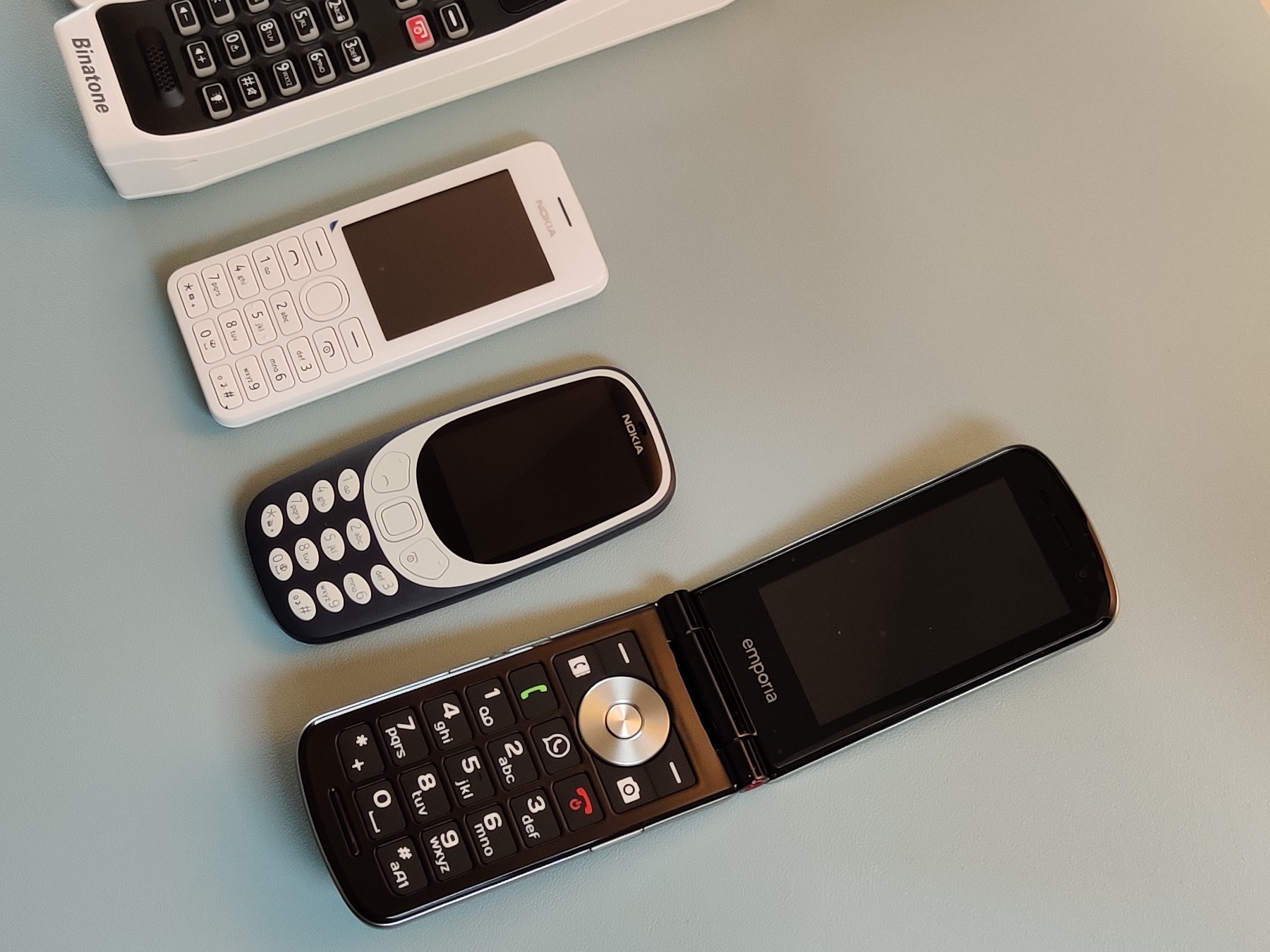 When it comes to design, the TOUCHsmart offers a classic Clamshell approach, it is lightweight too and has a decent build quality to it. Senior consumers love the form and functions of this type of device, offering up physical keypads but also has the benefit of having a touchscreen too for accessing the options on-screen, it's a nice balance between classic and modern design.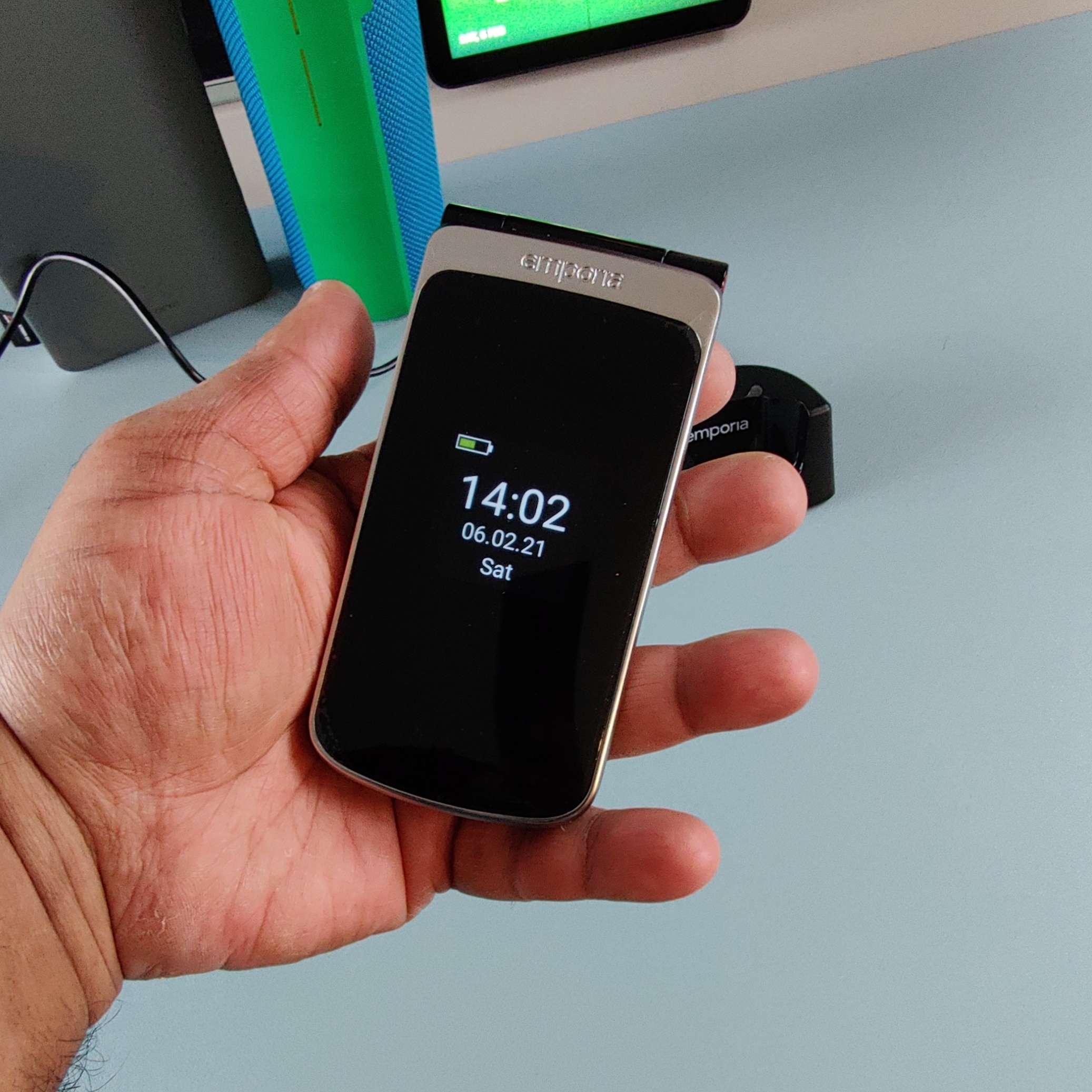 The device has two screens, one external which displays all the key information such as date/time and the alerts such as incoming calls and text messages etc. 
Key Features: 
Easy to 

use

 

Feature phone with WhatsApp

 

Splash / Waterproof with Nano coating (IP54)

 

Touchscreen

 

WIFI, Bluetooth enabled

 

4G Connectivity

 

Integral 5

–

megapixel camera

 
Technical Data: 
Android Go 8.1 (adapted)

 

Storage: 4GB ROM + 256MB RAM

 

Screen Statistics: 3.35 TFT IPS Touchscreen, 480 x 854 Pixel

 

Micro-SD Slot – Up to 64GB

 
Features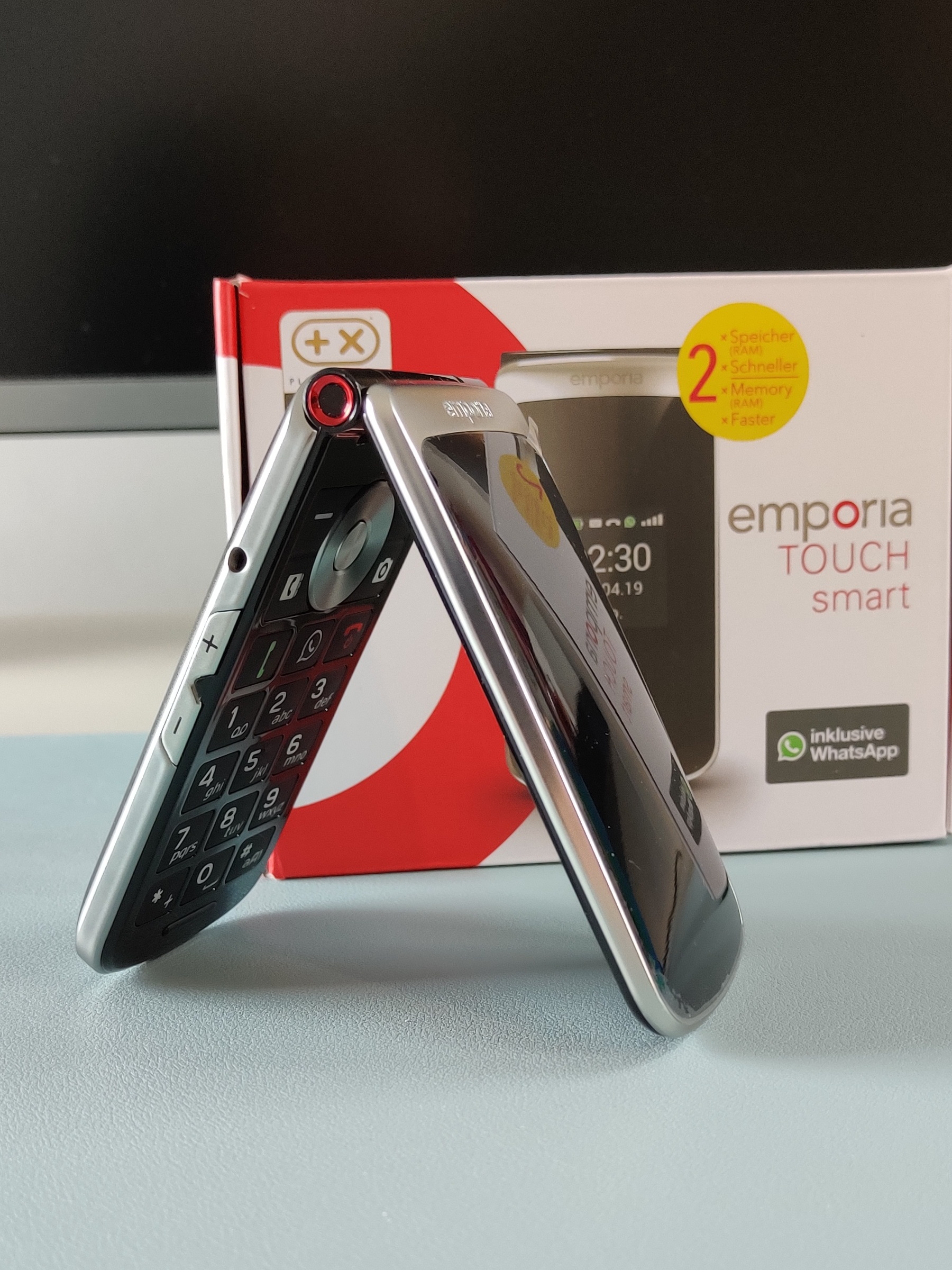 To keep it simple, the TOUCHsmart has all the key features that you come to expect with a device like this. 
Emergency Button
One key feature of the handset is the Emergency call button where the user can save up to 5 emergency numbers which allow the user to dial (in order saved) by simply pressing and holding the button down. So essentially, if the 1st number saved is not answering it will then automatically start dialling the 2nd number saved and so on. Not only this, but the handset will cycle through all 5 numbers saved 3 times to ensure that someone can be reached in an emergency. 
As if this was not good enough, the handset will also send each number saved a text message which will read: " You are about to receive an emergency call. An audible warning signal will sound when you answer the call. Please press the 0 key three times to establish a connection."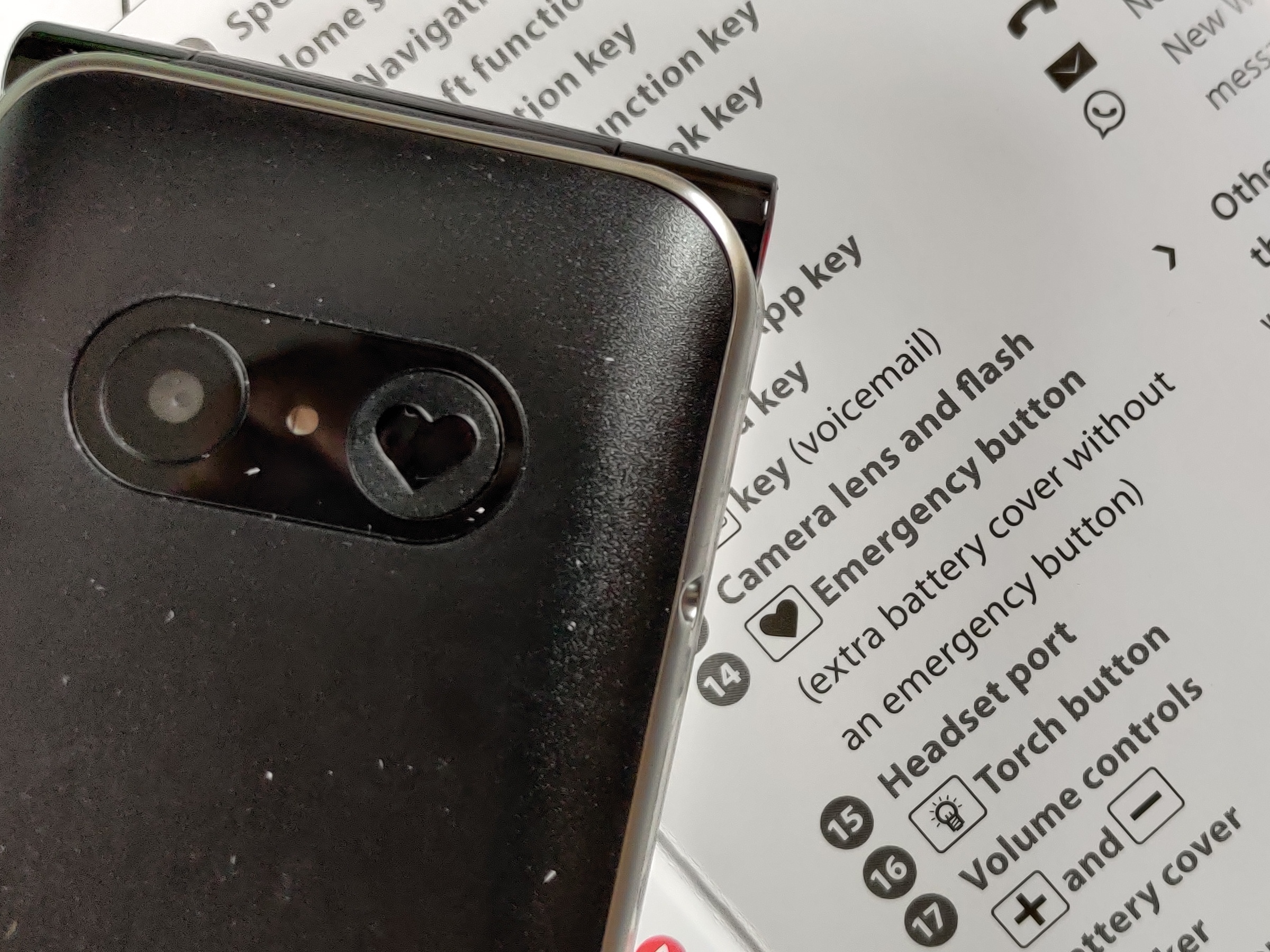 This function alone is a great USP that can be found on many of the Emporia range, and we salute the addition of this and the simplicity of it too, well done, Emporia. 
WhatsApp
Emporia has also added WhatsApp and making it easy to access by having a dedicated keypad key to make it easy for users to get straight into it. Not only that, in true form, you get a dedicated manual to help guide you through "How To" use the app. 
Other function keys include dedicated Contacts List and Camera access, other examples of how the design has been well thought through.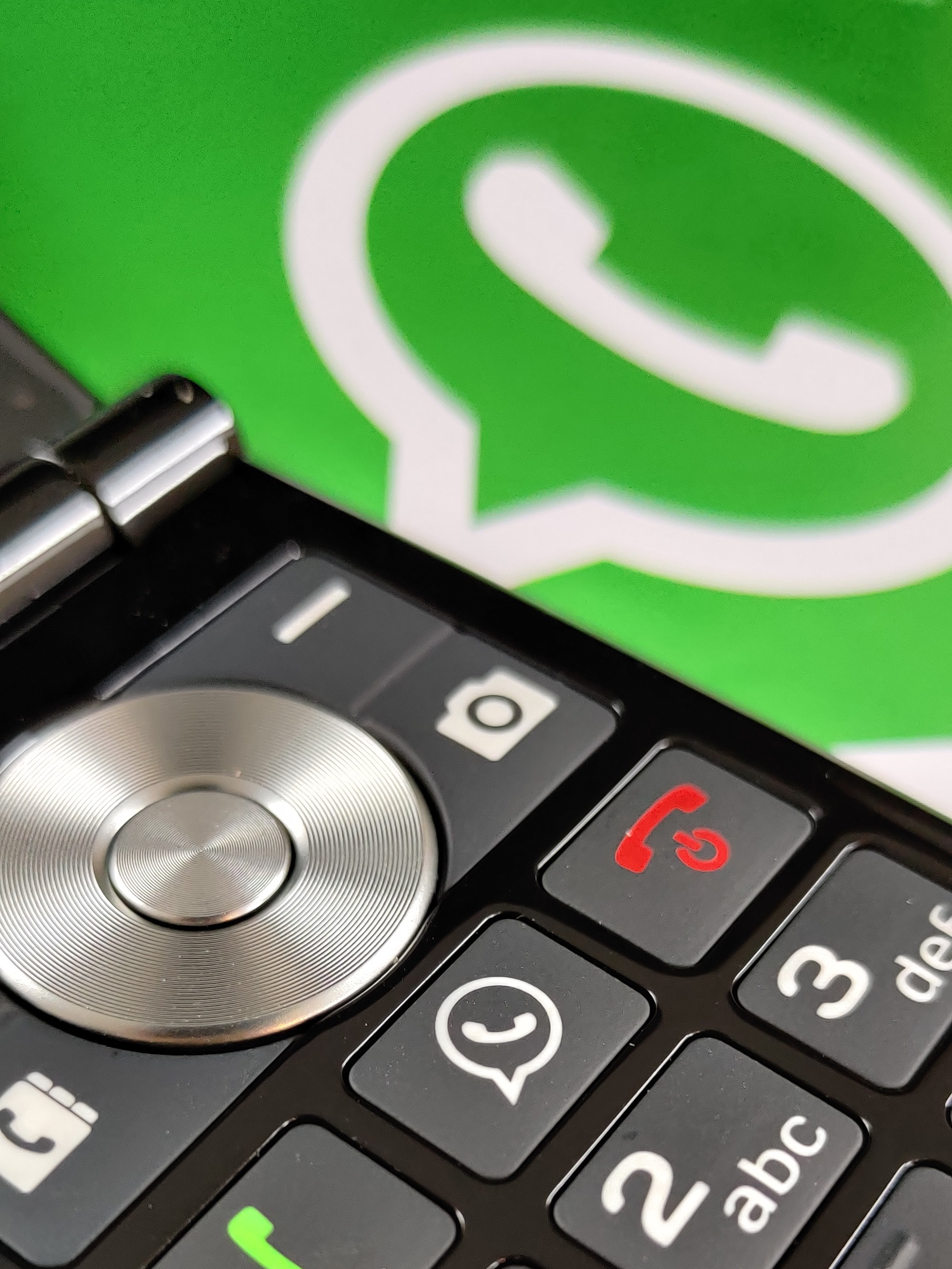 The handset also has a Nano–coating which helps to keep it safe from accidental spills by giving it an IP54 rating.
Performance/Camera
Using an Android GO foundation, it allows the device to have a nice smartphone backbone, which allows for keeping the device updated with software such as WhatsApp which is a platform that is pivotal in keeping updated, also having the Android GO operating system ensures that having a balance between touchscreen and physical buttons becomes possible with a stable and reliable OS. 
The TOUCHsmart has all the performance you would expect and need, it is WiFi–enabled and has Bluetooth functionality.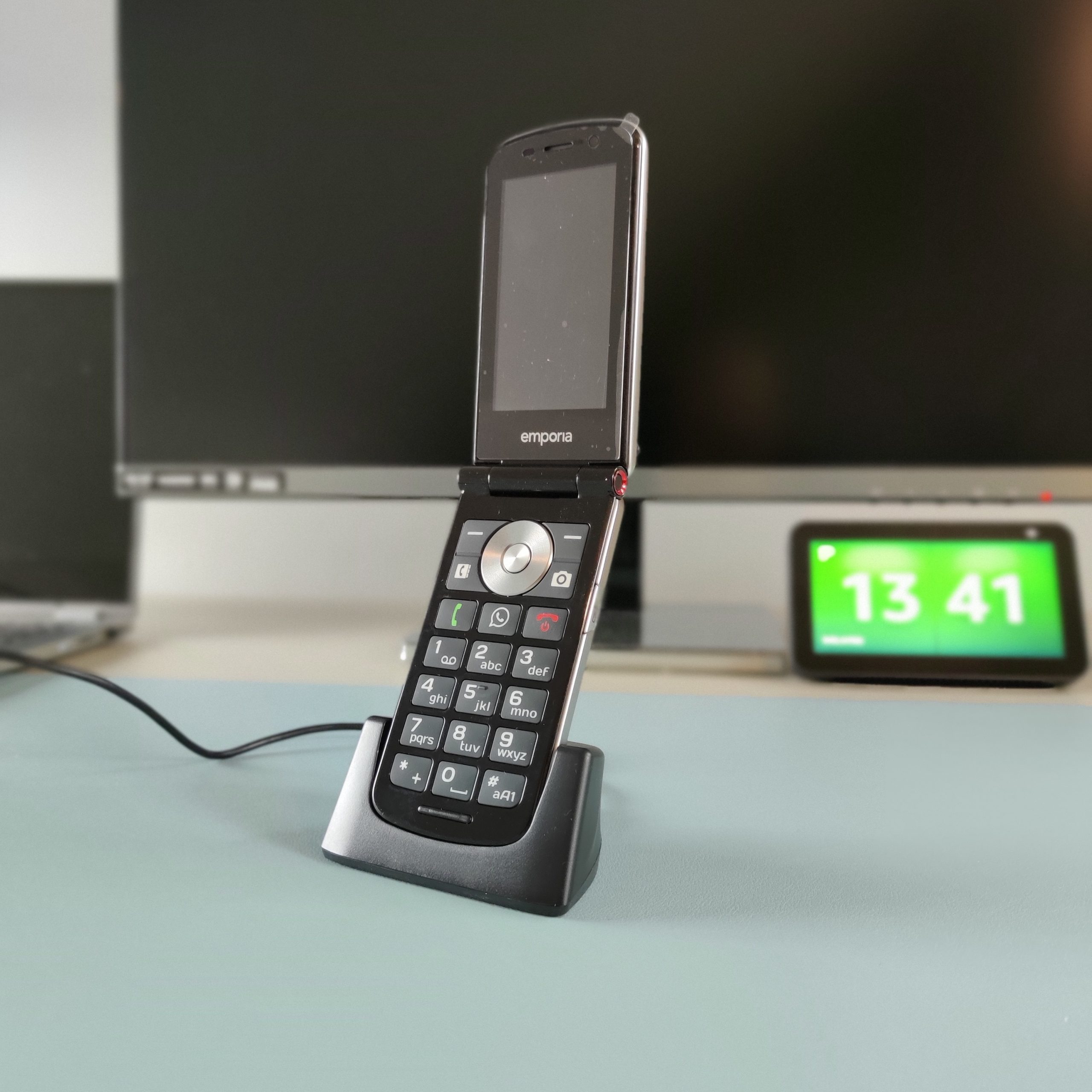 The device has an integrated 5MP camera which is probably the only design flaw we came across, the natural way of holding the device seems to have a detriment effect when you go to take a picture, we found that you find yourself covering the lens and also not holding it at the right angle facing the subject you wish to capture.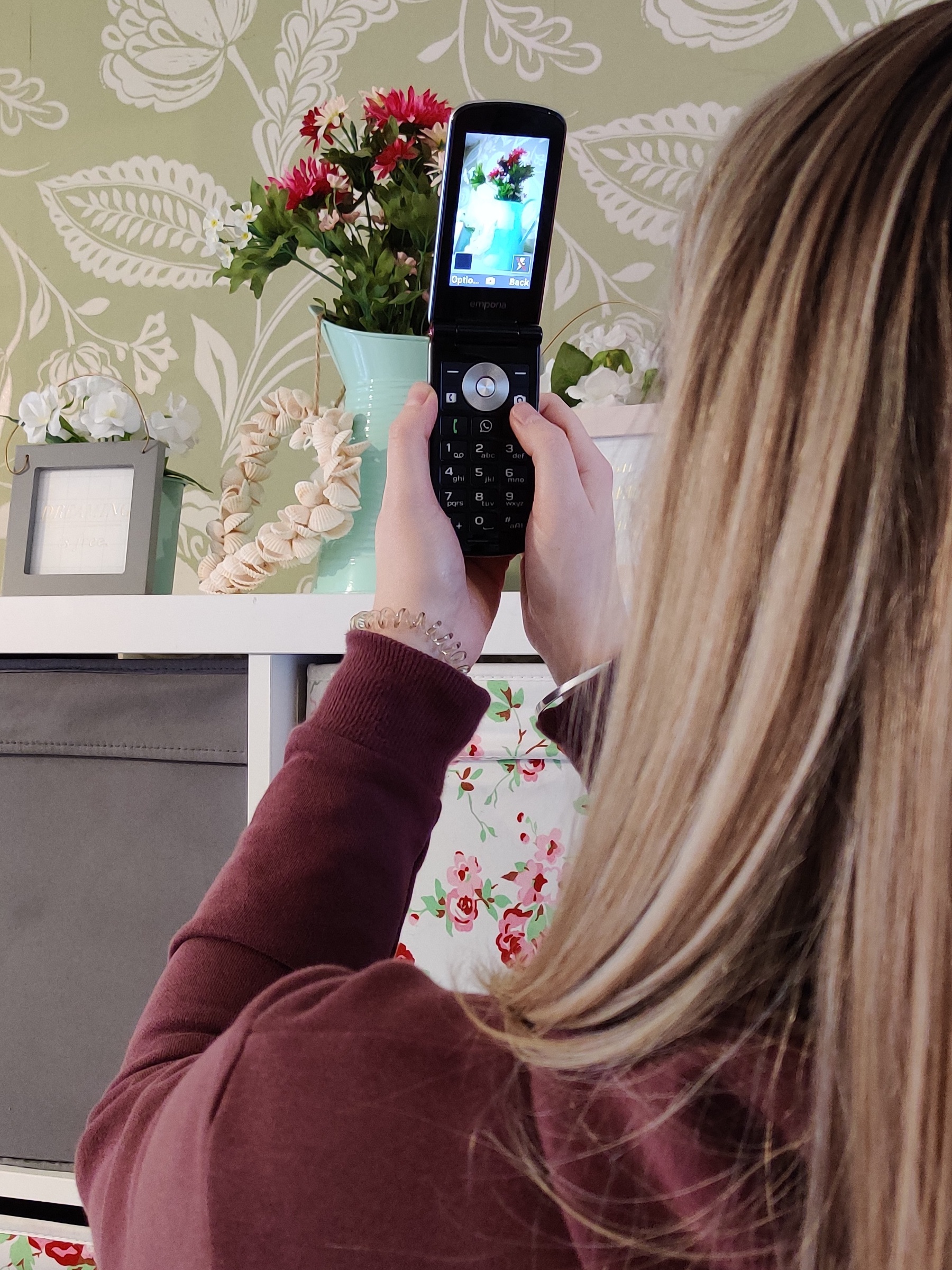 We feel that the camera should've been housed on the top half of the device where the external display is, this was slightly frustrating.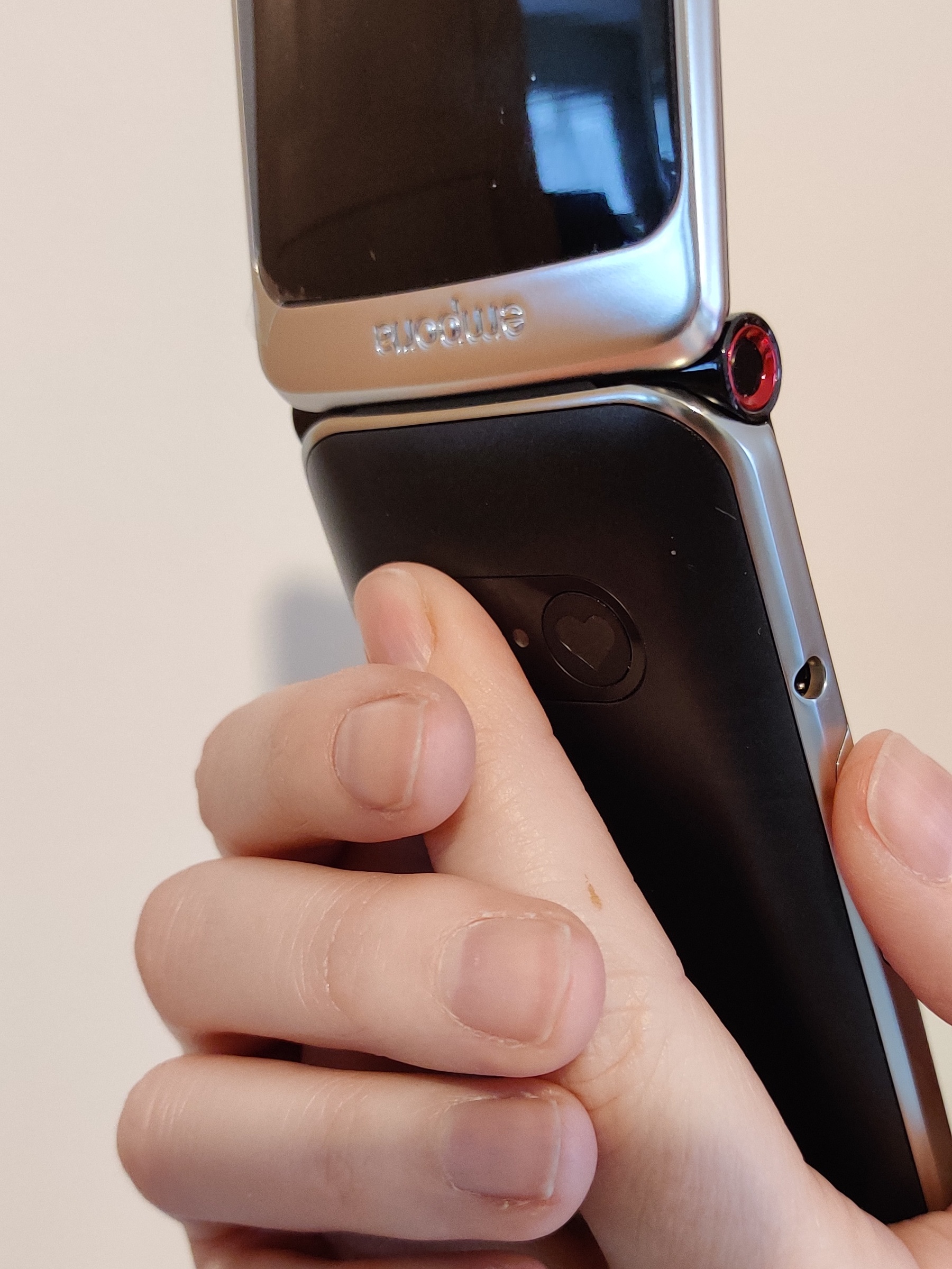 Upon setting up the handset, everything was responsive, with no lags. When you go into the WhatsApp function, it guides you through updating the software too, which is useful.  
Overall performance is refreshing, to the point where you think, this would be a great way to get into some form of Social Media detoxing, seriously, it takes you back to when life was just, simple. 
Verdict
If you need a device that will support a senior family or friend, or even yourself to be quite honest, then this does do the job and does it well. 
Aside from the camera placement, which you can readjust and get used to, this is a phone that will just deliver on the functionality you need from a mobile phone. It makes life easy, it is also backed up by simple guides (manuals) to keep your interest at heart. 
The clamshell design is timeless, consumers will always love them. The desktop charger/cradle is a great addition to hardware, which can be used to easily dock the handset and also allows you to use whilst on charge too.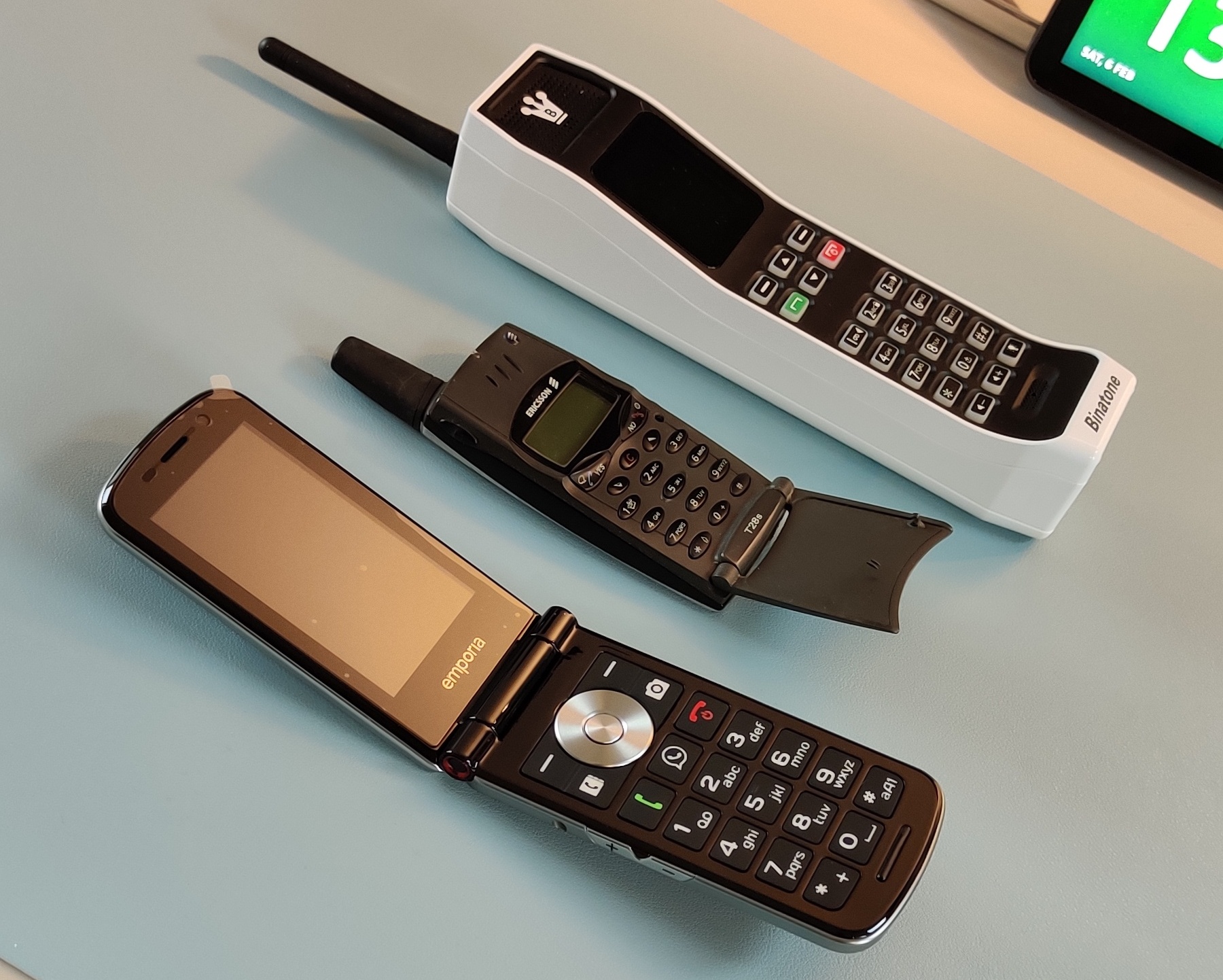 Product Rating: 
Design: 4.0 out of 5.0 stars4.0.    
Features: 5.0 out of 5.0 stars5.0. 
Performance: 4.0 out of 5.0 stars4.0.
Value for Money: 5.0 out of 5.0 stars5.0.  
Overall Rating: 4.0 out of 5.0 stars4.0.   
The emporia SMART.4 available for the Phone Coop for £15 per month or £150 from Maplin.co.uk
Thanks for reading this review, please continue to support us and check out our other reviews and follow us on Social media: Facebook, Twitter,  Instagram & Linkedin