Gecko Covers – Business Cover for Apple iPad 2019/2020 – € 34,95 from Geckocovers.com
Overall Rating: 4.0 out of 5.0 stars4.0.
The second iPad case we been lucky to review after the Qwerty keyboard cover from Gecko is the Business Cover case. This case costs € 34,95 from the Gecko website and is designed for these who have on the go business meetings.  Remember before the global pandemic when trade shows were not online and you could actually meet another human and shake hands and have a face to face meeting remember them days? 
Well, Gecko designed this case when we can all go back to these lovely days of having a face to face meetings. This case is made mainly from suede but does use some leather on the front to add to that protection and to prevent damage or scratches to the iPad. 
Also on the front is a holder for your Apple Pencil or Stylus Pen perfect for making notes on your iPad on the go.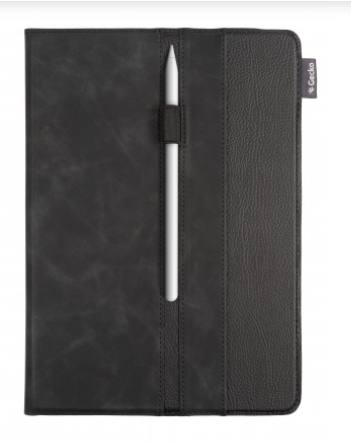 Unlike the Qwerty keyboard cover what does annoy me is Gecko have left the magnetic latch off this cover which brings up my issue that the front cover can easily open when in your bag when travelling. There is also no magnetic kickstand yes you can turn it into a kickstand case but that is by moving the plastic iPad holder out and lining it up to the raised section on the inside of the front cover. It does hold in place most of the time but the magnetic kickstand would have been a lovely option to have. 
This case does, however, have a wake-up and sleep function for the iPad which is great for saving power but my issue is without the latch the iPad could switch itself own if the case opened in error. The benefits of this case are it's designed for that professional making moves in a tradeshow. On the inside, it has spaces for business cards and also a space to keep paperwork on the inside perfect when you need to carry a contract or some written notes.
What I really like about this case is it has a hand strap on the inside so when showing something like a presentation when manning a stand it allows the user to use the iPad and know they have a good grip when using it when standing or even when walking.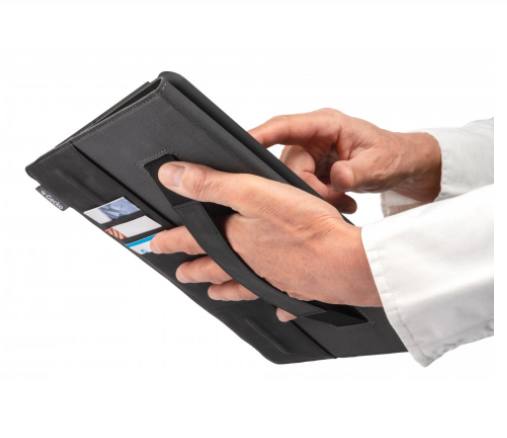 Just like all the other Gecko covers, it offers perfect positioning for all the ports and buttons to be accessed with ease which is a really important factor when considering an iPad cover to buy.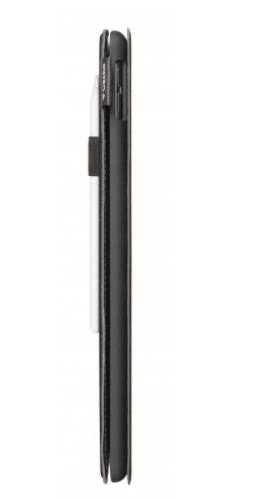 Verdict
The Gecko Business case is a nicely designed iPad case but it's just missing a few key aspects to make this case perfect. Firstly you can only use the stand in landscape mode it would have been nice to have had a portrait option.  Also, they have gone back to the folded kickstand that you have to position perfectly for it to stand up instead of keeping the magnetic kickstand in the previous model we reviewed. 
I like the fact it offers a wake up/sleep option meaning you have quick use and the fact it offers that professional element with the Apple Pen holder, business card slots and pocket to keep your important paperwork close to hand. The business cover also has that handy elastic strap meaning you have that extra grip when standing and showing someone something on your iPad or even making notes it prevents me from dropping it.
This case nearly got full marks as its budget-friendly and offers lots of useful functions for something using this for business but with the kickstand, a little unstable at times and the fact they have yet again not used a magnetic latch this case gets a solid 4 stars.     
Product Rating: 
Overall Rating: 4.0 out of 5.0 stars4.0.
Gecko Covers – Business Cover for Apple iPad 2019/2020 – € 34,95 from Geckocovers.com
Thanks for reading this review, please continue to support us and check out our other reviews and follow us on Social media: Facebook, Twitter,  Instagram & Linkedin