Adonit is a Stylus Pen company that I have covered a lot in all my reviews over the years and the latest review for us here at What Gadget is the Adonit Note-M. This is a stylus pen with a difference.  This pen becomes a mouse and also allows you to attach the pen to the side of your iPad Pro allowing you to take it around with you anywhere.
 I personally really like using a stylus on my iPad especially when I need to make notes in the day job it's quick and easy and also environmentally friendly. 
Now some activity on an Ipad could be done better with a mouse but as you know it's not overly essential. However, The Adonit Note-M gives you the opportunity to use the stylus as a mouse as well as pen and if you were to buy a keyboard you could create a portable computer if you wanted perfect for these on the move.  
Adonit which I have always said it a worthy alternative to the Apple Pencil and they have done it again. Allowing you to get writing in an instant. The Note-M also offers palm rejection for better usage.  
This stylus is only used on Apple devices such as the following: 
iPad Pro – 3rd/4th Gen 11 inch & 12.9 inch
iPad Air – 3rd Gen & newer
iPad – 6th Gen & newer
iPad Mini – 5th Gen & Newer 
Design-wise its very simple looking just up from the tip is the power button and beyond that is the mouse clicker which works very well. At the end of the pen is a multi-angled motion sensor which acts the same way as if you were to move a mouse normally. You can use this mouse on any surface and it works just fine.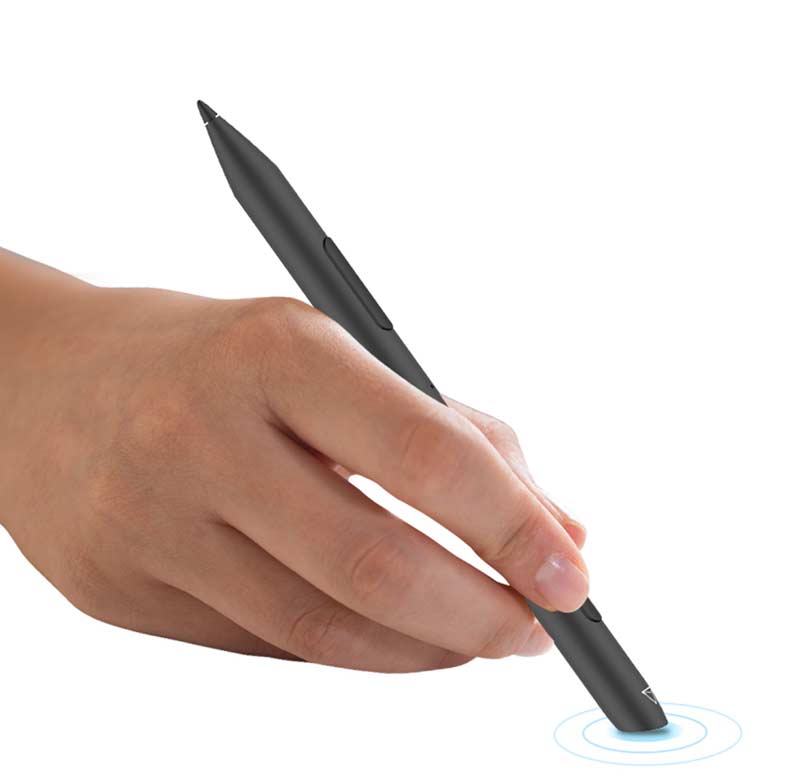 You will notice that the button is placed just under your index finger allowing you to use them with ease. Size-wise it's 6.5 inches long and is just a tad bigger than the average pen but will fit in your hand perfectly. 
What makes this pen different to others on the market is that one side of the pen has a flat surface which when you connect to the side of the iPad using a magnet built-in to the flat side of the pen.  In fact, it will connect to any surface that attracts a magnet.
It's also very functional. You could hold it while you type and then just change your grip on the pen and use it as a mouse. Basically making the office desk mouse redundant as the button with the image of the mouse on the pen also allows you to use a scroll wheel as a normal mouse by the small touch panel. 
I did struggle to use this function a little at first as you can use the mouse without a surface but it is much better when the sensor touches a surface. When you want to just use it as a pen simply press the power button once and it's back to being a stylus.  Now something to consider if you want to use it just a pen just switch on a go. However, for the mouse function, you need to pair it via Bluetooth which is very simple to do. 
Now you will notice as you need Bluetooth for the mouse part of the pen it will also require power and charging and this is done via the USB-C port located halfway up the pen. A full charge takes 1 hour.  You can use the pen with a longer USB-C cable in order for it to charge while you use it. However, once fully charged you get 10 hours if you use the stylus only but if you use the mouse function you get 50% of the battery life. 
Would I buy this? 
Adonit has always provided a real alternative to the Apple Pencil for cost and this is no exception:
So cost-wise Adonit offers a saving but it's also packed with features such as the mouse function which the Apple pen does not have.  However, the Note-M does not offer tilt detection nor does it offer pressure sensitivity which is a big negative for those artists in the room.
The mouse function is great to use and really offers another function to a stylus pen and gives you an opportunity to have a mouse on an iPad and the sensor lets you use it on any surface which is great when on the move. I also love the magnet on the size of the pen. Adonit also solves the problem when the tip wears down after continuous use as you can remove the tips something you cant on the Apple Pencil and the tips are very reasonably priced. 
So it really comes down to what you're using the pen for if you're thinking of using it for art it won't be a good buy. However, for note-taking with its palm rejection which allows you to rest your hand on the tablet and being left-handed, this is such a great function.  The Adonit Note- M gives you the option for a fully functional mouse it really becomes such a unique function you won't find with any other brand.  Also when it comes to charging the Apple Pencil allows for wireless charging by drawing power from the iPad Pro but the Adonit Note-M does not come with this feature.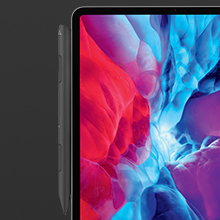 So if you feel having a mouse would allow you to do more with your stylus then for £89.99 it's well worth it.  If you're on a budget the Adonit Note Plus offers a great alternative for £62.50 which is a little cheaper than the Note-M.
Overall Rating: 4.5 out of 5.0 stars4.5
The Adonit Note-M  available from Amazon for £89.99 
Thanks for reading this review please continue to support us and follow us on Social media: Facebook, Twitter,  Instagram & Linkedin