The Snakebyte Arrow: Charge S for the Nintendo Switch – £22.99 from Amazon
The latest device we got from the gaming company Snakebyte is the Snakebyte Arrow: Charge S which is a charging dock for the Nintendo Switch Controllers.  Lucky for me my nephew has a switch so we were able to put this charger through its paces. 
Costing £22.99 from Amazon this charger allows you to charge 2 pairs of Joy-Cons as well as a pro-controller compared to Nintendo own charger which only allows for one pair of Joy-cons. 
The Snakebyte Arrow: Charge S is a better-designed charger compared to Nintendo's effort as you have the ability to charge two pairs of Joy-Cons plus that pro controller but the overall design just looks more fun. The Arrow charge is designed to complement the main charger as the arrow: charge s does not charge the main console just the controllers.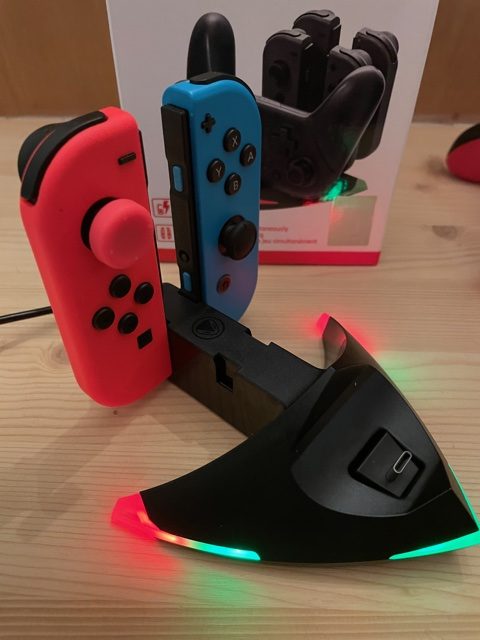 Inside the box, you get the arrow charger, USB-C charging cable & pro Controller charging adapter. Unfortunately, you do not get an adapter but it's not a big deal as most of us have loads of USB adapters around the home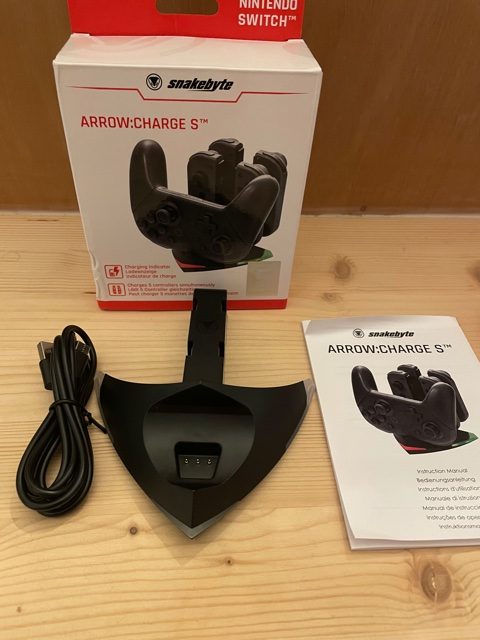 Snakebyte's charger has that arrow style it comes with 3 LED on each point of the arrow when you plug the charger into the mains the LED's appear green to show they are ready for use.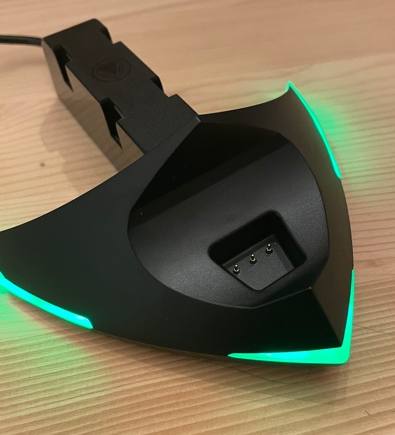 When you connect the joy-cons into the slots and connect the pro controller will sit into the charger upside down the LED's will go red which indicates all controllers are on charge. Unfortunately, we did not have a pro controller but the picture below shows how the pro controller would sit in the charger.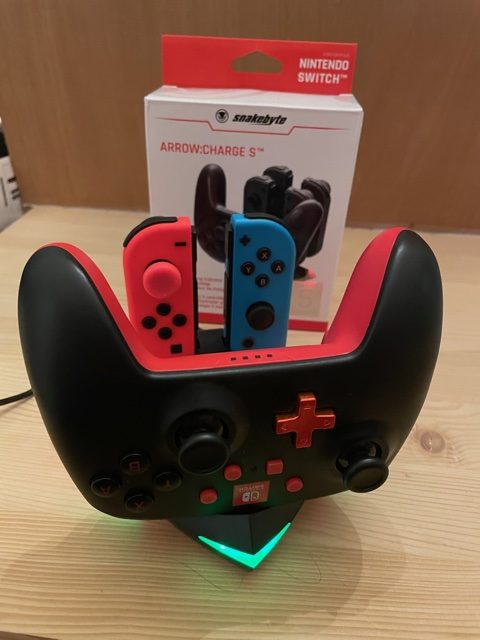 I think the positioning of the LED lights are great as they offer the chance for you to see when your controllers are charged even if you have it plugged in at the other end of the room. This is a great charger but my only issue is why you need a space for two pairs of Joy-Cons and not two pro controllers as that would have been slightly more useful.
Would I Buy This?
Design-wise Snakebyte has nailed it this charger looks like an arrow from a batman comic and I love that design. It has a few negatives that I have mentioned but considering the cost at £22.99 for a 5 in 1 charger its a great choice for any gamer. Its works well in addition with the Nintendo dock for the main console. This is a very good option for a Nintendo Switch user looking for an affordable charging accessory.  
 Product Rating: 
Overall Rating : 4.0 out of 5.0 stars4.0.
The Snakebyte Arrow: Charge S for the Nintendo Switch – £22.99 from Amazon
Thanks for reading this review, please continue to support us and check out our other reviews and follow us on Social media: Facebook, Twitter,  Instagram & Linkedin