So, you've just invested in a beautiful and expensive MacBook Air or Pro right? You spend quality time unboxing and setting it up and you're just amazed by how great it is and you just cannot wait to start getting creative…but wait…it doesn't have a port to connect my big screen, my USB-A device or SD card slots to transfer my files….What Da'!!! 
Yes, welcome to your New 1st world problems. You've just spent an insane amount of cash and you're now getting fewer places to insert your much–loved hardware? How? Why? What now?! 
Now that we have set the scene for you…read on! 
Wh
o
is Hyper?
Let us introduce you to Hyper, a Sanho Corporation company. Hyper has successfully delivered multiple crowdfunded projects via Kickstarter and Indiegogo and they've been making USB-C hubs since 2015. They have managed to build a great brand and more importantly a trusted following, which nowadays is very key to understanding and trusting 3rd party products that you will be plugging into your new and expensive laptops. You can find out more and check out their vast range of product via their website here: HYPER Official Shop | HyperDrive, HyperJuice & HyperThin – HyperShop.com 
The 

Wh

y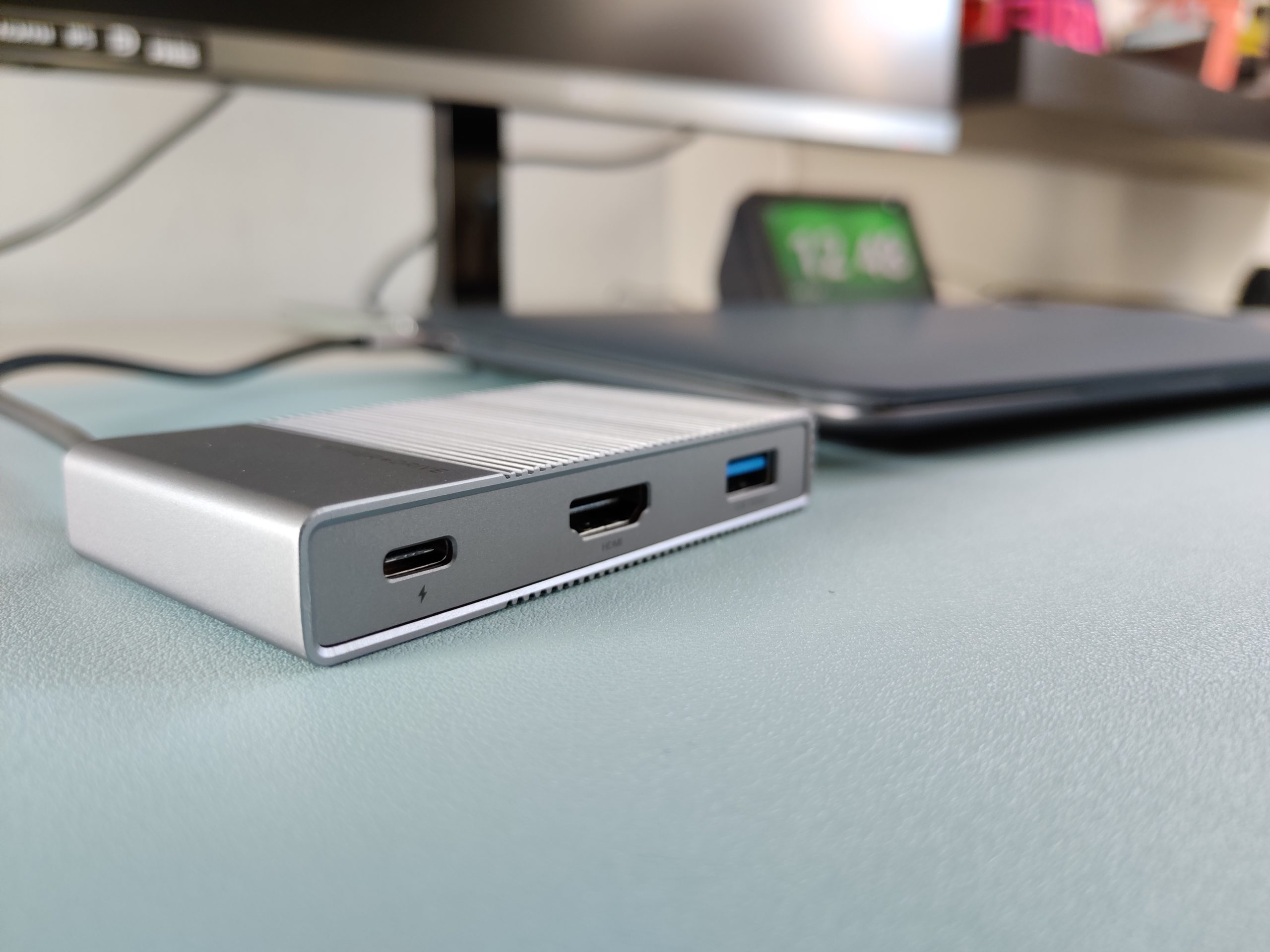 So WHY do you need one of these hubs? Well, this one, in particular, we had the pleasure of testing, consists of 6 ports, so in short, it solves many issues you will come across with your new MacBook Air (for example) which only blesses you with 2 USB-C ports and a headphone jack. There was once a time where your laptop could cater to all your peripherals housed on your desk or in your backpack.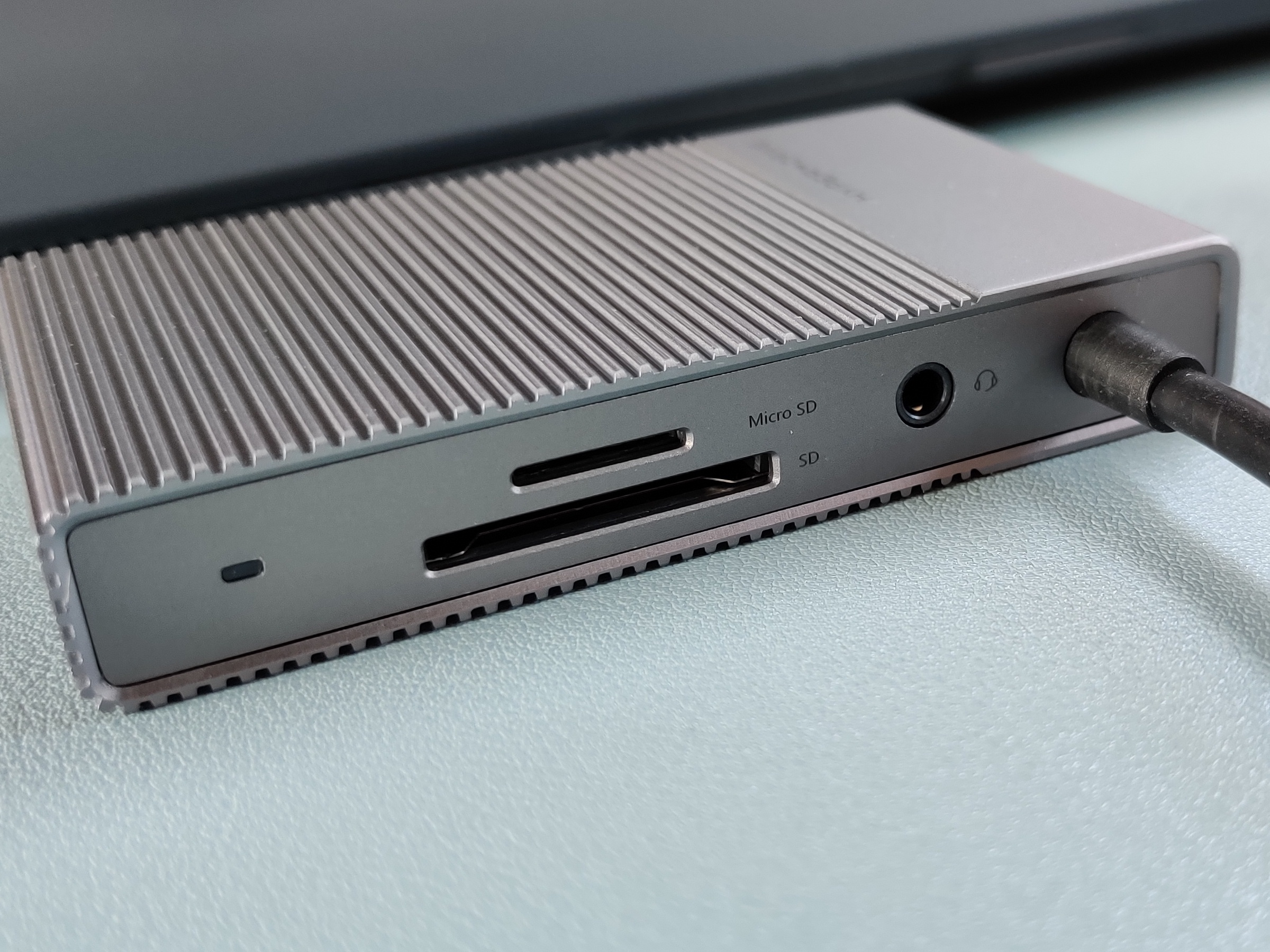 Using just one of your ports, this example gives you the ability to keep using those much loved external devices. It's very portable too, which is great as it then becomes pretty much a "must–have" travel companion, for all types of personal and business needs.  
The Design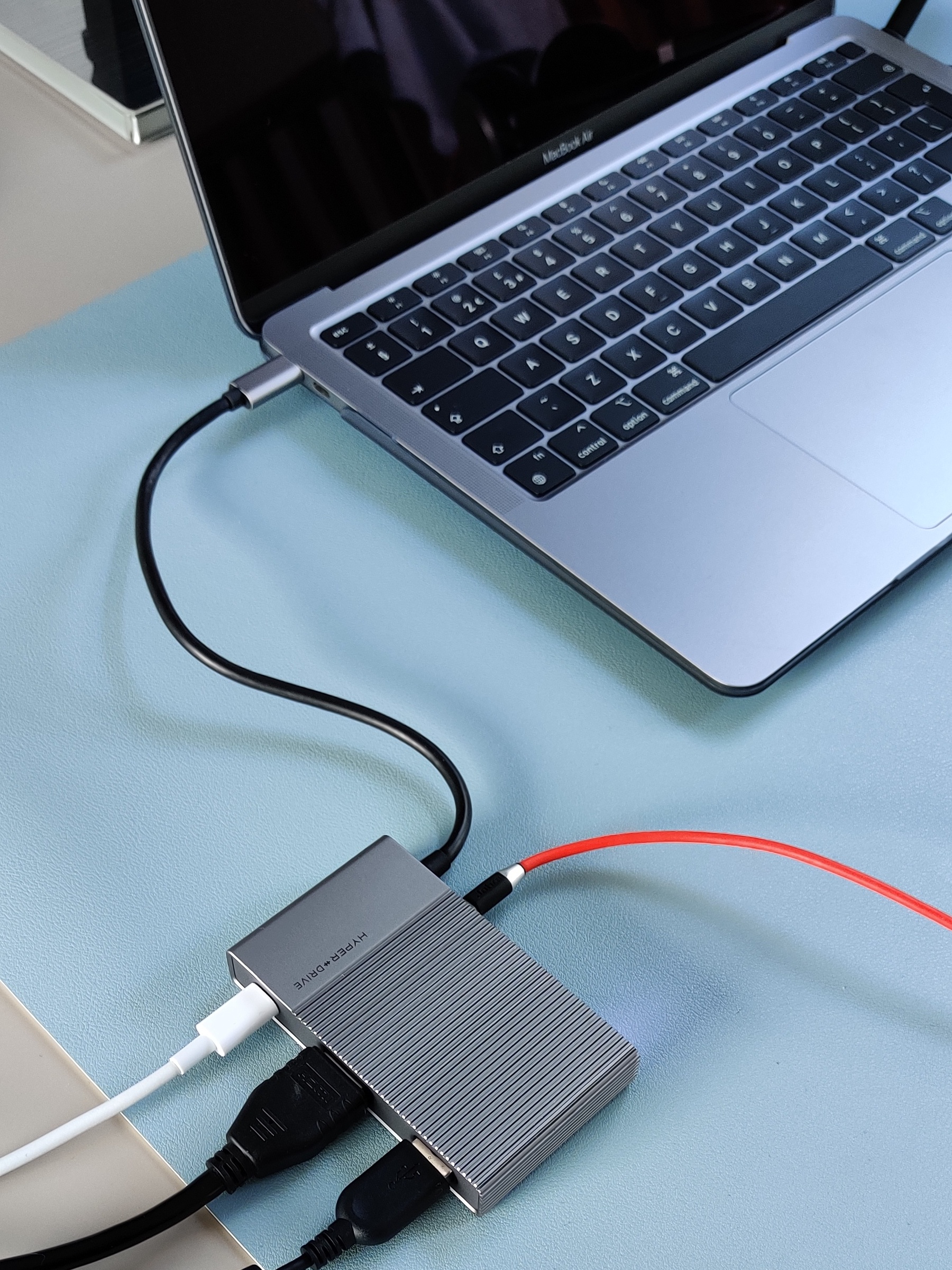 The hub contains 6 ports (if you hadn't already guessed), it has been beautifully designed to give you a nice rugged feel which gives you confidence that you have a well put together product, which to us is important, especially with the additional expense. The design brings function as well as form, the ridges are there to support with cooling, it dissipates heat so that it doesn't cause heat and throttling whilst all your devices are connected. The hub is cool to the touch too, much like many Apple devices, this adds to the premium feel and it kind of brings back a retro style which we love too. 
The hub is also designed to be able to stand upright, which adds to the cooling feature, and with the ports, you need conveniently placed to provide ease of use. 
All in all, a great design. 
Check out the full range of hubs available here, they come in 6, 12 and a monster 18-port variant. 
USB-C Hubs for MacBook – HyperShop.com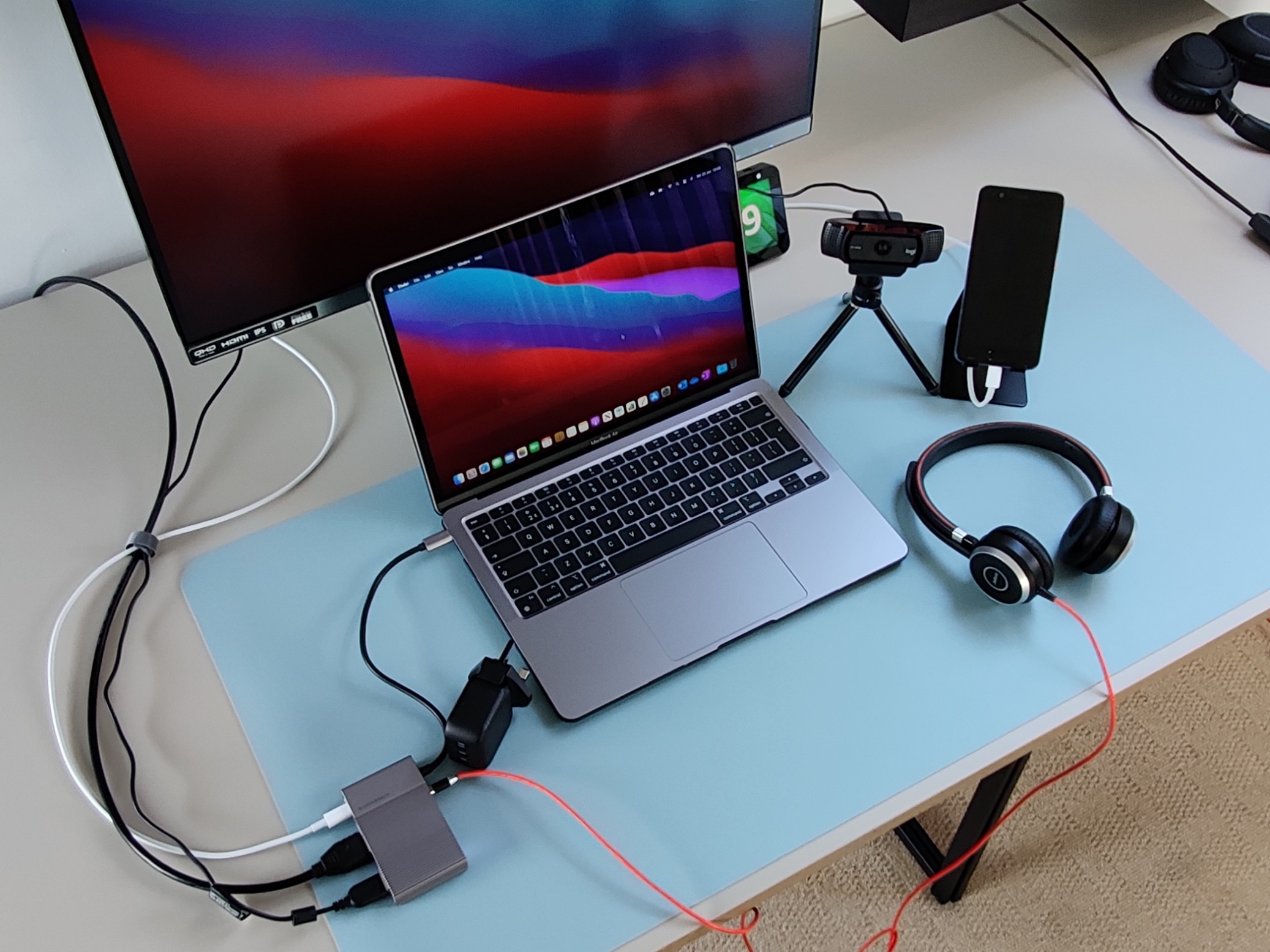 The example shows 4 of the 6 ports used to connect a Display, Webcam, Phone Charging and Headphones. A perfect home-office solution (which we all need right now). Leaving the SD card ports, which is great. 
How
The 6-port version offers the following: 
HDMI 4K60Hz HDR – Since the 1st Gen design, Gen 2 now sees an increase to 60Hz up from 30Hz previously. So you can plug in your existing display or upgrade and harness more detail and smoother experience from your display. 
3.5mm Audio Jack – This is a great addition as die–hard fans still love to hard-wire audio accessories such as headphones or speakers, so it's great to still see these being thought of. 
UHS-II 300MB/s SD & MicroSD – card ports give you increased transfer speeds as well as still providing means to transfer files from other devices you may still use 
100W Powered Delivery (PD) – means you can charge your MacBook or PC device with no issues and fast too. 
USB-A 10Gbps – essentially means you can benefit from using a device such as your extended SSD external hard drive and enjoy fast data transfers for all of you powerhouse file transfer gurus! 
Final Thoughts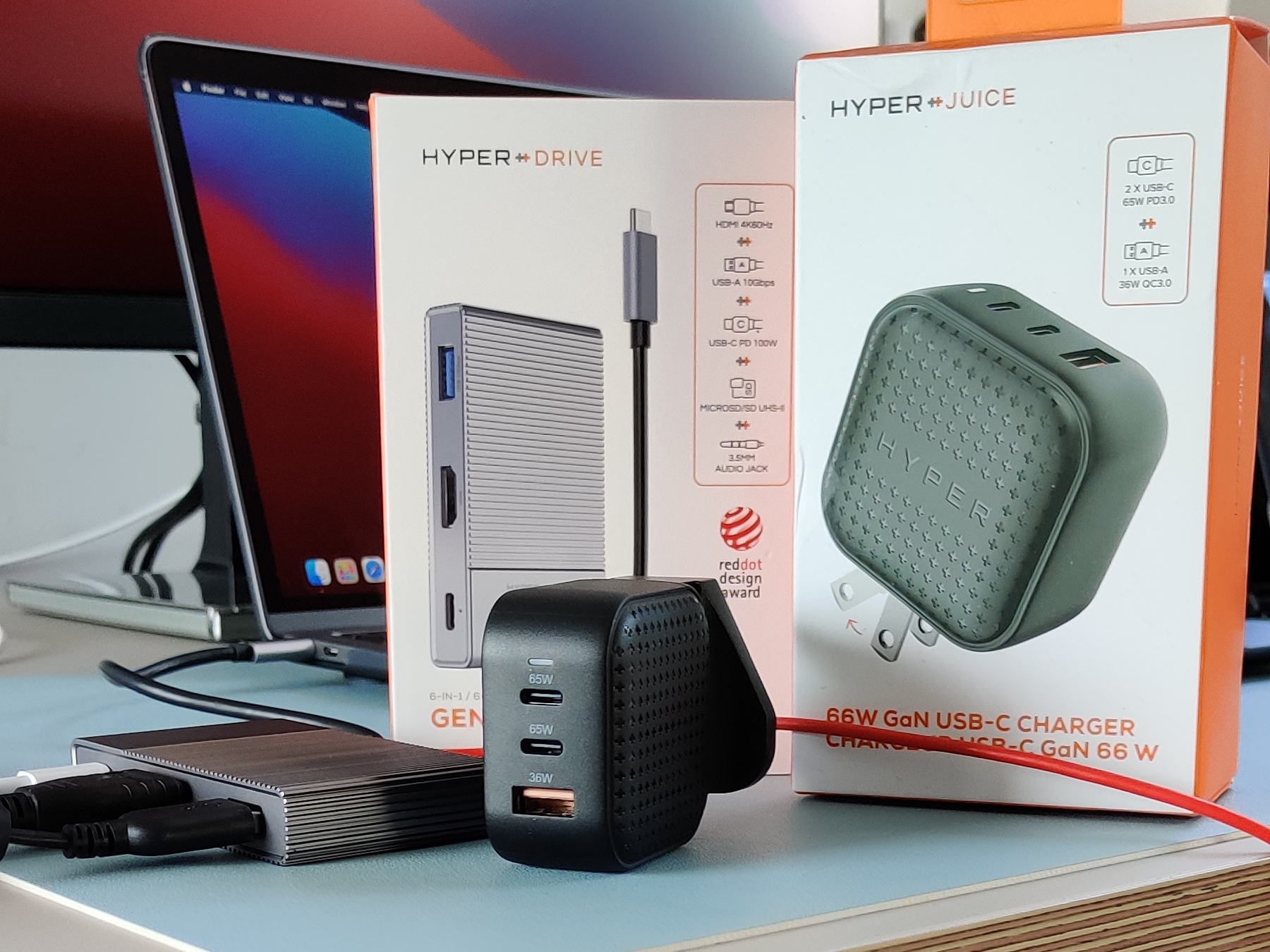 We recently reviewed the 66W GaN USB-C charger, which you can check out on the link below: 
Hyper Juice – 66W GaN USB-C Charger Review – What Gadget 
Together, these two products simply solve many problems and form the perfect travel and home companions. We feel these are your perfect "must-have" accessories, you really will not be disappointed. 
Hyper is pulling out the stops when it comes to product design, offering function first and following up with great form factors too. 
These will be part of our on-going setup and we thank Hyper for introducing us to their range and allowing us to experience what they're bringing to market. They are most certainly a brand to keep an eye on. 
Product Rating: 
Overall Rating: 5.0 out of 5.0 stars5.0.
Price – RRP £88.80 
Currently available from the below link: 
HyperDrive Gen2 USB-C 6-in-1 Hub | Jigsaw24 
Thanks for reading this review, please continue to support us and check out our other reviews and follow us on Social media: Facebook, Twitter,  Instagram & Linkedin