The OnePlus Nord N10 5G available for £329 from C247.com   
5G handsets are slowly becoming more and more available in the marketplace with the likes of Realme 7 5G and Oppo A72 & Samsung A42, Motorola One all available with 5G. In this review, we got the OnePlus Nord N10 5G from our friends at C247.com available for £329 putting this handset in the budget range for a 5G handset.
The OnePlus Nord N10 5G is part of the Nord family of products the N10 has been designed with price in mind so it has made a few changes when you consider the spec. I will discuss the changes later in this review.
The key features of this phone are: 
Warp Charge 30T Fast Charging
Rear Camera: 64MP main shooter with Ultra-Wide 
Design
When you consider the design of the Nord N10 5G it is a solid mid-range looking phone. OnePlus only offers the one colour midnight ice otherwise known as Dark Blue.  OnePlus has placed the volume button on the left side of the handset as well as the sim card slot that also stores the SD card slot (max of 512MG SD card).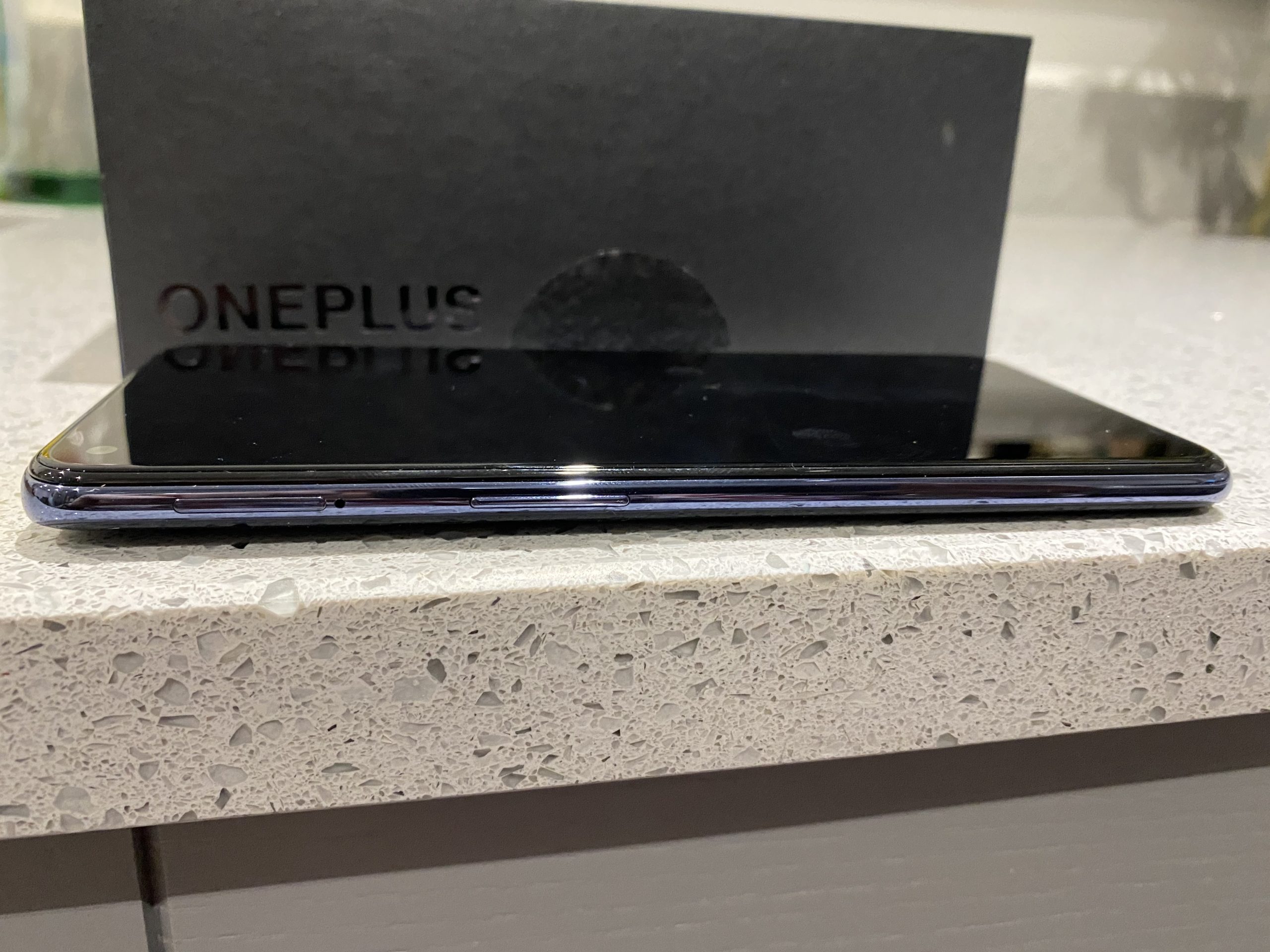 On the right side of the phone, you have your power button but you're missing that alert slider which is a little disappointing if you need to quickly switch to silent mode.   Moving to the base of the phone and something we are seeing more and more now the 3.5mm headphone jack appears next to USB-C port and next to that a nice speaker grill. 
The Nord 10 5G has a glass front but you will notice you don't have a pre-installed screen protector. What it does come with is Gorilla Glass 3 which offers a good level of protection. It's then up to you if you want to increase the protection. In my opinion, a good solid case and the Gorilla Glass 3 should offer all the protection you need.  
The back is made of plastic with a metal frame and looks really nice. At the centre of the back is the fingerprint sensor that when used is very responsive.  Also on the back is the camera block which is completely different from that of the Nord. The Nord N10 5G uses a design OnePlus fans will recognise is that all the cameras are arrayed in a rectangle shape which is slightly raised compared to the rest of the back. With this in mind, I would suggest a case to offer that area some protection.   
Weight wise it comes in at 190g and the size of the phone is not much bigger than its rivals on the market and when the phone is in your pocket you won't notice it. The phone also allows you to use this phone one-handed with ease. 
Display
I found the display on the Nord N10 really good for when I am watching the latest Netflix series or even playing games on this phone. It's thanks to the 6.5 inch LCD display. I really like the fact the 20:9 ratio is larger than its rivals in this part of the market. However its a downgrade on the 6.44 inch AMOLED display that comes with the OnePlus Nord but we did say OnePlus had to make some sacrifices to make the Nord N10 5G more affordable and that is one of them but it's not a massive problem. What you do get is a 90Hz refresh rate that can be changed to 60Hz if you want. The 90Hz refresh rate allows for the overall use of this phone in terms of switching apps and scrolling online a pleasure.  
You also get 1080 x2400 Full HD Plus resolution that works well with the LCD to create that balanced picture. This phone also supports HDR10 Plus which offers a more detailed display. Finally, the display has a punch hole selfie camera in the top-left of the screen and uses facial recognition but you will need to set that if it's something you prefer over the rear fingerprint sensor. 
The N10 5G's display is flat with a punch-hole for the selfie camera in the top-left of the screen. It doesn't have an in-screen fingerprint sensor, relying on the rear physical fingerprint scanner – but you can also set facial recognition to unlock the phone if you prefer.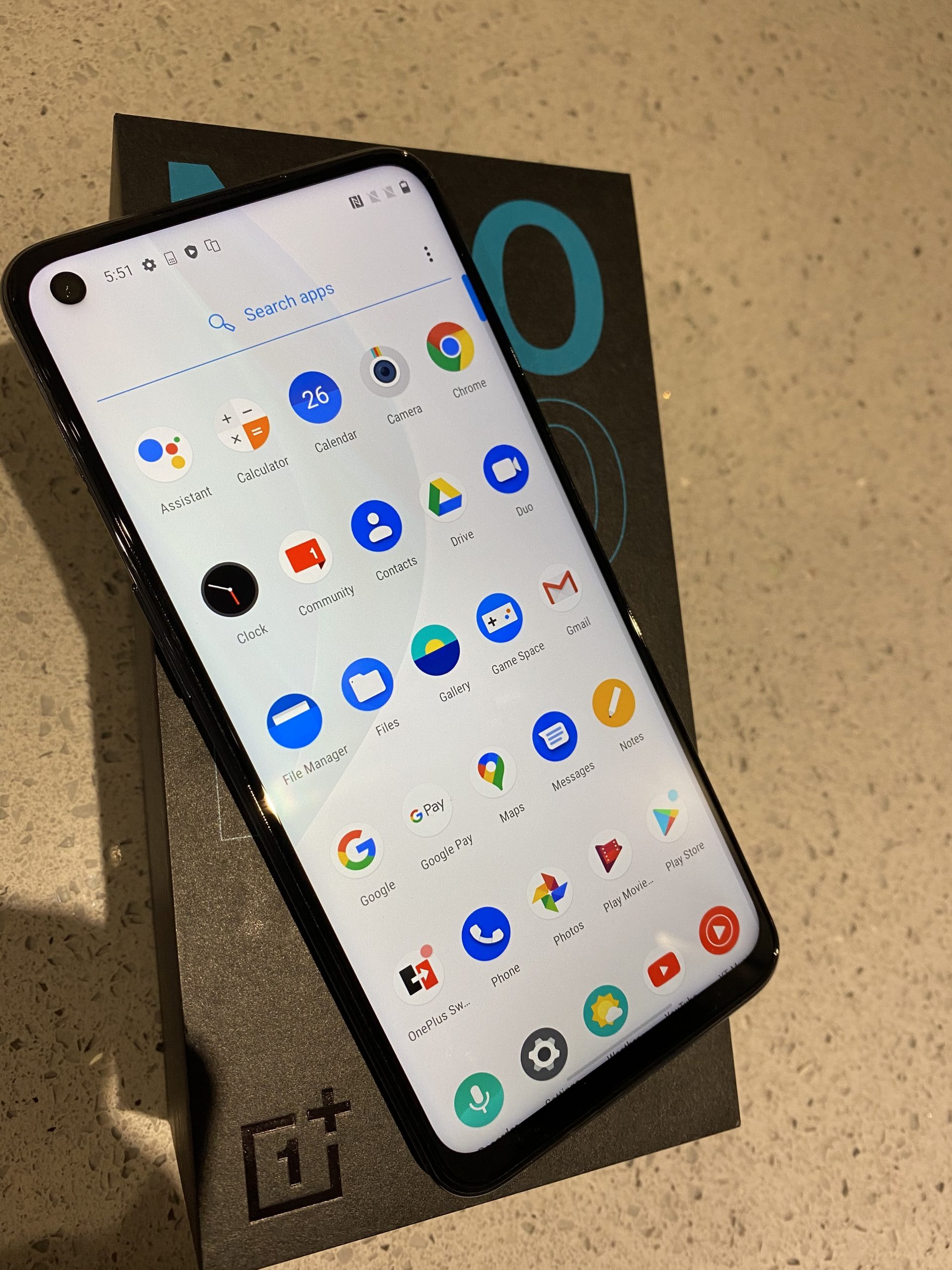 Performance
Under the bonnet the Nord N10 5G has a decent set up  with the Qualcomm Snapdragon 690 and this is paired with 6GB of RAM and 128GB of storage with the option to add to this using a microSD card up to 512GB. It's not quite to the levels of the spec in the OnePlus Nord but it does not affect the performance of this phone with a score of 1847 on the Geekbench 5 benchmark tests. 
If you're watching the latest series on Netflix or playing a game in the crazy amount of downtime some of us have playing online games the Nord N10 5G is more than capable of handling most tasks you put on this phone.  As the name suggests this is a 5G handset and it will connect to the sub 6 5G networks so as long as you have 5G in your area this phone performed very well. I am lucky that my local area of Southend on Sea is an area with 5G and I found the download speeds when connected to 5G as quite impressive.
Moving to the software the Nord N10 5G is run on Android 10 which is an acceptable and for the general user they wont notice any difference but with Android 11 available it is a little questionable why this was not upgraded to Android 11 from the off. However, the Android 10 does work nicely with OnePlus OxygenOS 10.5 overlay for a great experience when using this phone. 
This phone is also NFC enabled meaning you will be able to use Google Pay in this contactless world we are currently living in and using the NFC technology on this phone worked well in testing.   
Camera Review by our Photography expert – James Robertson-Milligan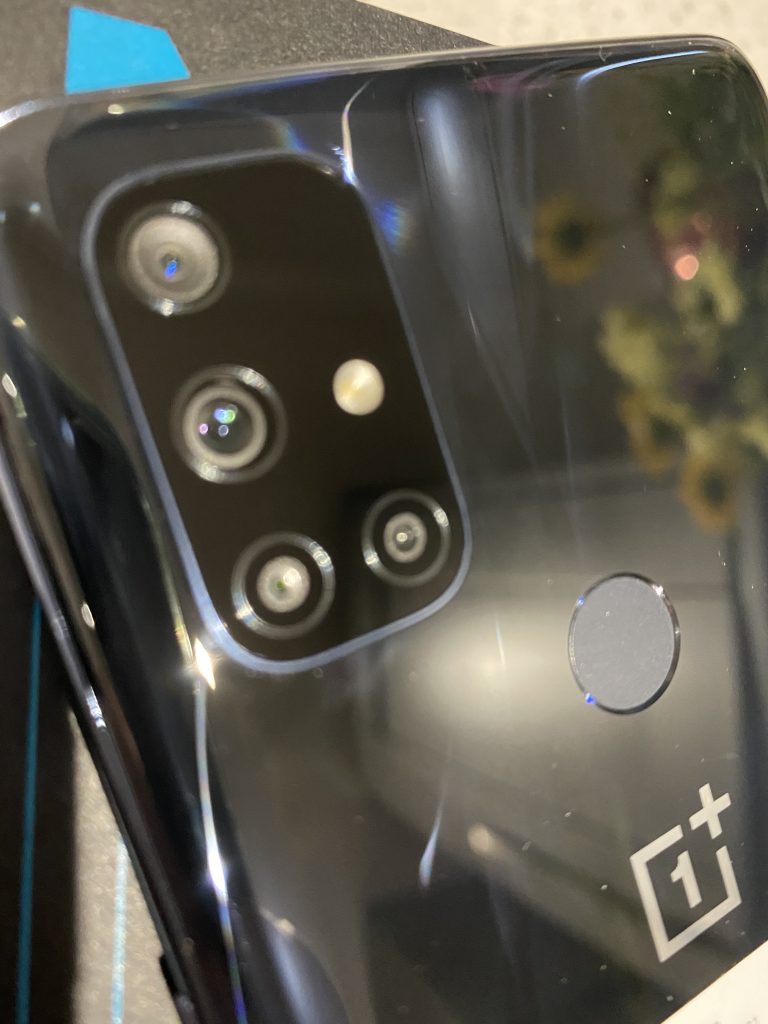 Getting this handset out of the box I was really looking forward to testing this camera in different lights and levels however due to an influx of snow this phone could only be tested in low light conditions due to adverse weather. 
I was really excited to put this camera through its paces as OnePlus have always delivered excellent camera results historically. So, let's look at what this phone holds on its camera. It comes with a 16mp 10x zoom standard triple-lens rear camera but you can flick it up 64mp BUT you lose the zoom once entering this mode which is a bit of a let-down as you would expect to still zoom in this mode. 
It also boasts a "night vision" for having extra light when taking a night time shot and lighting up the subject area as well as a wide-angle lens and pro mode where you can fettle around with the camera settings the same as a DSLR camera. The all-important selfie camera weighs in at 5mp on this device. 
Shooting features are that of any other handset, Time lapse, Panorama, slow-mo, Video, Photo, Portrait, Night scape, and Pro
Using the camera is easy to use, just tap the icon and away you go into standard 16mp shooting, at the bottom of the screen you have a little dial you can tap on to roll this to the left to use wide-angle or to the right to use the zoom, much easier than the pinch and expand that you get on most handsets. You have a small icon at the top of the screen in the centre that you can use to tap and this then puts the phone in 64mp mode BUT you do lose the zoom and wide-angle facility on this phone. 
So for a stock camera you can download apps to make your photo's stand out with a bit of editing the most popular app that is free to download and use is Snapseed, this you can really make your photo's stand out and then upload to social media, and with this camera, on the phone, you will really be able to do just that! 
The 64mp without zoom looks good and you get good attention to detail.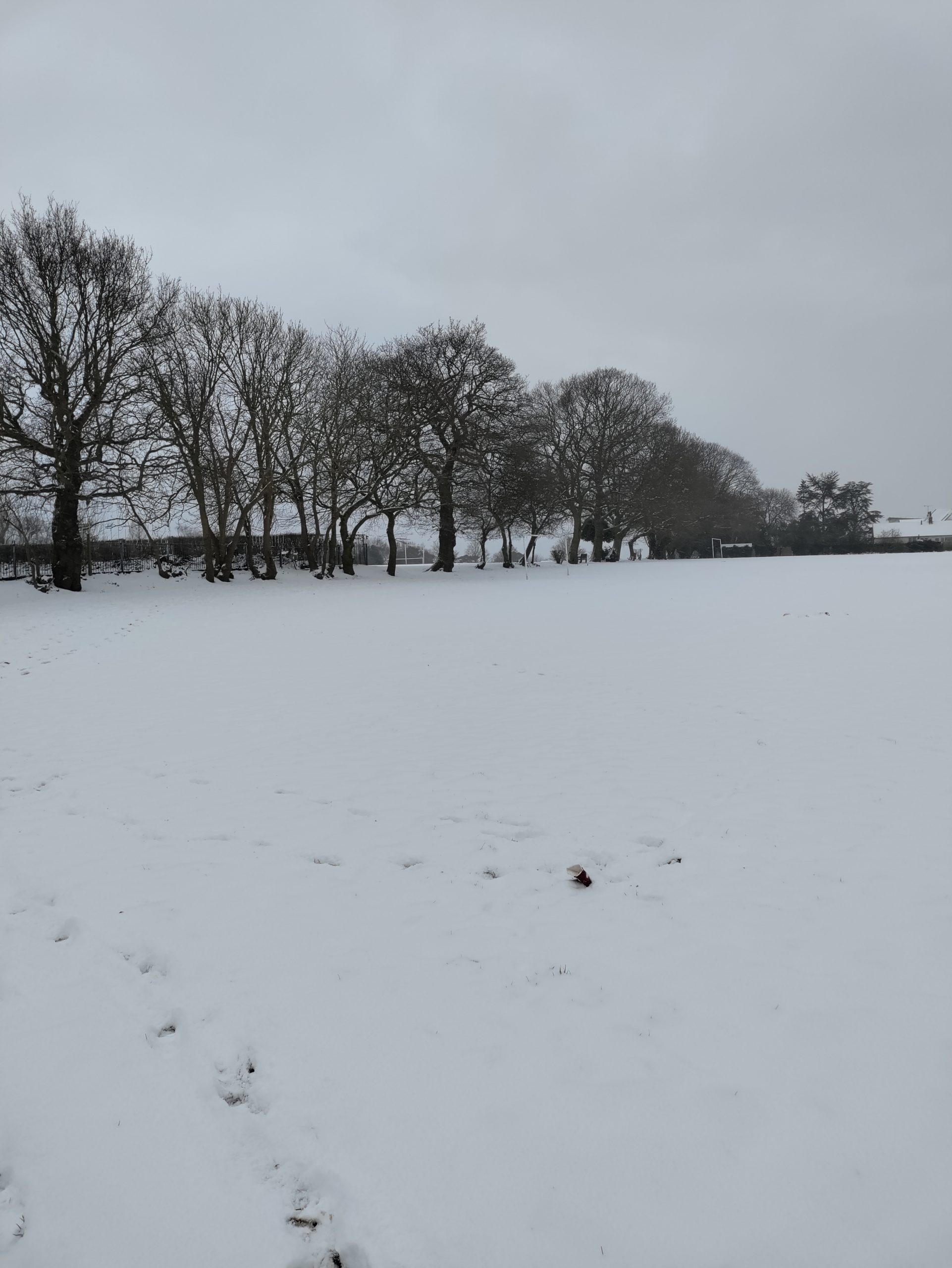 The wide-angle really opens up the subject field and good clarity.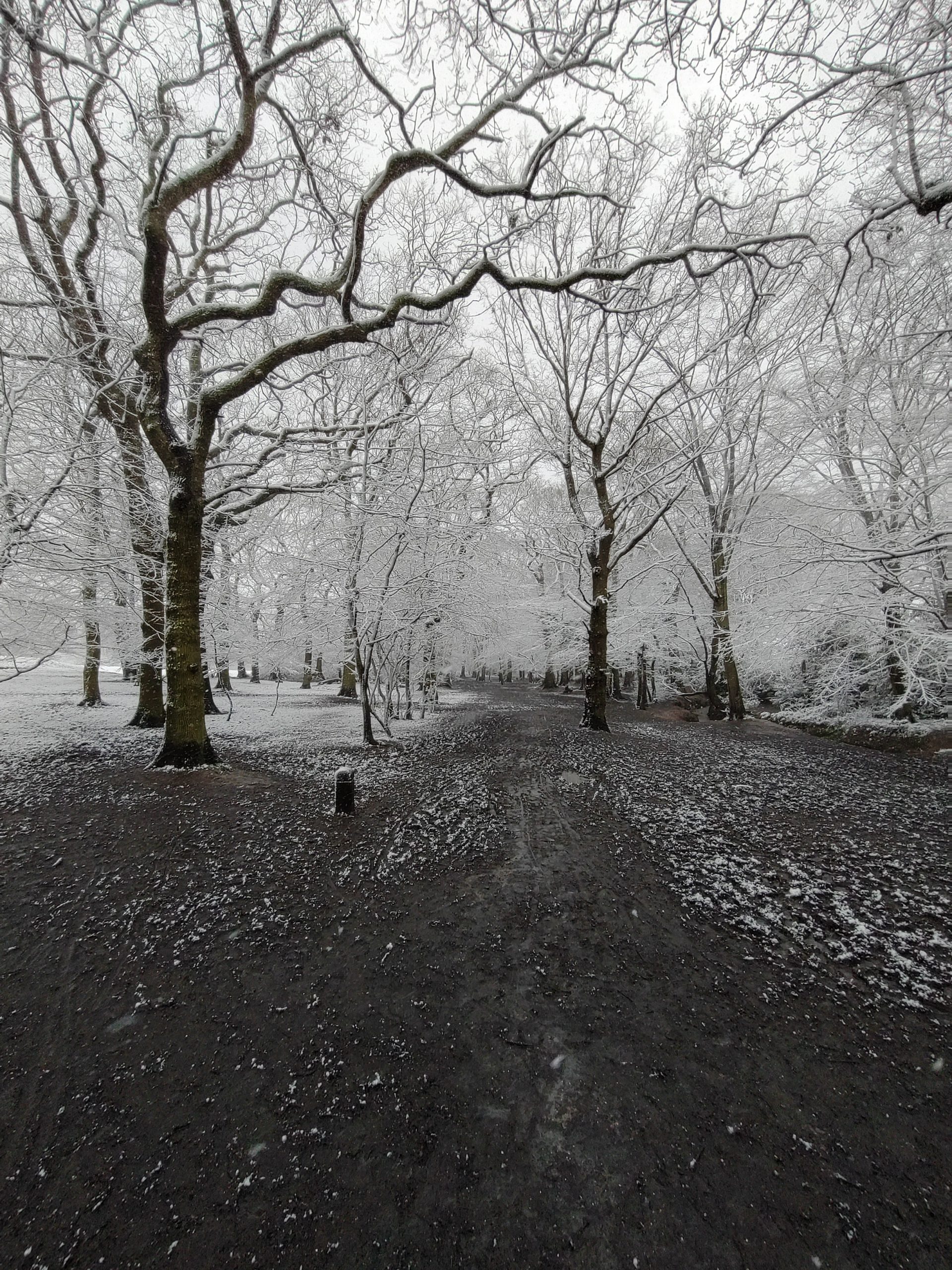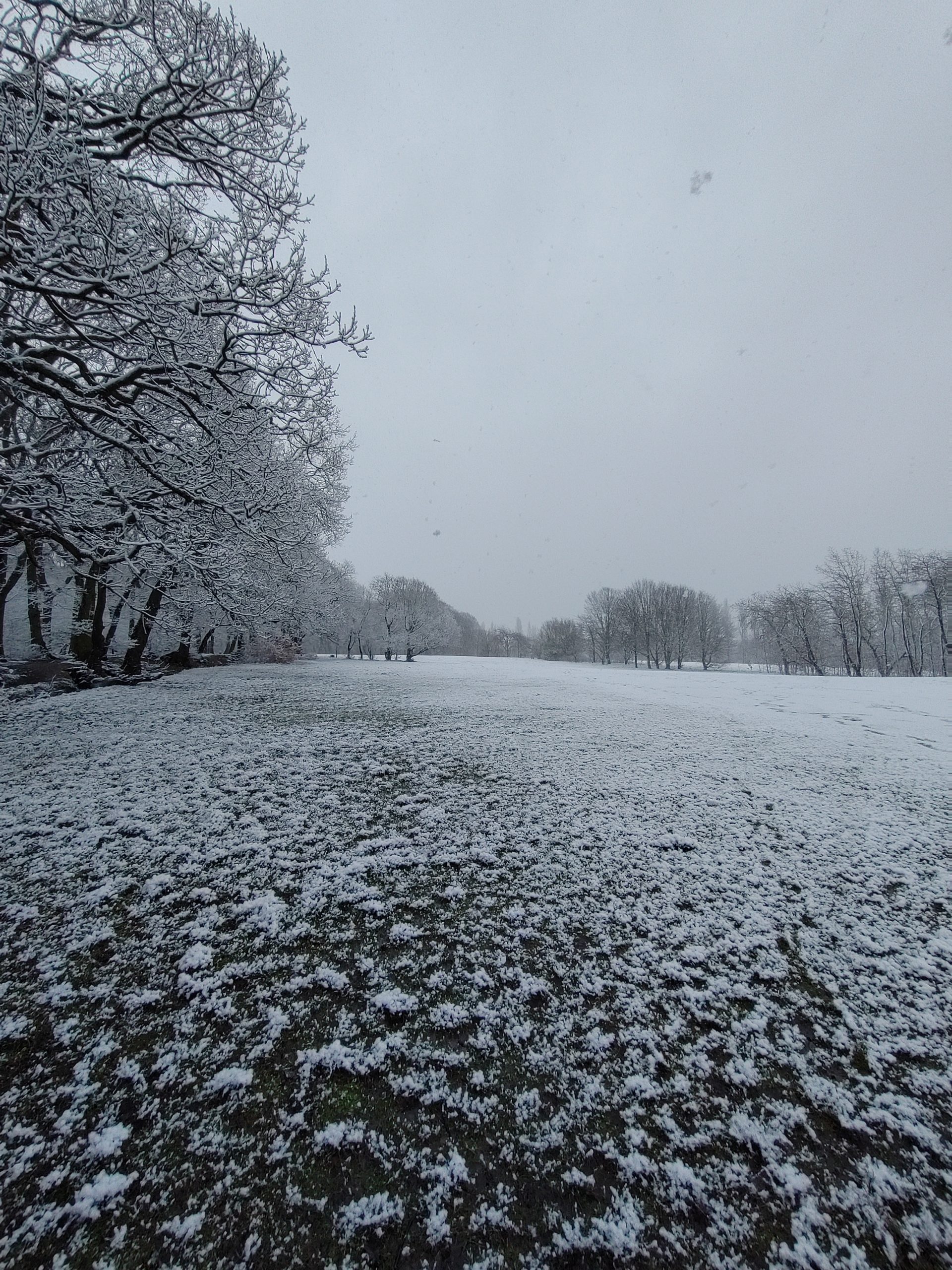 Pro mode will take some fettling and fine adjustments to light conditions.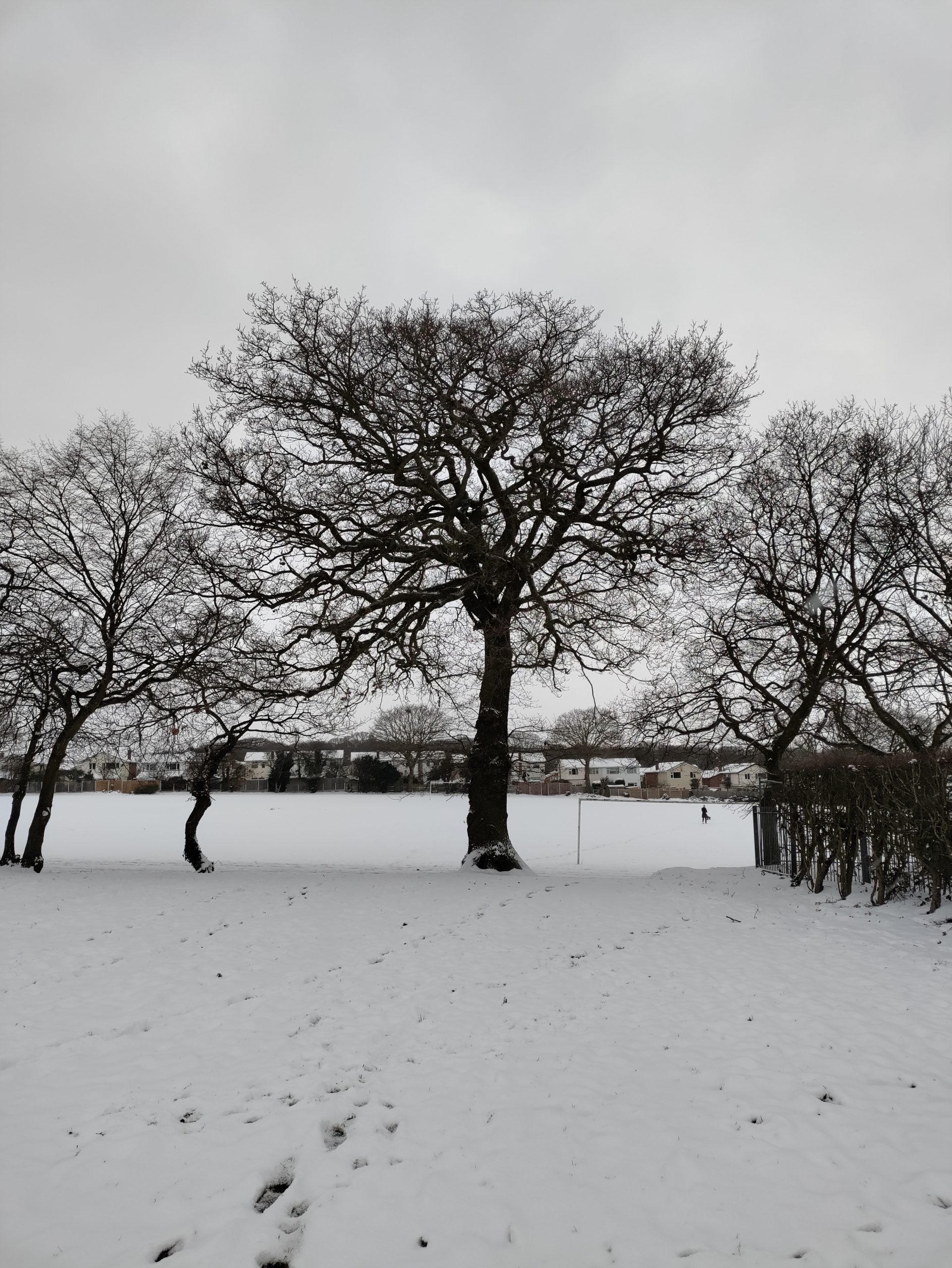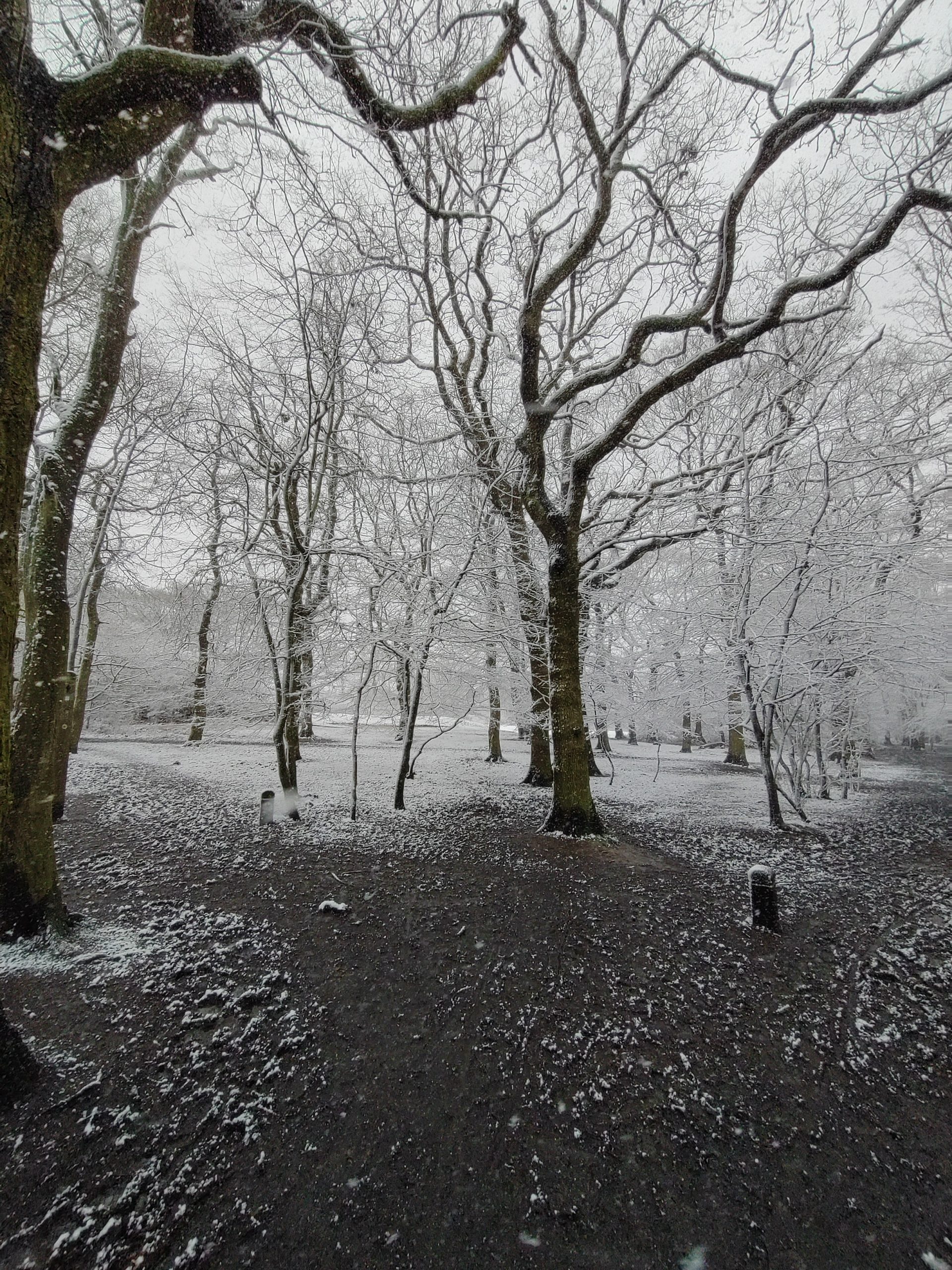 In zoom, the picture gets a little shaky and fuzzy and you lose that crisp sharp look.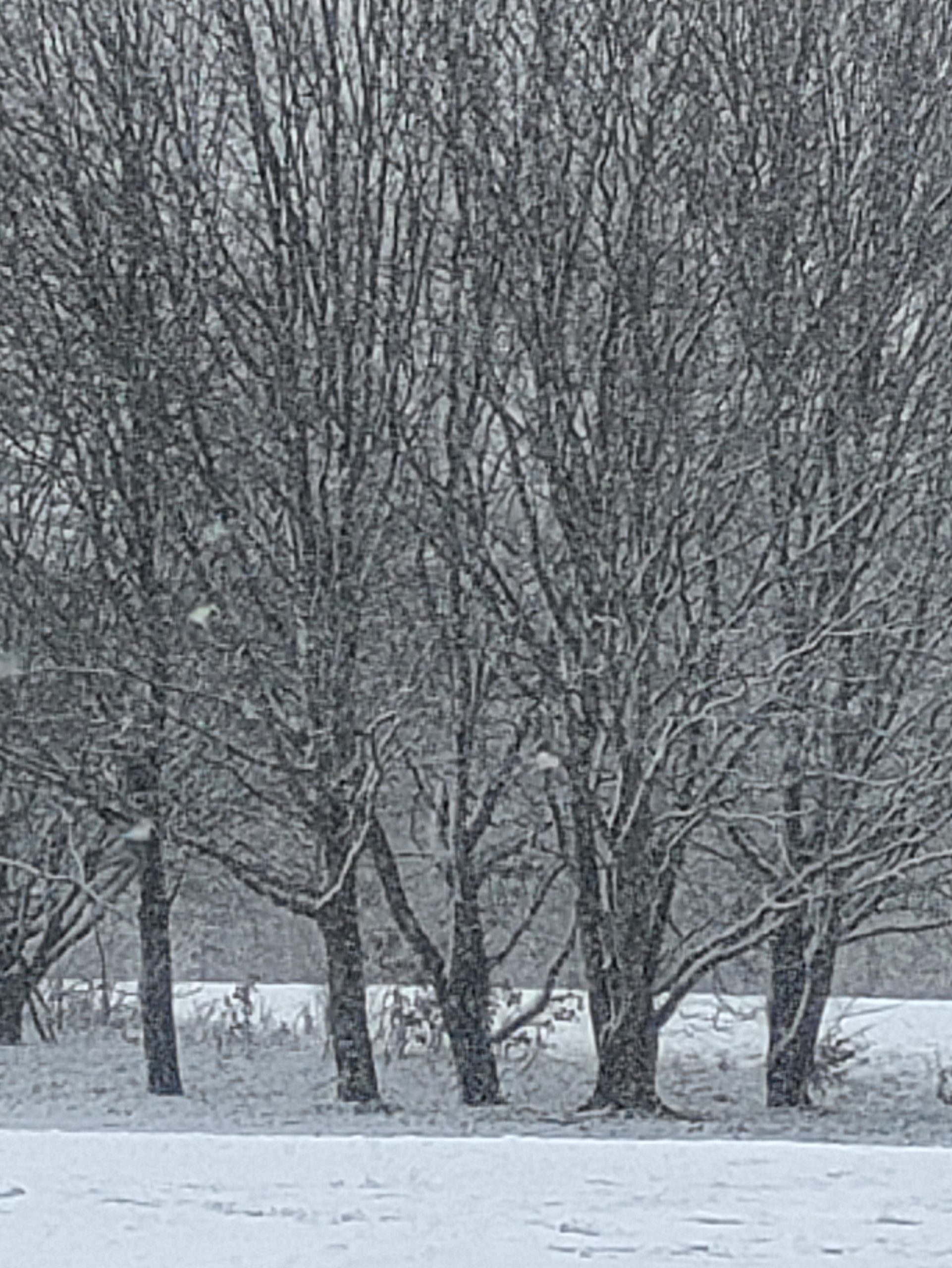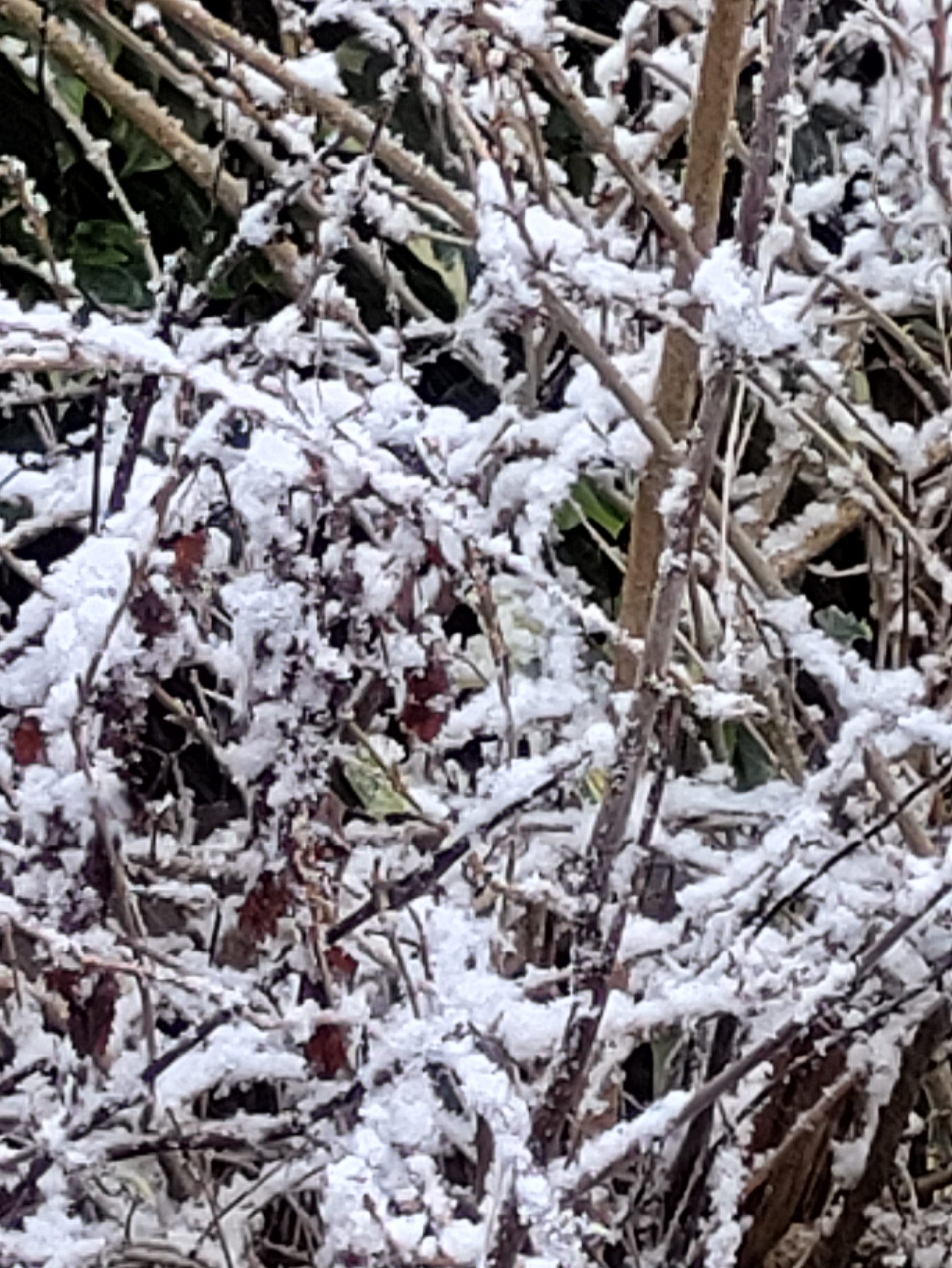 In the 16mp mode, you get some great clean pics.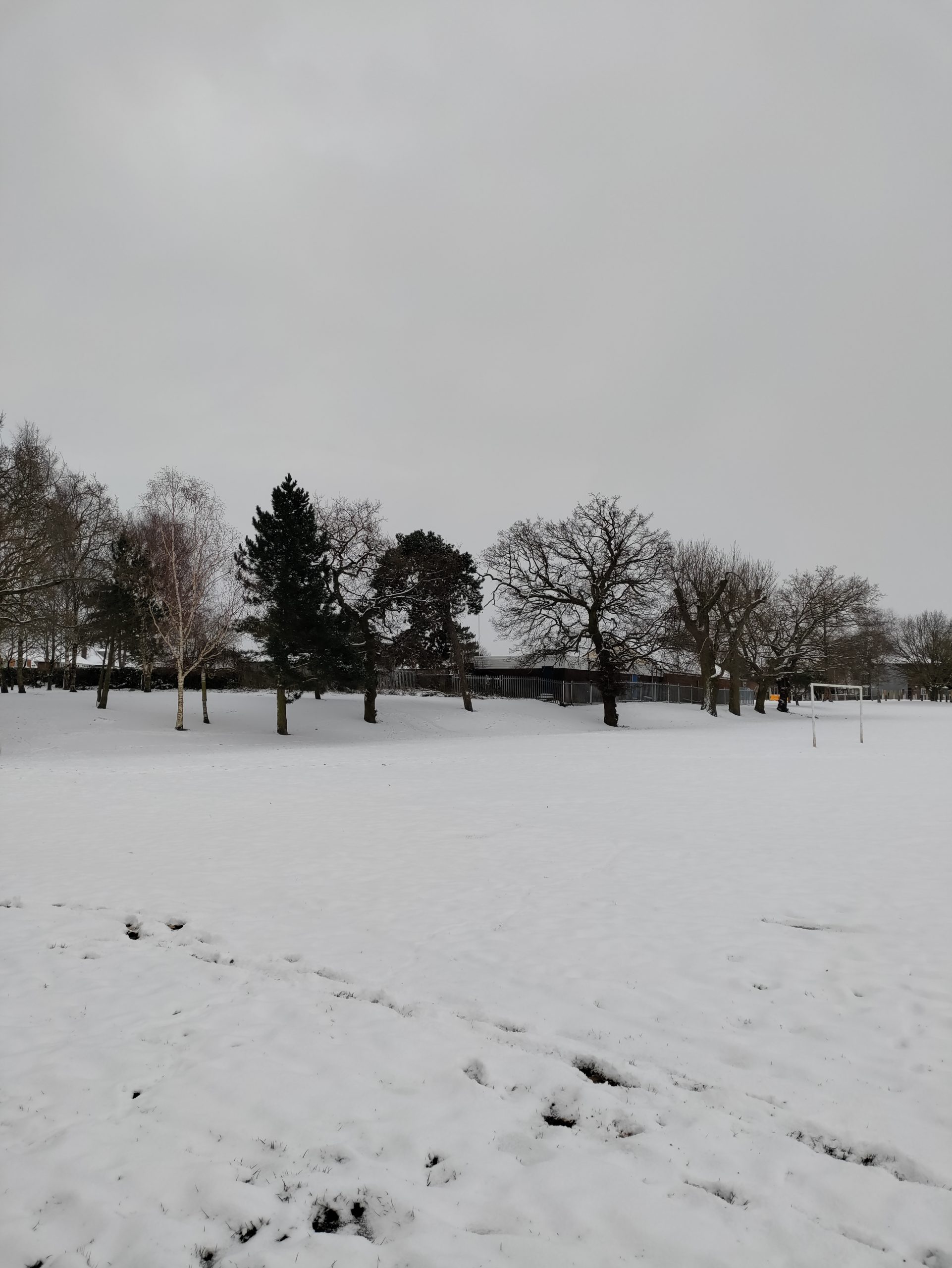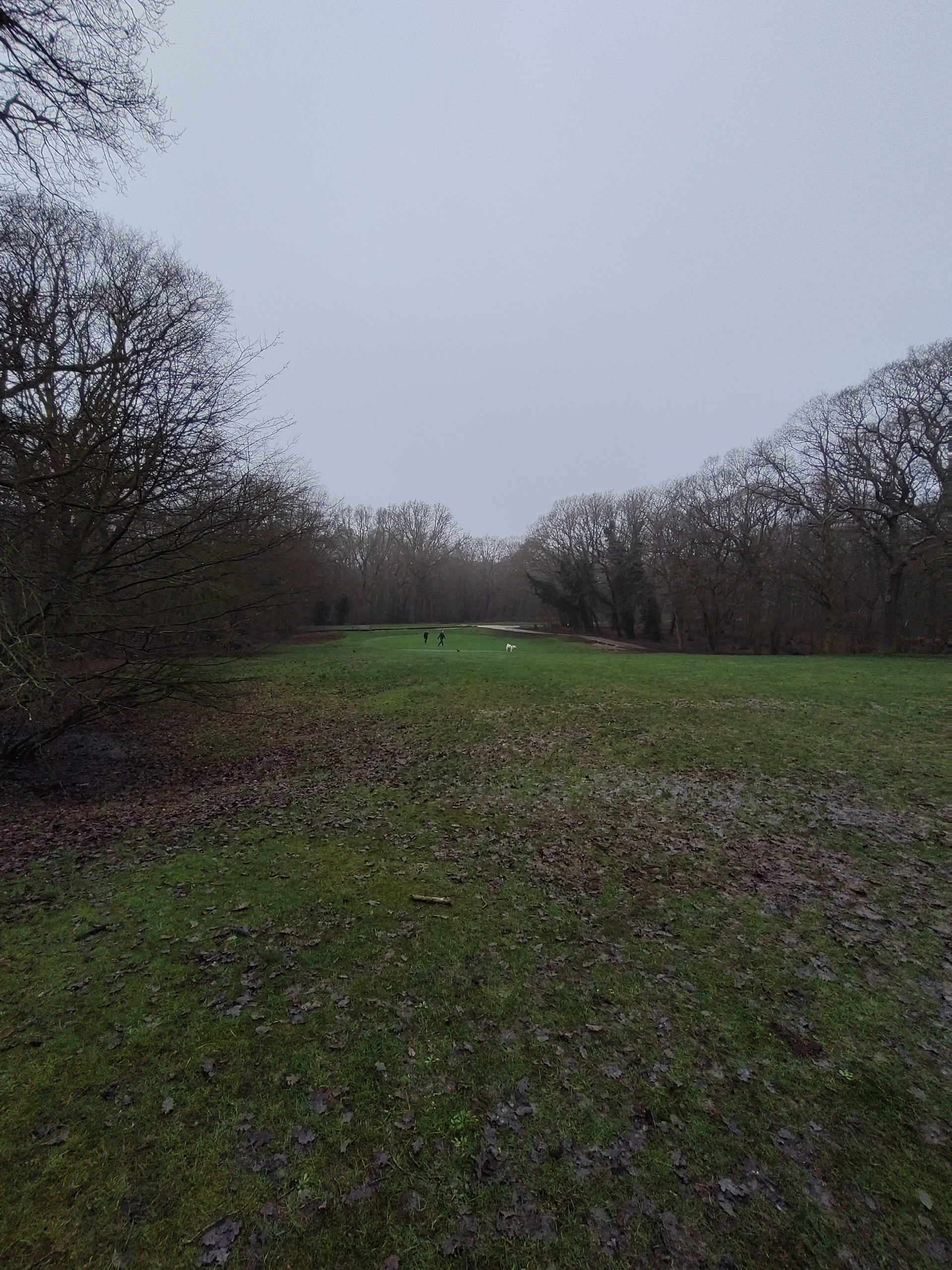 In selfie mode, you get a good clear-cut picture and one that makes you look alright.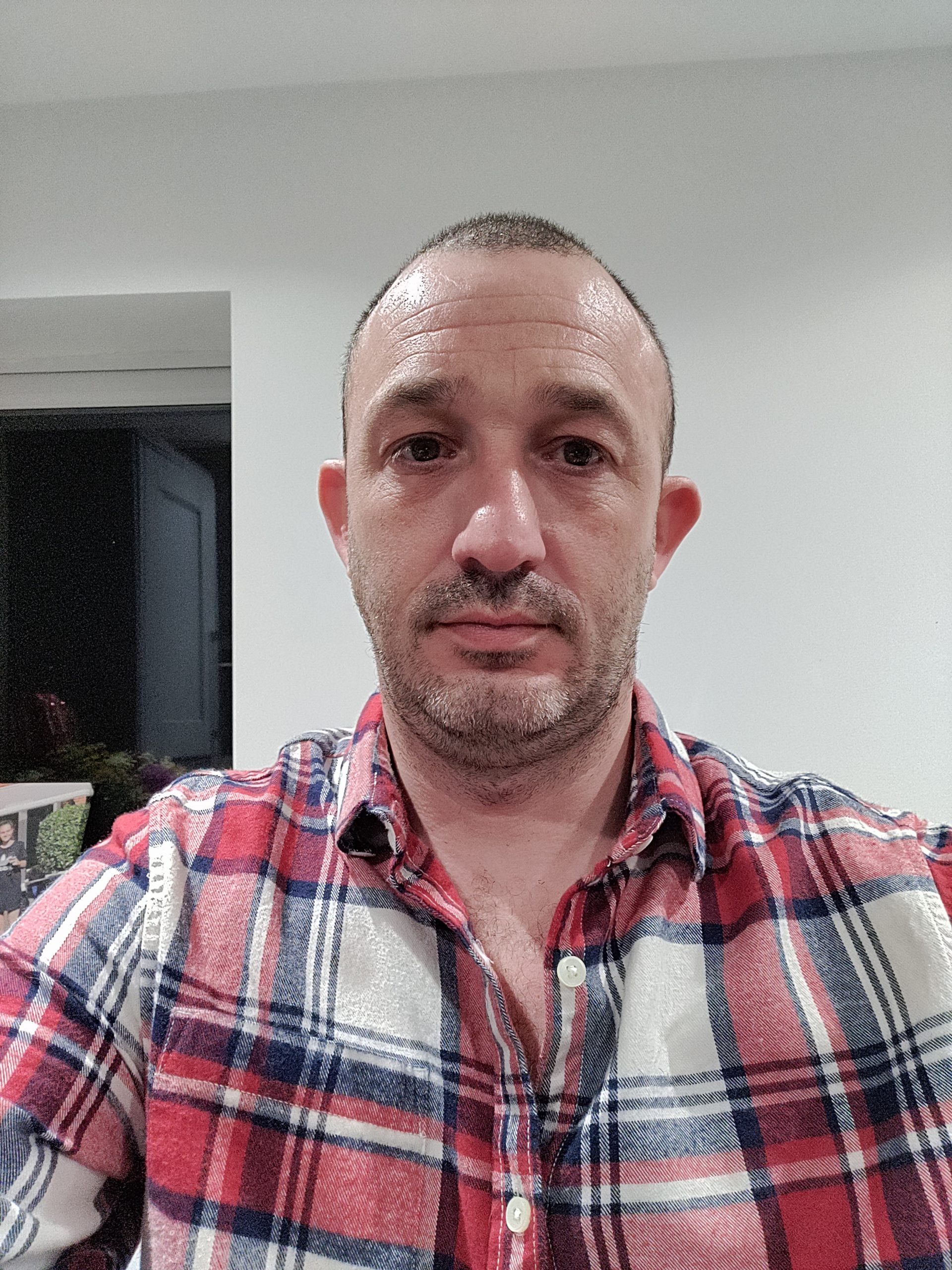 Nightscape is a bit of a let-down as it fails to light up the area but maybe inside a club or a back garden party etc it might do justice but in this picture, it just let itself-down.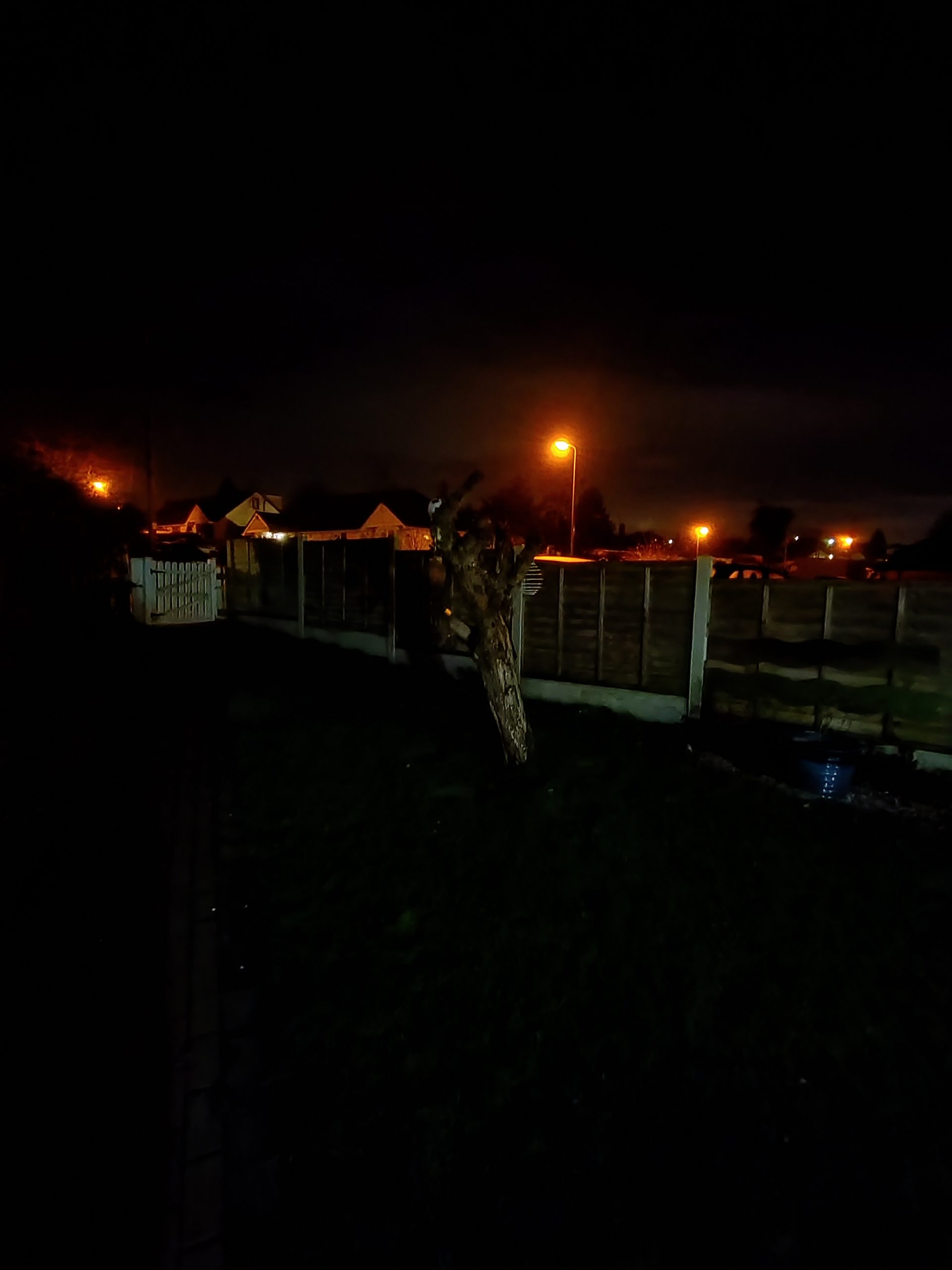 This is a good camera and comes in pretty well for a mid-range phone, it will certainly challenge most mid-range triple-lens cameras on the market today, it's nice and easy to use with a great feel, its interface changes pretty quickly and you will get some great photos from this handset! 
The phone also allows you to capture videos with the ultra HD footage at 30FPS. It offers 4K video which is sharp but just be careful not to film too much sky as if you had a clear blue sky you will get a little oversaturation. The only other negative I can mention is OnePlus is missing image stabilization so filming on the go could be a little bit of an issue.
Battery life
With every great camera on a phone, you need a decent amount of battery and the Nord N10 5G does not disappoint as it offers 4300mAh battery which is actually bigger then what is found in the Nord which is 4,115mAh but does come up short compared to the Oppo A72 which has a 5000mAh battery life. The OnePlus Nord N10 5G in testing did last a full day with regular use which includes a few hours of Netflix and some internet browsing. 
When it comes to that time when that battery needs a recharge you will notice OnePlus has still avoided wireless charging with this model. Instead, you get the WarpCharge 30T fast charger and this gives you 0% to 60% in just over 30 minutes.   
Verdict
The OnePlus Nord N10 5G is a decent phone that fits into the mid-range part of the market and the does come with some great features and with the snapdragon 690 chipset it offers a decent handset and with the 90Hz refresh rate means this phone works really fast when switching app or scrolling online. Camera-wise the N10 5G as a decent suite of camera and works well during the day but unfortunately taking pictures at night is not the best compared to what we have tested in this price range.
The negatives of the N10 5G is that OnePlus had to cut back on a few things as they wanted to provide an affordable 5G phone. OnePlus has cut a few corners with no alert slider. Also, a smaller display at 6.5 inch LCD display compared to the Nord that had a 6.44 inch AMOLED display. You also miss out on the image stabilisation when using making a video. Some might also want a bigger battery life but the N10 5G will last the day and the fast charging allows you to use this phone every day.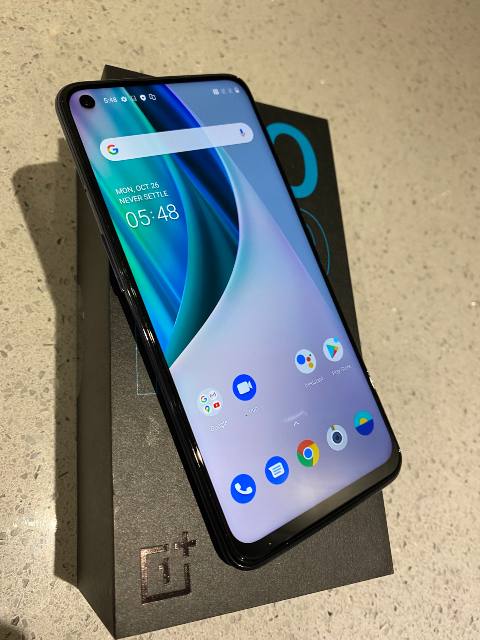 Overall, the OnePlus Nord N10 5G is one of the most budget-friendly 5G enabled devices on the market. The handset is very middle of the road in terms of competition apart from 90Hz refresh rate, fairly decent camera and 30W fast charging it's just a decent mid-range 5G handset.  
Product Rating: 
Design: 5.0 out of 5.0 stars 5.0     
Speed: 5.0 out of 5.0 stars 5.0  
Camera: 4.0 out of 5.0 stars 4.0
Battery: 4.0 out of 5.0 stars 4.0
Value for Money: 5.0 out of 5.0 stars 5.0   
Overall Rating: 4.6 out of 5.0 stars 4.6 – 4.6 Stars      
The OnePlus Nord N10 5G available for £329 from C247.com   
Thanks for reading this review, please continue to support us and check out our other reviews and follow us on Social media: Facebook, Twitter,  Instagram, Linkedin and don't forget to sign up for our newsletter below.