The Aura Carver Digital Photo Frame – £188.65 via Amazon 
Overall Rating 4.2 Stars: 4.2 out of 5.0 stars 4.2
In the current pandemic being with the family has been harder than ever before so that where Digital Photo Frames help share memories with family members you might not be able to see. 
This is not the first time we have reviewed a digital photo frame we have reviewed recently we got the chance to check out the NixPlay N (£269.99). Another company to the mix is Aura with its Aura Carver Digital Photo frame. The main difference between the two digital photo frames is the Aura Carver is only a landscape where the Nixplay N allows you to have the frame in either Portrait or landscape orientation. 
First Impressions
The Aura Carver costs £188.65 via Amazon and on first impressions, this photo frame is stylish and very easy to set up. It comes in landscape oranitation and is available in two colours black or White. In this review, we were lucky to be sent the black model. 
The Aura Carver uses a Wi-Fi connection as well as unlimited cloud storage and allows you to invite as many friends and family as you want. This does create a privacy concern as the photos are stored via cloud storage.  
This frame does allow you to upload pictures in portrait orientation by using a paired portrait mode that pairs two images side by side. This is done using the Intelligent photo curation software. This software automatically crops and positions photos you select so they fit perfectly every time.    
Design
Unlike the Nixplay N the Aura Carver won't let you mount it on the wall it's designed to sit on the table or any other flat surface you have around the house. Size-wise the Aura Carver measures up at 10.63 x 2.6 x 7.45 inches and weight wise its comes in at under two pounds meaning it's not too heavy but won't just fall over either. The style of this frame really does tick the box of anyone who wants that minimalist frame with the back of the frame wedge-shaped base prevents the frame from falling over.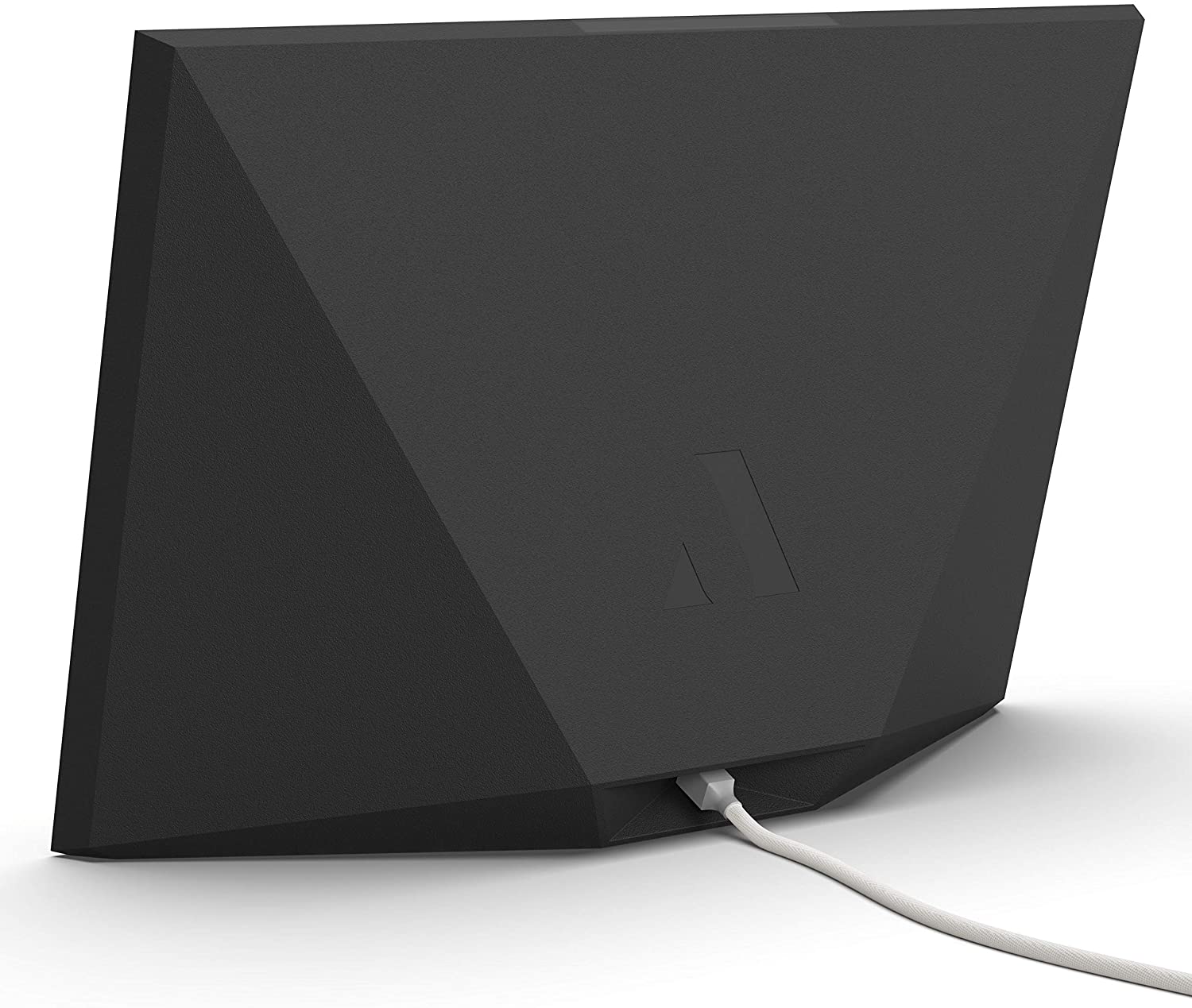 You also get a detachable power cord that in this review sample comes with a US plug so I needed to use a travel adapter to power this up.   
Display
The Aura Carver comes with a 10.1-inch display that has 1920 x 1200 resolution which produces 224 pixels per inch which produce a natural image and any viewing angles you look at the screen offer an excellent view.
Looking closely, I couldn't detect any pixelation or screen-door effect. Colours looked vivid yet natural, and viewing angles were excellent (as is the case with most IPS panels), with the screen barely dimming while I was looking from the side.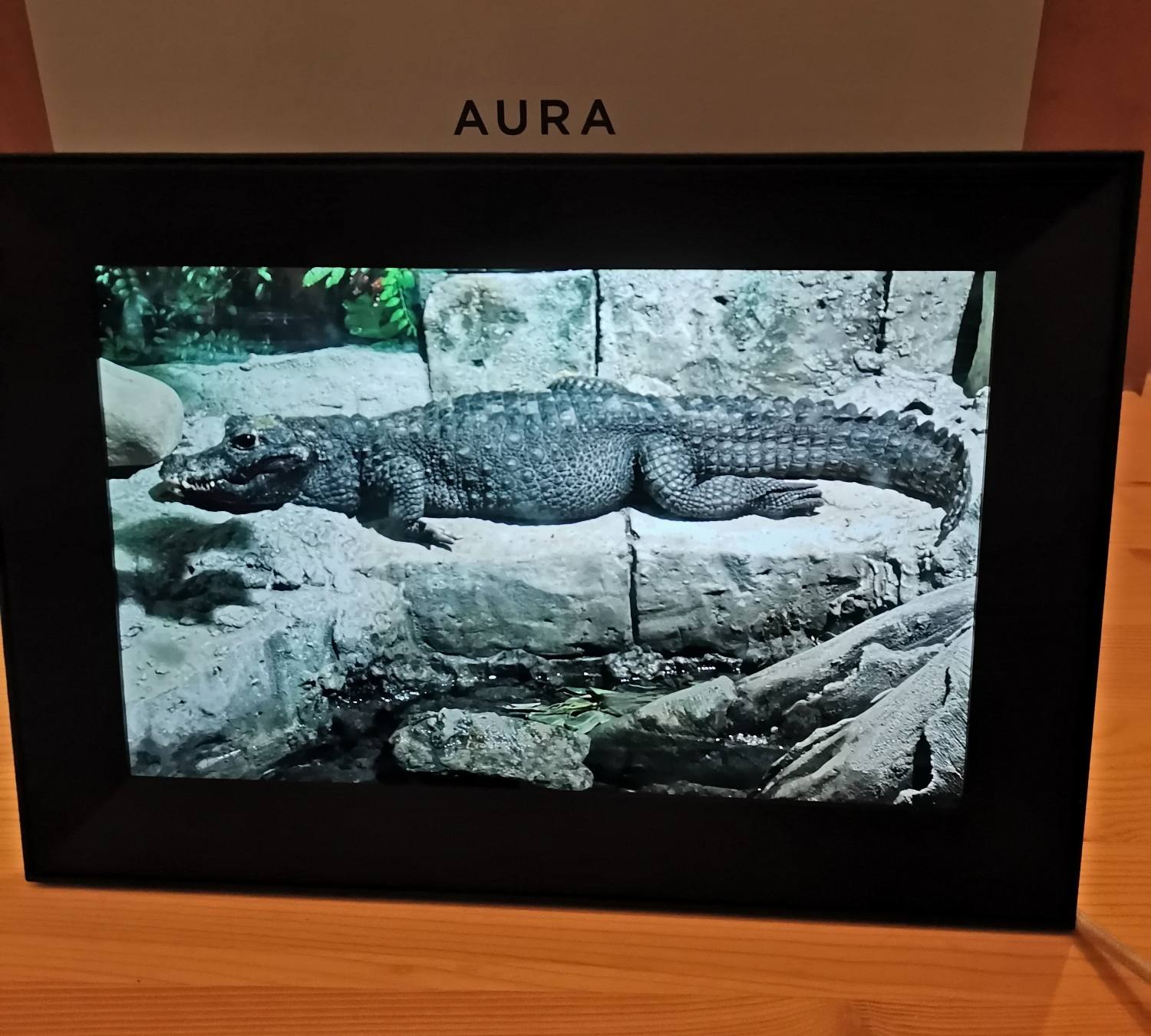 The Carver also has a very small sensor in the top left corner that measures ambient light and adjusts the screen brightness and at night you don't have to worry about a bright light when sleeping as the display will switch off. 
Setup 
Setup was very easy. You will need to download the Aura app which is suitable for most smartphones. It will ask you to set up an account very similar to when I set up the Nixplay N. Once you set up your account you need to pair it with the frame you will see a 4 digit code that is shown when you turn the frame on. This also allows you to connect the frame to your Wi-FI connection. This frame supports a 2.4GHz signal so it was very easy to connect to my Sky Broadband. 
Once done you are asked to name the frame and then can invite family members or friends who can also view the images you upload but can also add other images to the frame. We get married next year so I expect if we connect other family members we will all be able to share all our memories in one place. 
How do you upload images? 
Uploading images on the Aura Carver is very easy to do simply select your photo album and get your favourite images. You can also upload images via your google photo account and can also upload images from your PC using the web uploader you will need to download.  Want to add more images to the frame at a later date I found the Aura app the quickest way to upload.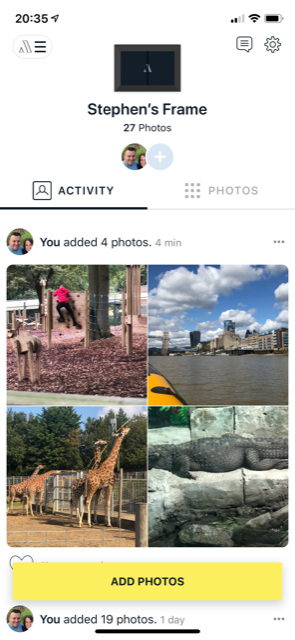 Now as mentioned your images are stored in the cloud via an Aura cloud server and are protected by AES-256 encryption. Aura promises only you and these in your group will be the only people with access to the photos so you do feel safe using the frame. What I like about this frame is it provides unlimited photos for free compared the Nixplay N that only offers 10GB of storage with the ability to purchase more storage. The Aura Carver does not need you to buy any extra storage. 
Features of the Aura Carver
One of the main features of this device is the intelligent photo curation software which automatically crops the portrait images so two can fit side by side on the frame. This is a great feature as it stops your images having big black borders around them and pairs them together nicely. This concept is not unique as you can do the same with other digital frames on the market. However, Aura does a nice job of pairing images that feel like they belong together.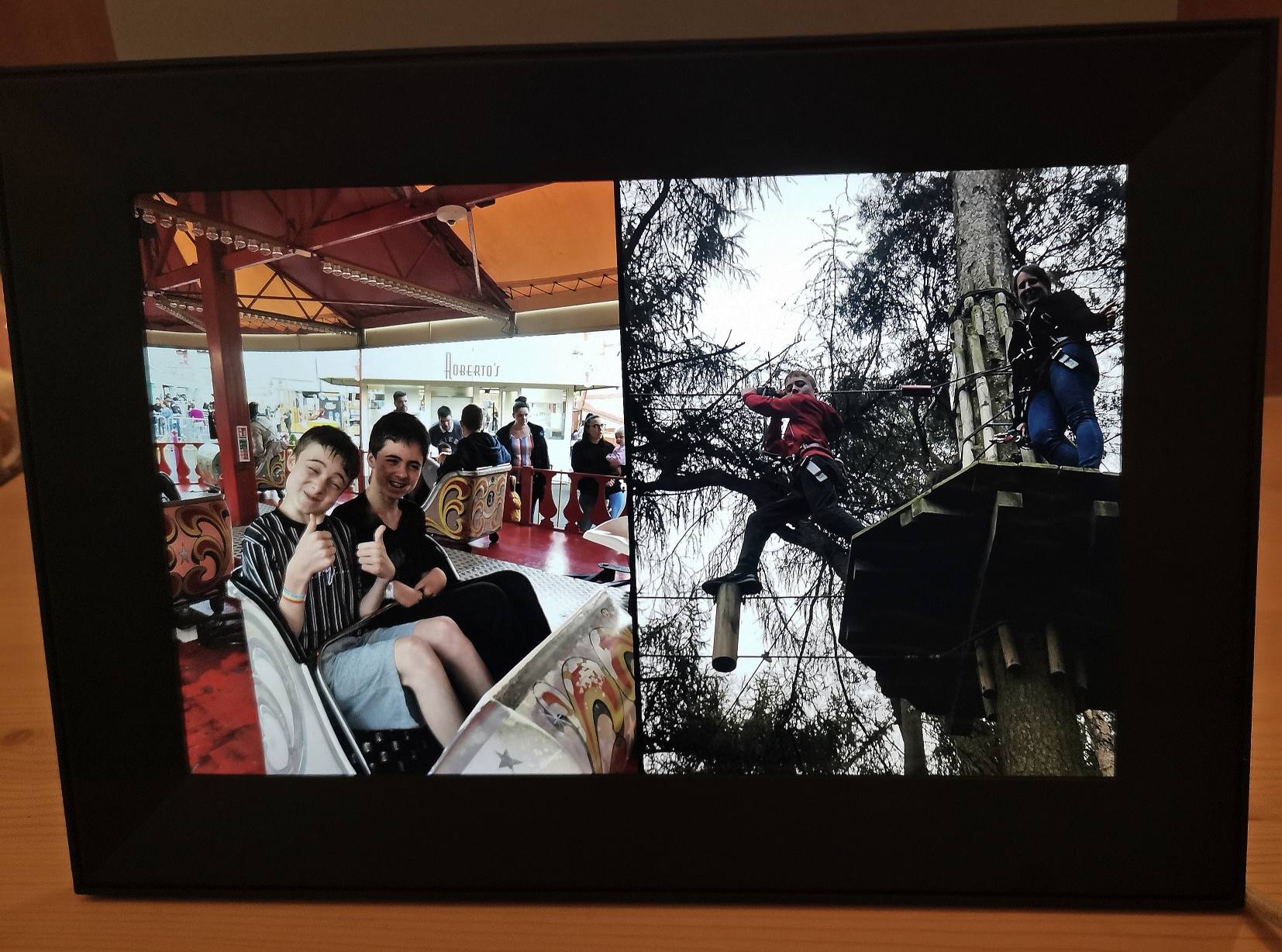 You can also adjust the interval in which photos change as quickly as 15 seconds to as long as 4 hours. Not sure why you would select 4 hours but it was nice to have options. I felt going for a 30-second loop made the most sense. If you did want to pick the longer periods but wanted to switch images you have a touch-sensitive strip on the top of the photo frame. 
Another feature of this frame is when you tap the touch-sensitive strip it will provide some information such as: 
Where it was taken

When it was taken

Who shared it to your frame
You can also delete a photo by holding down on the strip which also lets you turn the frame off. 
I personally found using the controls of the touch strip a little annoying as it did not respond to my single tap or I found I ended up switching photos by mistake.  Another feature of this frame is it can be connected to your smart assistant like Alexa. However, this is the achilles heel of this whole device. The setup is annoying and I just found I never used it as the only real instructions you can use are switching photos or getting information about where the picture was taken. Honestly why bother when you have the touch sensor that allows you to do all of that quicker.
Verdict
As long as you have a good Wi-Fi connection you will enjoy using the Aura Carver. I liked its minimalist design and the fact set up is very easy to do.  I also found the fact you got unlimited cloud storage for all your photos a real plus. I really like the Intelligent Photo curation software as it prevents any black pars around the portrait images. I found the WUXGA resolution which is an industry luxury providing an impressive 224 pixels per inch which offered a good quality display. The 10.1-inch display also showcases the pictures off nicely. I also like the fact it comes with a motion sensor that knows when its night time which means time to turn off the display.
However, there are some negatives to this digital photo frame you have no memory card slot but with the whole point being the fact it offers cloud storage you would have no real need for a memory card slot. The touch sensor strip can be a little annoying as when I wanted to delete an image I found myself switching to a new picture instead.  My last issue with this device is the smart assistant. I just don't really see the point of having that function when it's so limited to just a few instructions and the smart assistant set up is just hard work. 
So if you can see past the negatives you get a bright display that comes with a sturdy design and minimalist style. You get unlimited storage meaning you can have loads of photos stored plus the fact you also have unlimited invites to friends or family so you can all share memories no matter where you are. In this current lockdown when families are separated I feel a digital photo frame brings some family members together with the power of sharing memories. 
Product Rating: 
Design: 5.0 out of 5.0 stars 5.0
Features: 3.0 out of 5.0 stars 3.0
Performance: 4.0 out of 5.0 stars 4.0
User Friendly: 4.0 out of 5.0 stars 4.0
Value for Money: 5.0 out of 5.0 stars 5.0
The Aura Carver Digital Photo Frame – £188.65 via Amazon 
Overall Rating 4.2 Stars: 4.2 out of 5.0 stars 4.2
Thanks for reading this review, please continue to support us and check out our other reviews and follow us on Social media: Facebook, Twitter,  Instagram & Linkedin