The PHONETAG- Multi View Phone Stand – £11.99 from myphonetag.com or Amazon USA 
Overall Rating: 4.5 out of 5.0 stars4.5
With many of us watching films on the train or more recently when we are at home in lockdown, you might want an accessory to allow you to stand your phone up in either portrait or landscape mode. If that's you, then you need a phonetag! 
Yes, there are phone accessories such as PopSockets, but these are limited to just landscape viewing. phonetag on the other hand allows for both orientations, and at £11.99 it's a cheap little accessory that has multiple uses. 
Hit Products is the company behind the phonetag, and according to them, this is a world-first for ring holders. You may remember them as the creators of the CouchCoaster  drinks holder – an anti-spill cup holder designed to hold a drink securely over the arm of your couch, sofa or armchair.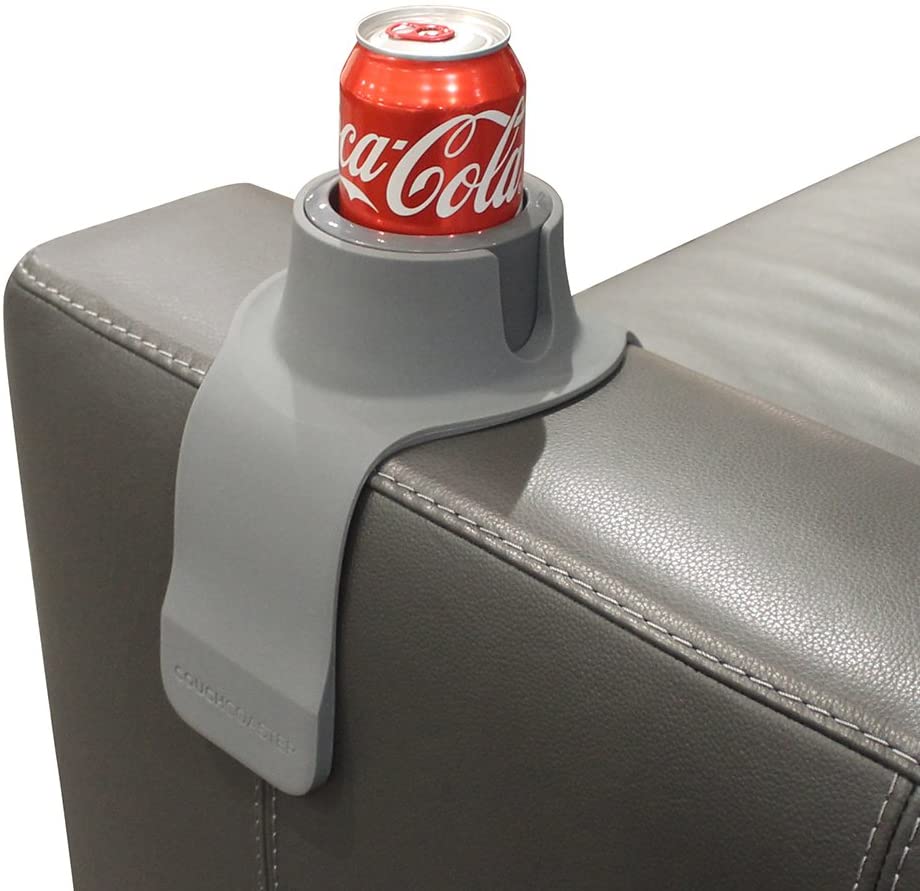 I will personally enjoy using phonetag to watch films or in my case Sky Go, but the integrated ring allows you to use your phone one-handed which is also great for taking selfies, writing a text or simply just scrolling through your social media.
phonetag's final trick is that it can attach to magnetic mounts, on say, your fridge door (additional magnetic mount required) or a magnetic mount that you might have in the car for when you want to use your phone's satnav. 
The phonetag comes with the phonetag itself, 1x alcohol prep wipe, 3x transparent films, 2x 3M pads and an additional 3M pad pre-installed on the back of the phonetag.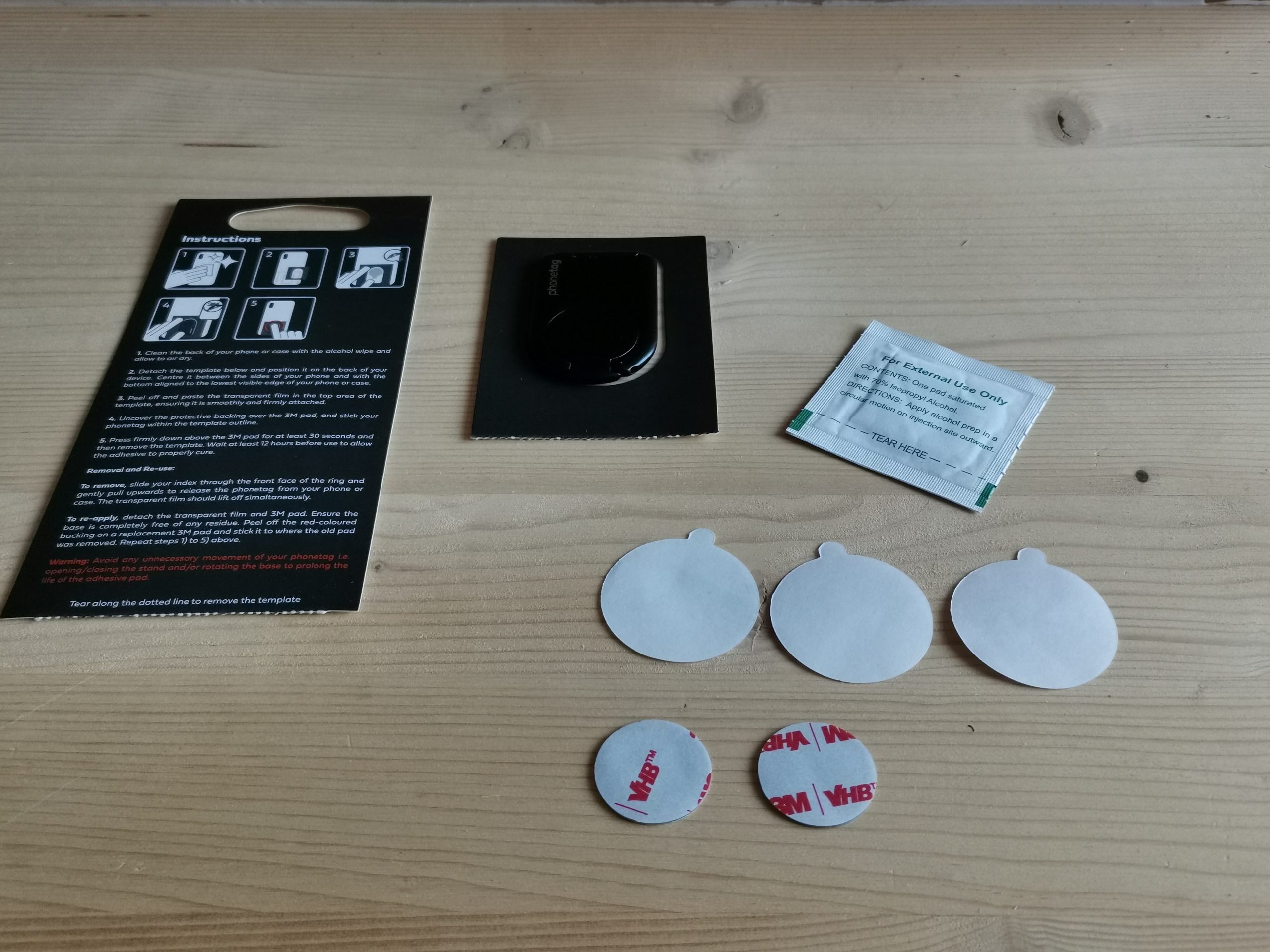 Placing the phonetag onto your phone is very easy , but you are also given template to help and the instructions are really easy to follow. Once fixed, the phonetag felt very secure on the back of my Honor 20 Pro, but it should stick comfortably to almost any mobile or phone case given its universal design. You just need to avoid curved surfaces or textured finishes like fabric.
The phonetag is 55mm long and just 4mm thick, meaning it feels like a natural addition to your phone. The ring is sized at a generous 25mm diameter, meaning that most fingers will easily slip through. The phonetag is also lightweight thanks to its zinc alloy construction.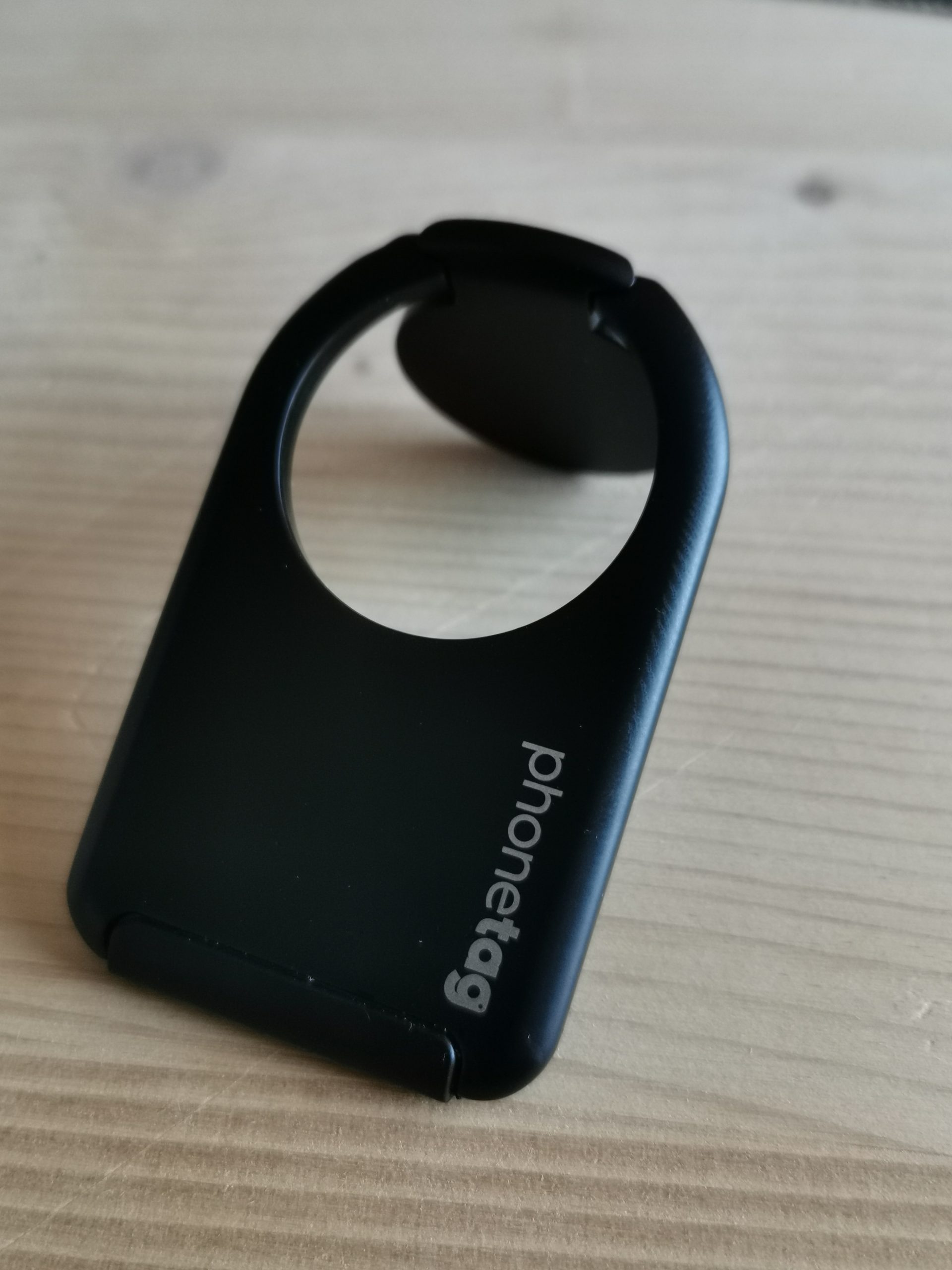 When using the phonetag for browsing online, sending a text or taking a selfie, the phonetag offers added security to prevent any accidental drops.  When using the phonetag as a stand, it allows you to tilt your screen to approximately any angle between 45° to 60° in portrait mode and 40° to 85° in landscape. The phonetag is designed with soft round edges and comes with a rubberised base to help keep it in place.
If you're in the car you can use the in-built magnetic plate to affix phonetag to your own magnetic mount. This function is really useful even around the home, but as mentioned, you do need those mounts attached to the wall if you plan to use phonetag in those scenarios. This should be something that comes with the phonetag in my opinion.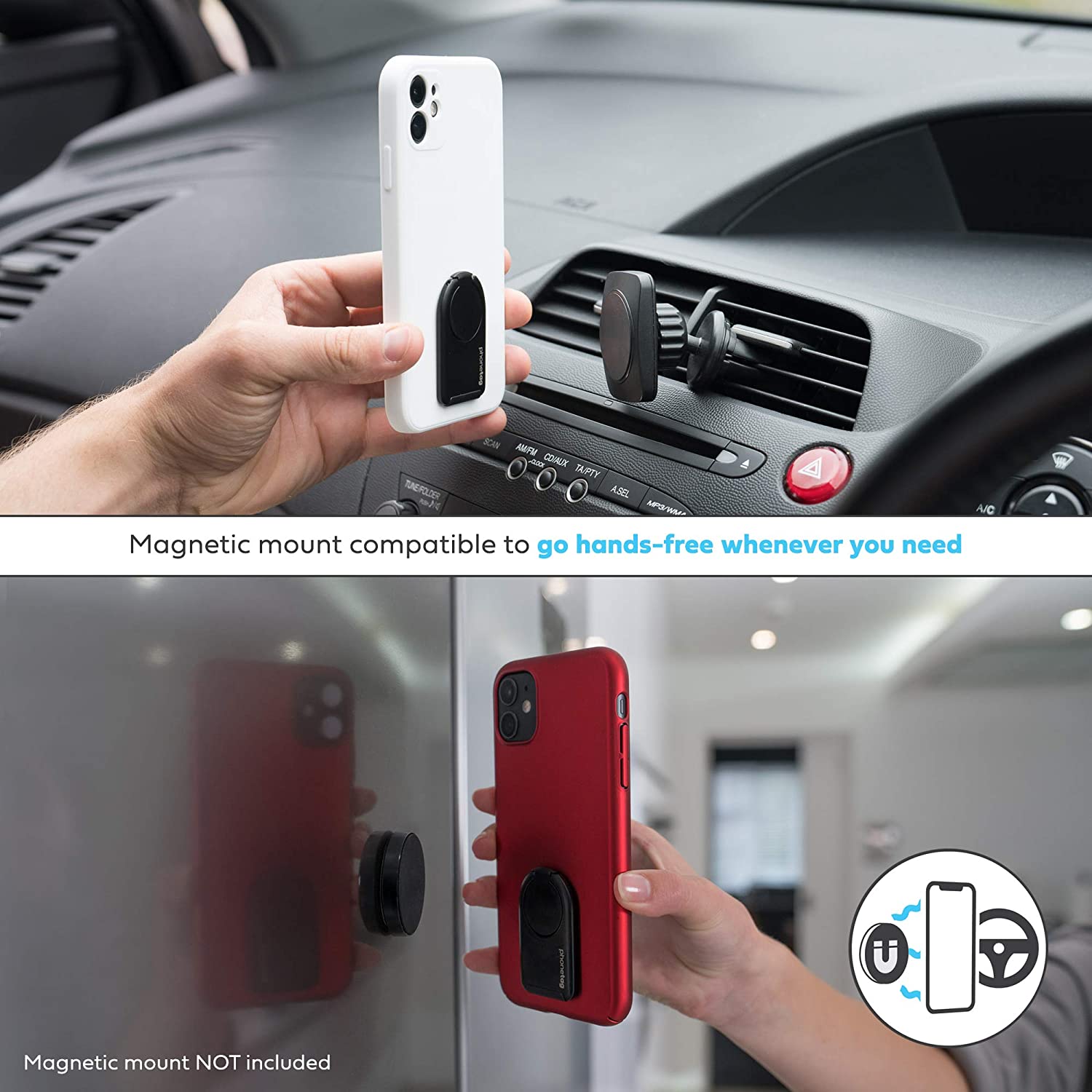 If you want to move the phonetag to a new phone, that's not an issue with the extra 3M pads and transparent films supplied. To remove from your phone, simply slide your index finger through the front face of the ring and gently pull upwards which will remove the phonetag and transparent film off your phone in one go.
WOULD I BUY THIS?
I would say 'yes' for sure. I like the fact it offers both landscape and portrait orientation when using it as a stand, which is its major advantage over circular ring holders. Comparing phonetag to something like a PopSocket, not only do you get a two-way stand but the ring-holder design offers added security when holding your phone for sending texts or taking a selfie. I also like the fact that if I upgrade my phone, I can keep the phonetag and replace it using the extra 3M sticky pads.  
The phonetag is available in 3 colours – black, silver & rose gold – and can be purchased from either the phonetag website or Amazon if you are in the USA. UK residents get free shipping. With the new iPhone 12 just launched, having a phonetag could be the mobile accessory you never knew you needed!
The Phonetag costs £11.99 from myphonetag.com or Amazon USA 
Product Rating: 
Overall Rating: 4.5 out of 5.0 stars4.5
Thanks for reading this review, please continue to support us and check out our other reviews and follow us on Social media: Facebook, Twitter,  Instagram & Linkedin