Offering value for money treats this Christmas and New Year, giffgaff will be holding a sale on over 50 different refurbished phones from Thursday 10th December. Available online while stocks last, there's something for everyone with a variety of options from Apple, Samsung and more.
Offering excellent winter savings for both members and non-members, phones will be of mixed standards, however, all will be refurbished to a good condition.
For Apple fans, pick up a iPhone 7 32GB for £129, an iPhone 8 64GB from £219 or an iPhone X 64GB from £339. There are also top deals on refurbished Samsung's with the Samsung Galaxy S9 64GB available at £229 or the Samsung Galaxy S8 64GB from £179.
When purchasing any clearance refurbished phone, it may have some signs of usage but all handsets will be data wiped and checked to ensure they're running correctly. A smart option for the sustainability-minded, each phone comes with a 12-month warranty for added peace of mind, with phones delivered in a slimline box complete with a USB charging cable.
Championing a 'circular economy', giffgaff is giving people the option to get an affordable handset but also give back by refurbishing or recycling their old phones with the option of donating some of that money to charity.
For those looking for savings on new handsets, a cashback promotion is also now available until 25th December,  with members and non-members able to claim up to £100 when purchasing an eligible Samsung phone.
Phones available: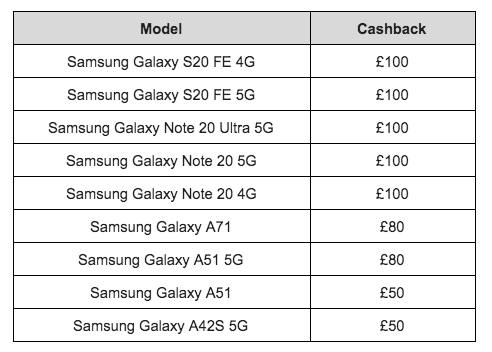 See full terms and conditions here.
Samsung phones are available at giffgaff at a pay today price or pay monthly option via RateSetter. Upfront payments start from £25 with a flexible duration of 6, 12, 18 or 24 months. As the mobile network run by you, the phones will come unlocked with a SIM ready to use with a giffgaff goodybag ranging from £10 to £25.
How to redeem 
Buy an eligible device directly from giffgaff.com

Visit Samsung www.samsungcashback.com

Complete a submit and claim form by:

Providing the IMEI Serial Number of your new eligible device

Uploading a copy of your proof of purchase (under view details)
For more information on giffgaff please visit:
Thanks for reading this article, please continue to support us and check out our news & reviews and follow us on Social media: Facebook, Twitter,  Instagram & Linkedin