Since most of us are now working from home due to the current pandemic we need to make sure more then ever we are safe online and this is where cybersecurity company Bitdefender offer its Total Security option to keep them confidential work files safe and make sure you are protected against any cyberattack that could cause you and the company you work for no end of problems.
What is Bitdefender Total Security in a nutshell offers all the entry-level security options you come to expect but also offers some advanced features such as online backup, system performance optimization and offers support for PC, macOS and both IOS & Android. So Bitdefender total security offers support for all your devices. Alternately, you can opt for a free antivirus, which offers the same basic virus protection, without the extra features.
When using Bitdefender on your laptop it also offers an anti-theft option which we will discuss later in this review. Bitdefender is currently offering special offer security for 5 devices for $39.98 for 1 year or $119.99 for the 3-year package available from Bitdefender
Using Bitdefender on a Windows Laptop
If you are a user who has experience of Bitdefender other software packages. Bitdefender Total Security when installed on a windows device is very similar to its Internet security option. The main difference is the utilities page no longer tries to upgrade, it actually offers you some useful utilities. These utilities include a tune-up tool called OneClick Optimizer. This provides a scan on your system and puts your system files into the following categories:
Disk Cleanup

– Shows Junk, Temporary and cache files.

Registry Cleanup

– shows erroneous files such as help files and Shared DLLs

Privacy Cleanup

– Shows browser cache, cookies and Internet history on any internet browser you currently use.
Once complete you get a detailed report showing all the files and any changes it also allows you to exempt a category such as chrome cookies. 
You also get a startup optimizer which analyzes all the programs that launch when you start up your device and shows you the time it takes for each to load and allows you to disable any of the programs or delay the launch of any of the programs. It will also indicate which programs you might want to remove to free up some disk space.  
Anti-Theft Feature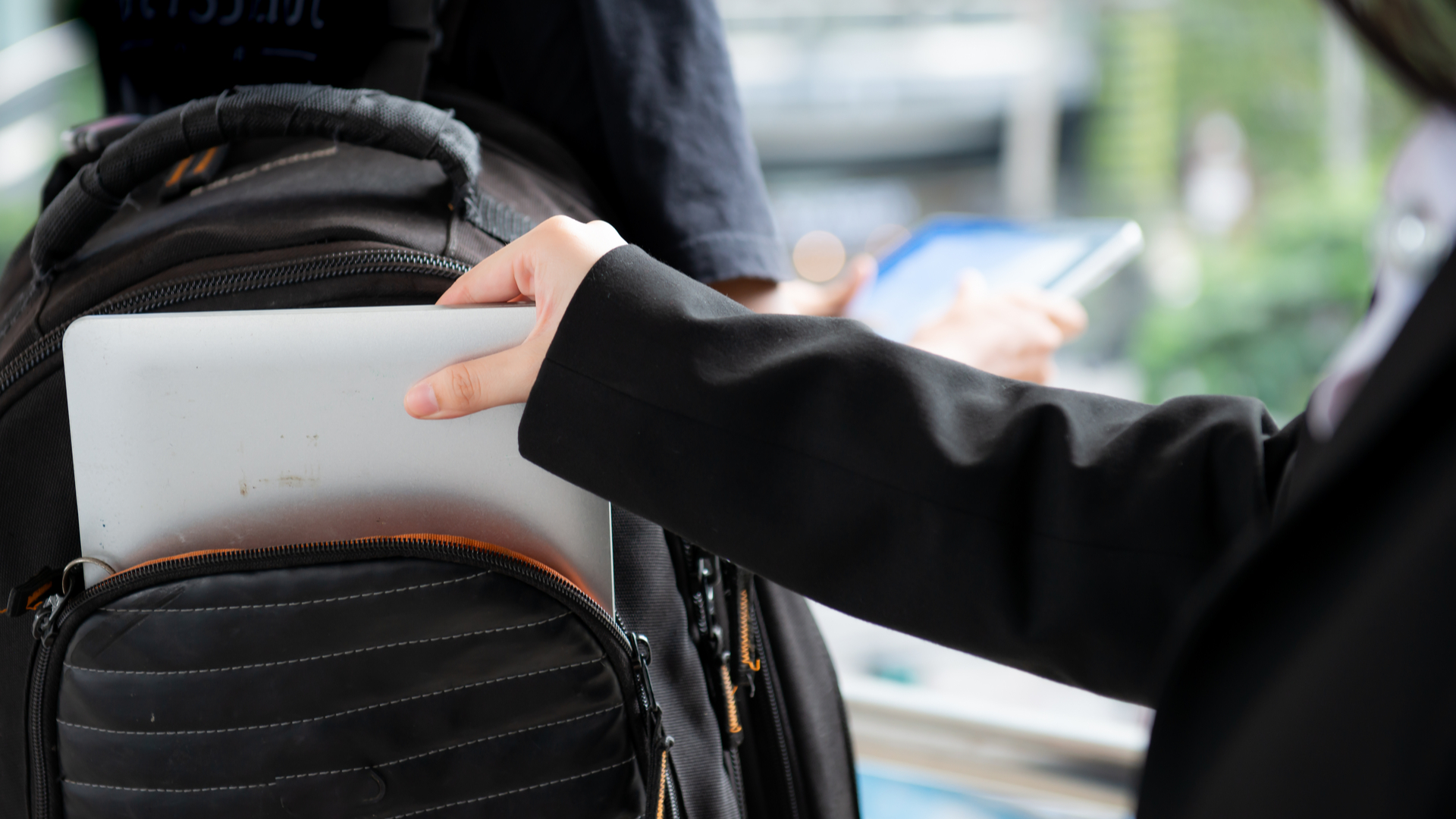 For these users who use their laptop for everyday use, this is where you need to consider the thief of your laptop is a real risk. If the worst was to happen you need to log into Bitdefender central and it's there you can locate, lock and wipe the device. You will only be able to pick up the location once the device is within a Wi-Fi triangulation.   
If the thief stole your laptop without it going into sleep mode and still logged in. You can send a command from Bitdefender central to remotely lock your account just make sure the password is a strong password otherwise your efforts are wasted. If you come to the realisation you won't get the laptop back you can wipe the device keeping your data and sensitive files away from the criminal. 
How Bitdefender Central works
Bitdefender Central is the platform where you control all your devices and also allows you to add new devices. You also use the central platform for activating the anti-theft features. 
As mentioned when using a window device the central platform gives you the dashboard, optimizer, Anti-Theft and Vulnerability. The central platform shows stats of threats blocked in the last week. It also shows the devices connected to the total security software.  
When viewing the protection tab you can view the results of scans for malware. You can also launch scans via the platform on a device connected for example a device used by a family member. The Vulnerability page allows you to scan or view results from scans.  
When using an Android device the dashboard is the same but the main difference is you only have one malware scan and you're unable to pull the distinction between a quick or full scan.  
When using a Mac you get a limited central platform which just offers the dashboard and protection tabs with the option to run a quick scan. The issue with using a Mac or IOS device you get no Anti-Theft and I feel this is a real issue as the anti-theft when using a window or Android platform the Anti-Theft option is one of the main reasons for buying this cybersecurity software.
Bitdefender on an Android device
Bitdefender can be installed on your phones as well as your laptop or desktop. You can install Bitdefender on both Android and IOS however it works better on Android. I will explain the issues with IOS later in this review.
When installing on an Android you need to send yourself an email from the Bitdefender central. This will generate a link for you to download via Google Play store. The login details are built-in to the link you have pressed so its a very easy download. When setting up make sure you give it administrator status as well as allowing access to media, files and photos. This is done to allow you to use the anti-theft function if required. Once downloaded you are requested to run a malware scan and enable App lock this feature allows you to snap a photo of someone trying to unlock your lock screen pin. App lock lets you create additional security on your emails, messages or other apps that are required. You are given the choice to use a pin or fingerprint which offers that extra level of security. You can also configure the App lock so it stays unlocked when connected to your home wi-fi network. 
If your phone is stolen you can use the central console just like when your laptop got stolen you can locate, lock and wipe the device but unlike finding a laptop if you have misplaced your phone you can sound a loud alert helping you locate the phone very much like when you use a tile.  
Another feature of using Bitdefender on your android phone is it scans new apps as you download them and will notify of any known breaches or reports. If any issues arise you are advised to change passwords and then mark the warning as solved. 
You are also given web protection that is very powerful as it protects you from malicious or fraudulent sites and works well on Google Chrome. However, it is not as good on other web browsers such as Firefox and others.
The overall use on an android device was very good it offers security that includes anti-virus, anti-theft, web protection and app lock meaning your phone was very safe and even in the event my phone was lost or stolen I still had control.  
Bitdefender on a MacOS
When installing Total Security on a Mac you get the full offering plus Bitdefender Antivirus for Mac and a limited version of the VPN I have discussed earlier in this review. The Antivirus protects your files and backups against ransomware. It also offers a Mac user a traffic light browser extension which offers a warning of dangerous links when searching the web. The issue when using a Mac is the lack of Anti- Theft functionality.
Bitdefender on an Apple phone
The mobile security app on IOS is very different to using on an android device or laptop. It's a free app and technically not part of the Total security software you have on your laptop or desktop. When downloaded it won't use one of the licenses unless you enable the web protection. If you want the web protection you can send yourself an email via the Bitdefender central portal. Once downloaded the web protection uses a VPN that lets it filter all your web traffic and if you come across a dangerous site it will cut the connection and display a warning. As with using this software on other platforms the VPN only offers 200MB per day of protection via the app. If you want to upgrade to a premium VPN then you will not have a cap but you will incur an extra cost so it's a personal choice. 
The major issue using it on IOS is the fact you do not have an anti-theft feature and this means mobile security on an IOS device is very limited and with this in mind if I had an Apple device I would look for a different cybersecurity platform.  
Verdict
If your using Bitdefender Total Security on a Windows or Android platform it truly is a very good option for total security. From the award-winning anti-Virus and the features such as password manager and built-in VPN. Internet security adds to the current windows protection and offers a fully functional cross-platform parental control system.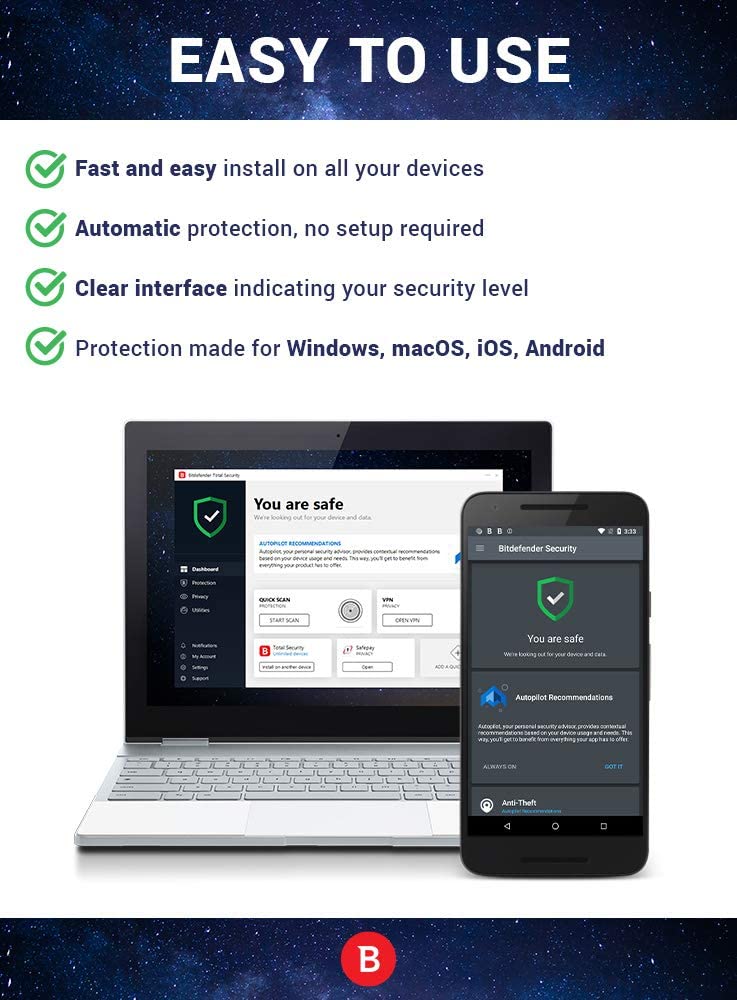 My only issue with this software is its limited functionality when using a Mac or IOS device I feel this will put those uses off and they might look elsewhere. However, if the purchase is for your laptop or android devices then you will struggle to find a better option for offering you that full level of security.  
Product Rating: 
Overall Rating: 4.0 out of 5.0 stars4.0. 4.0 stars
Bitdefender Total Security is currently available on a 1 to 3-year subscription and is available for either 5 or 10 devices and costs start from $39.98 Via Bitdefender
Thanks for reading this review, please continue to support us and check out our other reviews and follow us on Social media: Facebook, Twitter,  Instagram & Linkedin