Everything's been up in the air this year, so Mous thought its next big stunt should be too! Taking its world-famous phone case drop tests to new heights, the brand threw a Mous-encased Apple iPhone 12 from a hot air balloon to the concrete below.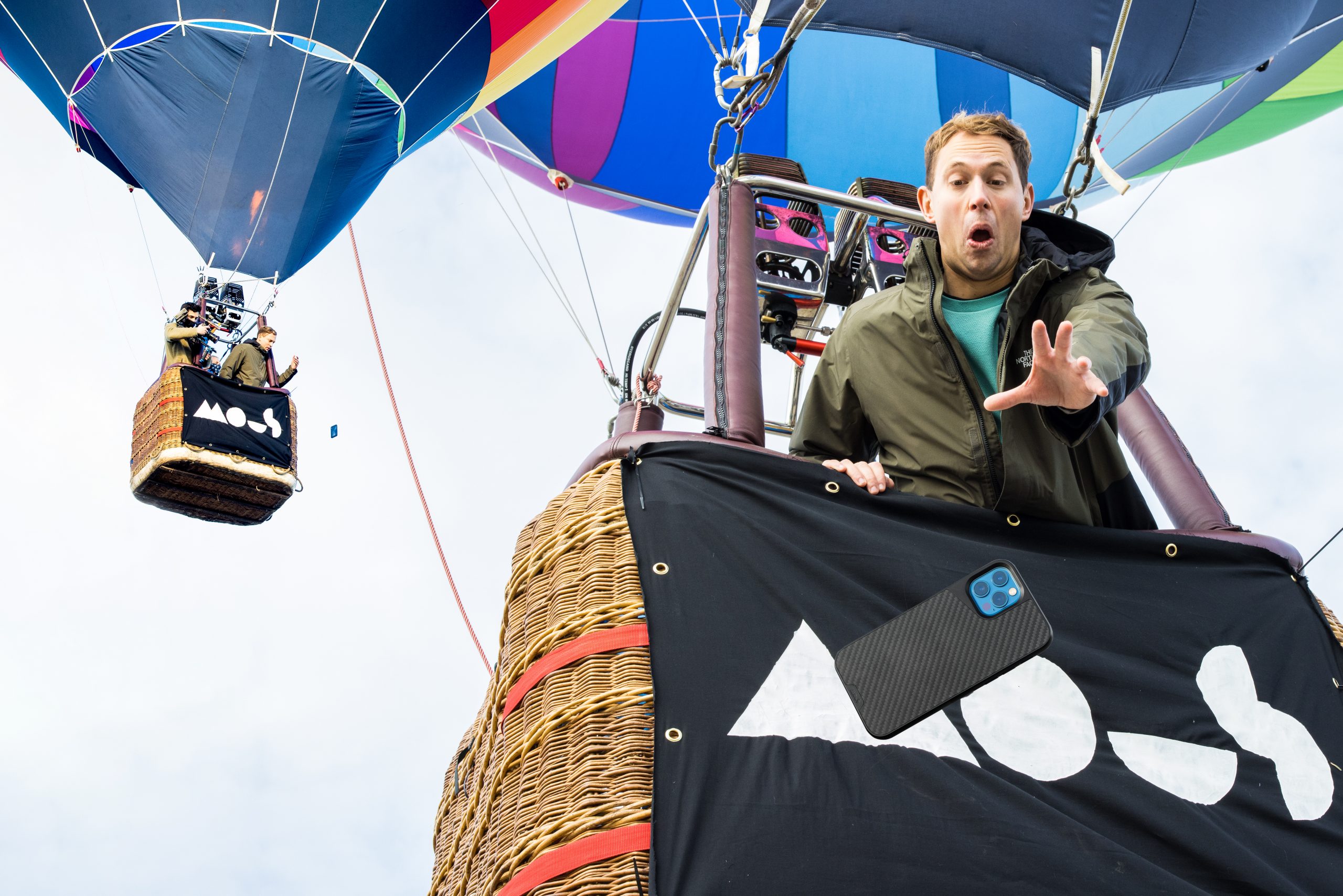 Mous, known for putting its extremely protective and durable phone cases through rigorous and impressive testing, celebrate the release of its acclaimed Limitless and Clarity ranges for the new Apple iPhone 12 with the brand's highest ever unboxing and the ultimate drop test. Taking its cases to dizzier heights every year, Mous' goal is to reassure consumers that their premium new iPhone can remain unscathed even after from the most stomach-turning, adrenaline-pumping of drops.
When the new iPhone launches, Mous is always the first in line outside the Apple store. Last year Mous went to the unveiling of the infamous 5th Avenue Apple store and met Tim Cook himself! With this year being a little different, Mous made sure to give its fans what they wanted, and reinvented its launch day stunt by taking things to new terrifying heights.
Co-Founder and CEO of Mous, James Griffith dropped an iPhone 12 Pro from a hot air balloon onto a solid concrete runway while the rest of the Mous team watched! It all went according to plan and the brand-new iPhone 12 Pro remained unharmed thanks to the extreme protection Mous' Limitless 3.0 cases offer.
"We engineer our cases to be extremely stiff, using materials like Aramid Fibre and polycarbonate to prevent the phone from twisting on impact, as that's a very common cause of cracked screens. We also line all our most protective cases with our high impact material AiroShockTM as it absorbs the shock of drops effectively."
"We are extremely confident in the protectivity of our phone cases but stunts like this are so crazy that you never really know whether the phone will survive or not. We always like to test our new cases to the extreme so the customer can feel very confident using them day-to-day." Griffith added.
Co-Founder Lucy Hutchinson explains "We're passionate about complementing the Apple ecosystem with our own innovations. People expect so much from their tech, why should they accept any less from their tech accessories? We're committed to making the best possible products for people and that means the perfect blend of maximum protection, superior functionality and refined design."
"Since we started the company in 2014, we've broken over 100 iPhones in product testing. We know how much people value their tech devices so we work hard to keep them protected and ensure people can get the most out of their most valued tools."
With four new iPhone models available this year, Mous has adapted its illustrious designs to flawlessly fit each size, allowing you to keep pushing the boundaries of wherever your new tech might take you. If you're looking for maximum protection and maximum aesthetic Mous' new ranges for the iPhone 12 will deliver. Just see for yourself.